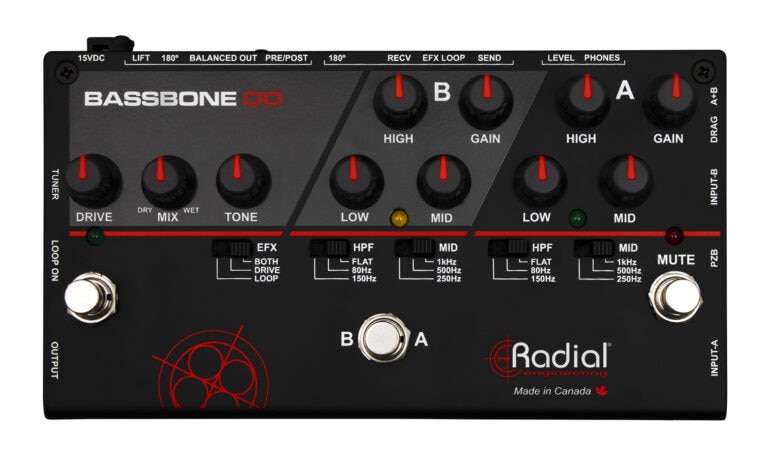 1
2
3
4
5
6
7
8
9
10
Drive
Used to set the desired level of overdrive distortion that will be applied to the signal.
1
Mix
Sets the relative 'dry-wet' mix between the original bass tone and the amount of distortion.
2
Tone
Used to tame down overly bright effects or add harmonic content.
3
Footswitch Assign
Sets the footswitch function to activate the overdrive, effects loop or both.
4
HPF
High pass filter used to roll off excessive resonance and clean up signal.
5
AB
Footswitch used to toggle between Channel-A and Channel-B.
6
Channel-B
EQ and Gain for Channel-B
7
Channel-A
EQ and Gain for Channel-A
8
Mid Switch
Works with mid range to selects between 250Hz, 500hz and 1kHz.
9
Mute
Footswitch mutes all outputs except the tuner out for quiet on-stage tuning.
10
1
2
3
4
5
6
7
8
9
Phones
3.5mm TRS mono headphone output with level control.
1
Level
Used to adjust the volume for the phones output.
2
EFX Loop
Send & receive ¼" connections for external effects.
3
Loop Polarity
Used to reverse the polarity of the effects loop should a pedal reverse the phase.
4
Pre-Post
Routes the balanced output before (pre) or after (post) the effects loop and overdrive.
5
Balanced Out
Built-in active Radial DI to feed the PA or recording system.
6
180°
Reverses the polarity of the XLR out to phase align sound with PA or reduce feedback.
7
Lift
Lifts pin-1 on the XLR to help eliminate hum and buzz caused by ground loops.
8
Power
15VDC Power supply input connector.
9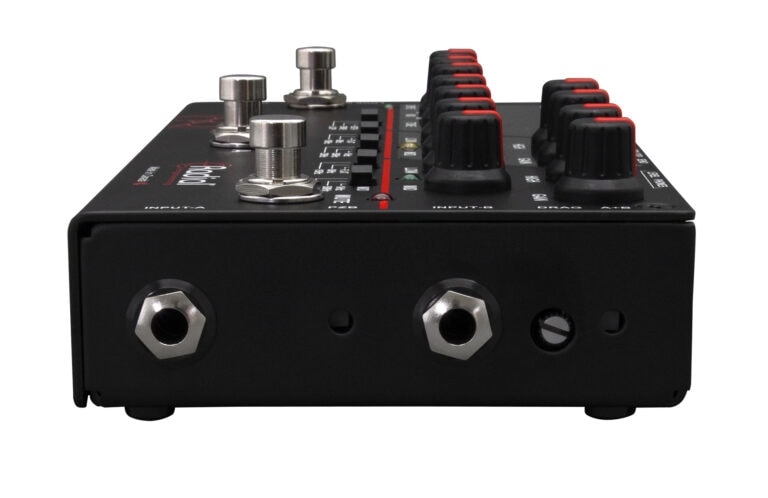 1
2
3
4
5
Input-A
Power supply input connector.
1
PZB
Boosts the signal and increases the impedance of input-A to 10 meg-ohms for piezo instruments.
2
Input-B
Instrument input with ¼" switching jack. Enables the bass connected to input-A to feed channel-B when not in use.
3
Drag
Adjusts the load on a magnetic pickup for a more natural sound.
4
Blend
Combines the two inputs so that they may be mixed together.
5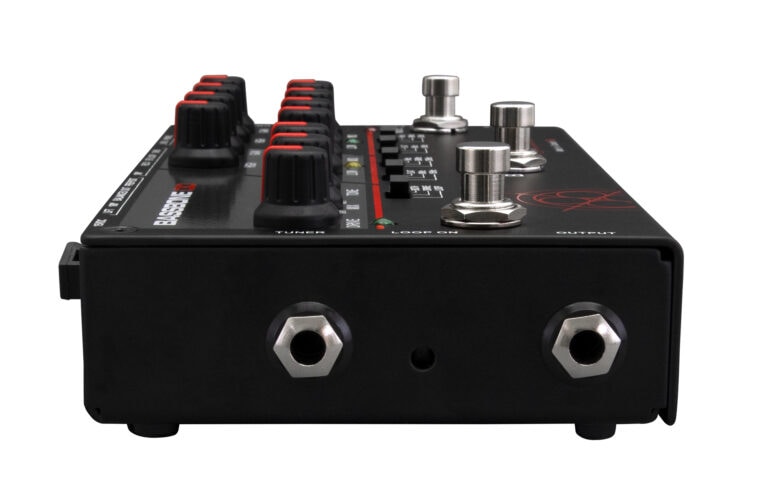 1
2
3
Tuner
Separately buffered, dedicated tuner output is always onsignal.
1
Loop On
Bypasses footswitch select function to keep effects loop in circuit at all times.
2
Output
¼" bass amp output used to feed the artist's personal stage amplifier
3