Bass Preamp & Overdrive
The Bassbone OD is a bass preamp that features two fully-equipped input channels, each with separate level and EQ controls and a shared overdrive.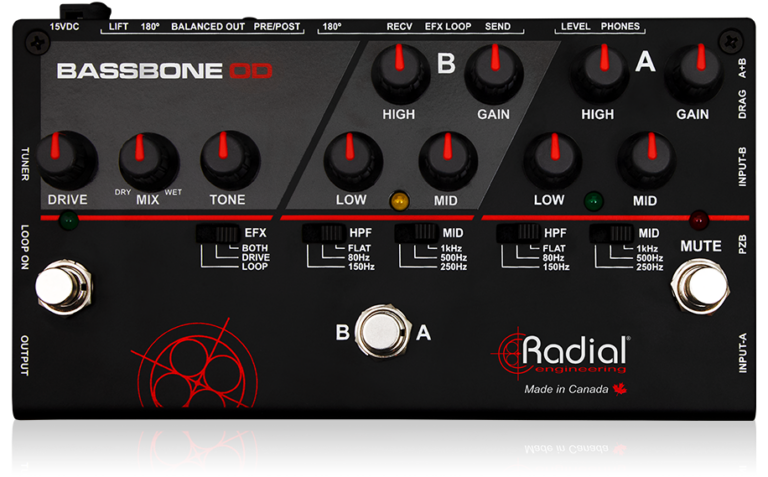 Photos
Toggle between any two basses with ease
Individual EQ controls for each input
Headphone output for silent practice
PZB booster and piezo input for upright bass
Built-in Radial DI with balanced output for the PA
Dual full-featured bass channels
The Bassbone OD allows you to connect two bass guitars and sculpt the tone of each one individually, as each input has its own level and EQ controls. The EQ settings have been specifically tailored for use with basses, and include a high pass filter to roll off excessive low end, along with a selectable center frequency for the Mid EQ boost/cut. Input A features a PZB booster designed for use with upright basses that employ a piezo transducer, while Input B includes a Drag Control impedance correction circuit that adjusts the load presented to magnetic pickups for a more natural tone. Following the input and EQ section, the Bassbone OD allows both instruments to share your effects pedals with an EFX Loop, which then feeds a powerful on-board overdrive.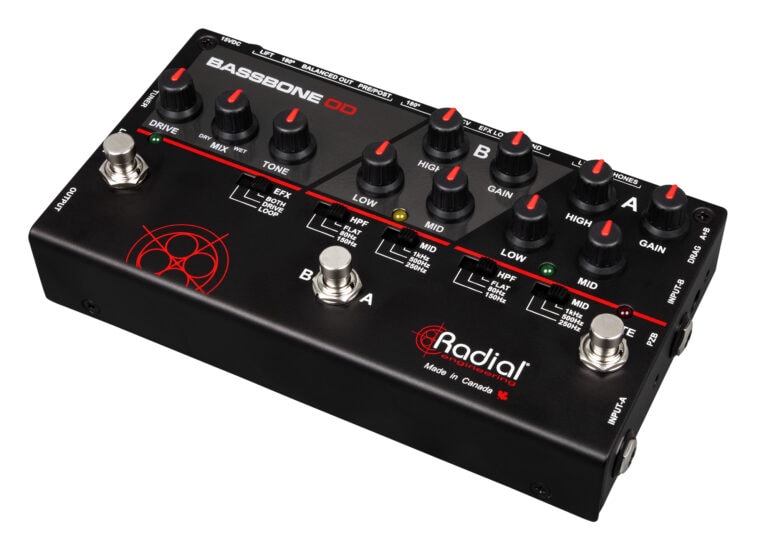 Bassbone OD

Applications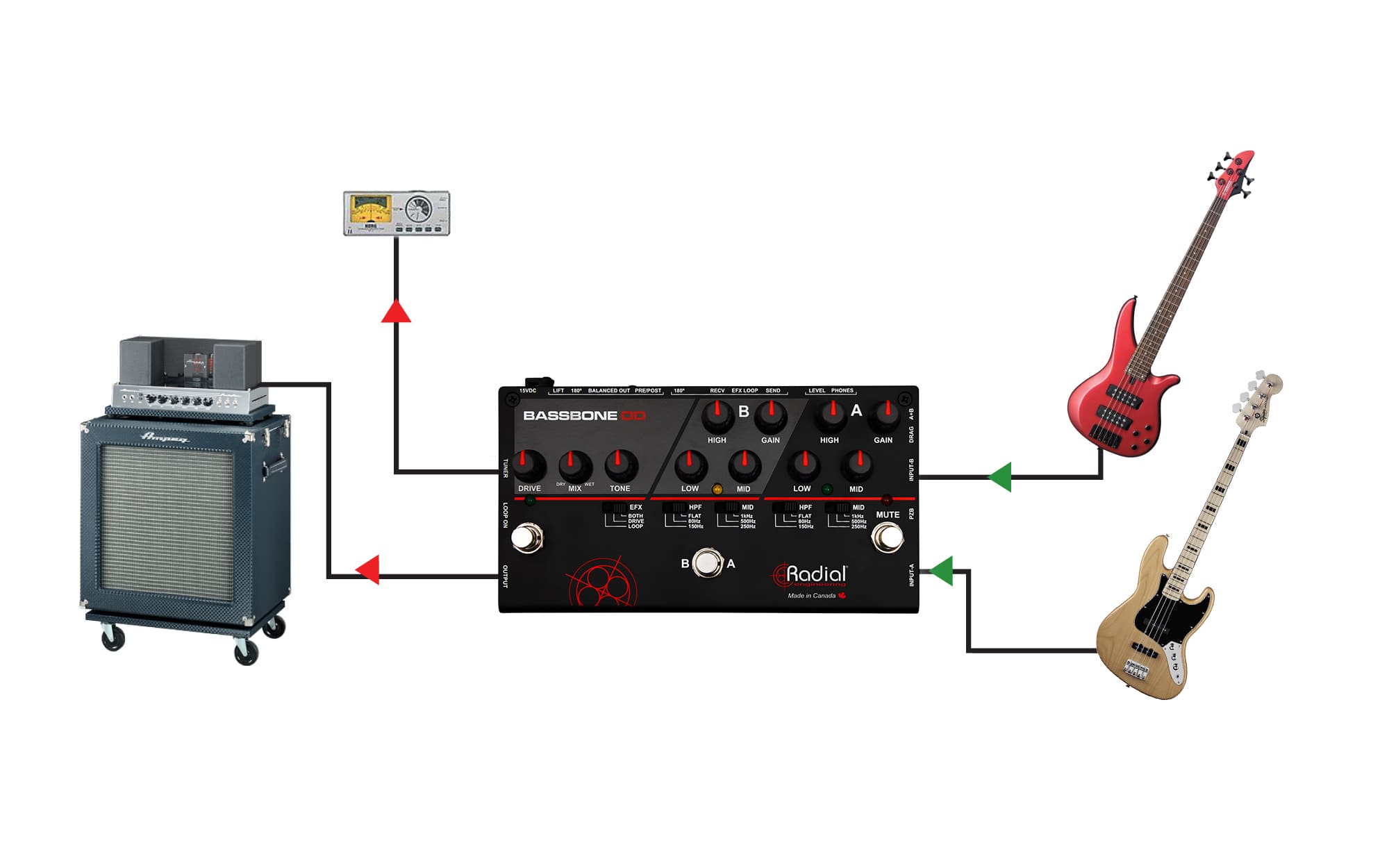 Bassbone OD with two basses
Toggle between your favorite vintage bass and your active 5 string using the middle footswitch and send the signal to your amp. Mute the signal using the right hand footswitch for quiet on-stage tuning using the tuner out.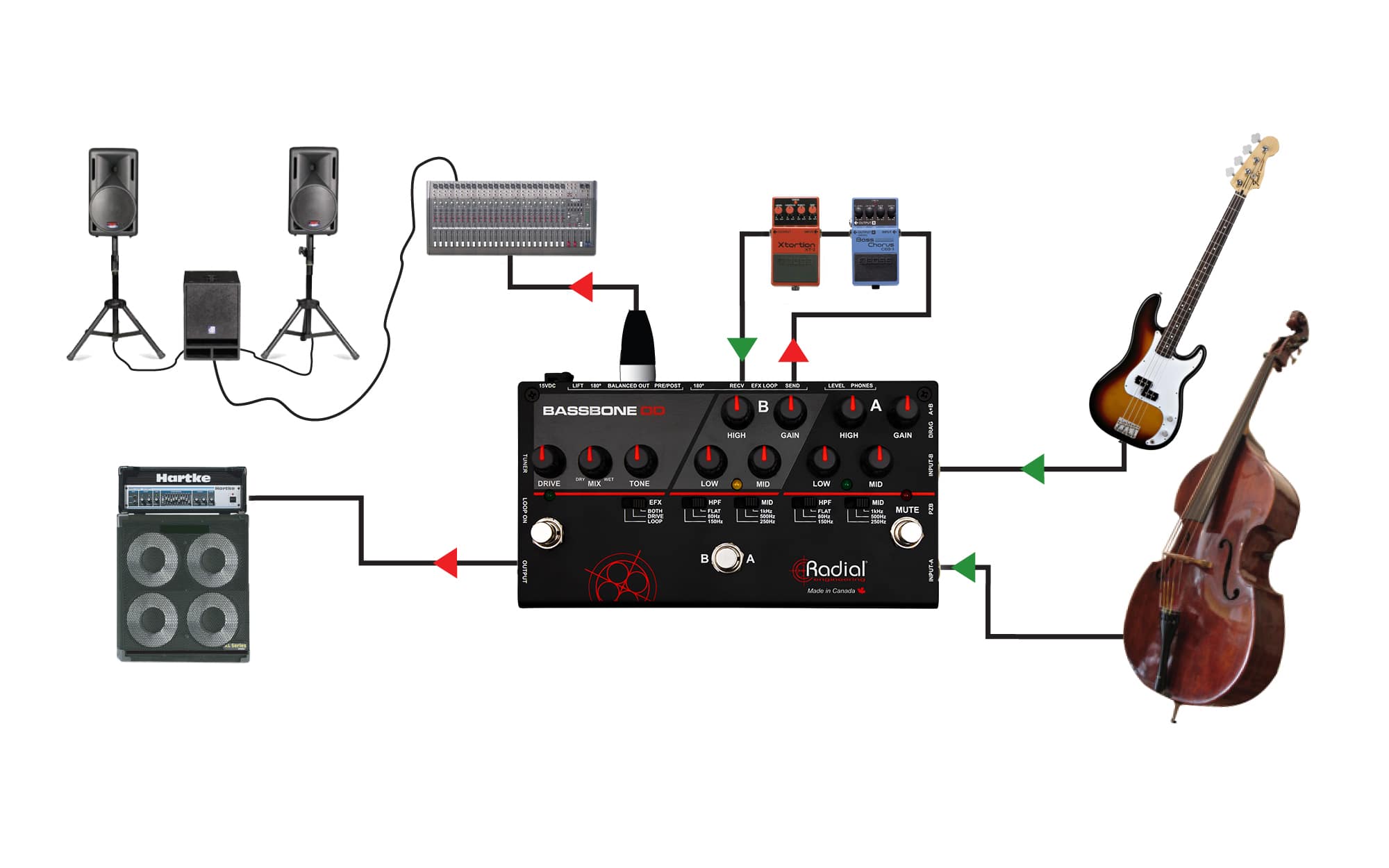 Bassbone OD with electric and upright
Whether you play jazz, pop or orchestral works, the Bassbone OD lets you switch between a passive bass with magnetic pickups to an upright with piezo while optimizing the tone for each. Add effects to the signal path using the built-in effects loop.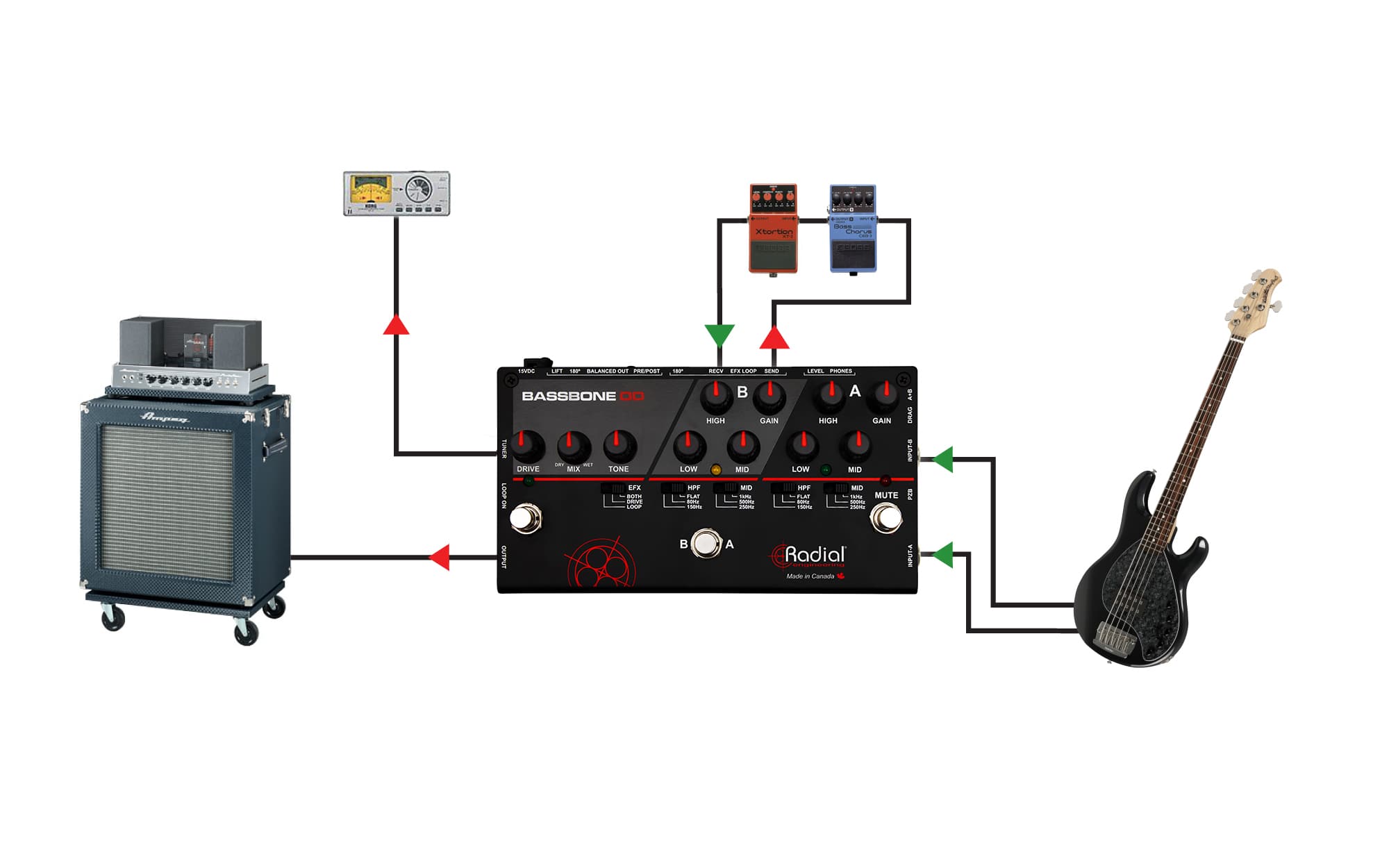 Combine two pickups and mix together
Connect the TRS (stereo out) from your dual-element bass to combine a magnetic pickup with a piezo using the blend switch. Set the levels and tone for each pickup to suit. The Bassbone OD acts like a mini 2 channel mixer!
Videos
Review Demo – Radial Bassbone OD

Radial Bassbone OD | Guitar Interactive Review

Bassbone OD Bass Preamp and Overdrive Pedal Demo | Polar Audio
Reviews

"It's hard to envisage the player who wouldn't be able to get everything he or she needed out of a Bassbone, it's so well thought out and spec'd... It's a brilliant piece of kit for so many reasons that I'd say it's a must-have."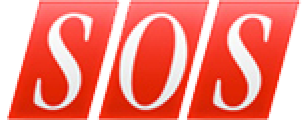 "Happily, the Bassbone OD sounds as good as it is versatile. Even as a straightforward DI it seems to add a hint of flattery. This pedal could either lie at the heart of, or replace almost entirely, your bass front-end. Highly recommended!"

"The right mix of the Bassbone's overdrive and EQ is capable of producing a variety of sick sounds that will satisfy anyone from Jesse Keeler fans to Billy Sheehan wannabes.""
Education
D.I.s vs Preamps
Choosing a direct box vs an instrument preamp for bass guitars and acoustic instruments We are often asked by acoustic and bass guitar players how to tell whether a direct... Read More
Bassbone OD

Resources
Part no:
R800 7072 00
{{ postData.post_title }}
{{ postData.productSubTitle }}
Part no: {{ postData.partNo }}
Part no: View Product
{{ postData.post_excerpt }}
View Product