Guitar Effects Interface & Reamp Box
The EXTC-SA™ is a unique interface for connecting guitar pedals to the inputs and outputs of pro audio equipment such as recording interfaces or mixing consoles, allowing you to incorporate your pedals in new and creative ways.
Photos
Balanced interface for guitar effects pedals
Separate send & receive controls optimize signal path
Transformer isolation helps eliminate ground loops
Creative tool helps your mix stand out from the rest
Reamp and mix through your guitar pedals
The EXTC allows you to get creative with your effects pedals, using them in your mix on any recorded track. Add a touch of distortion or chorus to a lead vocal, flange on a violin, or fuzz on piano - the possibilities are endless. The EXTC takes the line level balanced output of your recording interface and converts it so an instrument level high-Z output optimized for guitar effects pedals, so you can Reamp any track through your pedalboard with ease. Once you've run the signal through your pedals, connect the output back into the EXTC and it will boost it up to a balanced line level so you can connect directly to the input of your recording interface. The EXTC features Radial's class-A buffer for the best audio quality and transformer isolation to eliminate any buzz or hum - so you can focus your attention on using your pedals in new and exciting applications.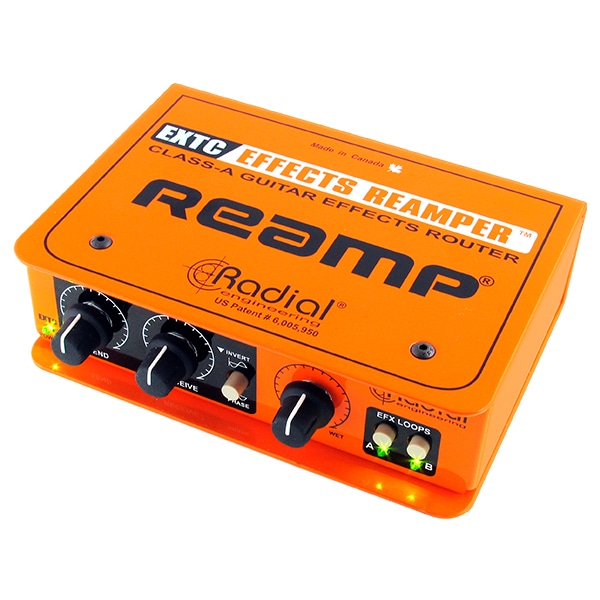 EXTC-SA

Applications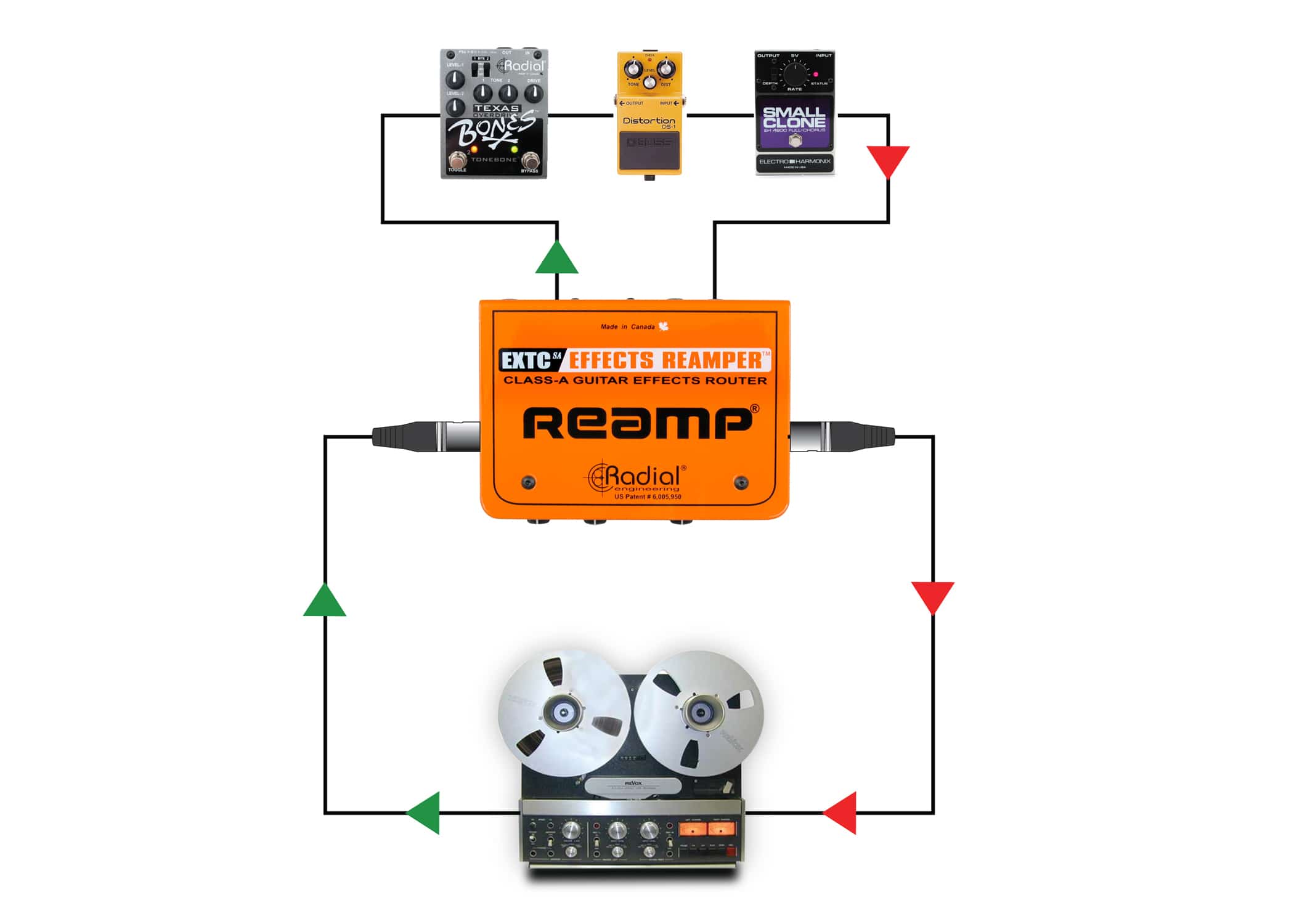 Reamping™ through Pedals
Take a dry track, send it to the EXTC which in turn feeds your pedals. This is the perfect way to add some extra zest to a vocal track; an envelope follower to a kick; or some wah to that Hammond.
Videos
Reamping: Exploring the Differences

Using Your Guitar Pedals to Mix?
Reviews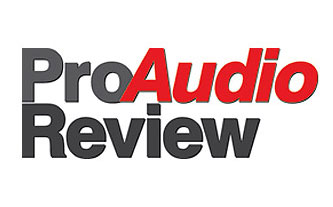 "The EXTC-SA is a clear choice if you want to simplify the often complicated task of Reamping with effects."
Artis

ts
Vance Powell
White Stripes, Radiohead, Kings of Leon, Buddy Guy
"I use my 3 EXTCs on every recording and mix I do. They are absolutely, positively perfect for interfacing low level gear such as pedals, or in my case, Tape Echos into my console. Been wanting someone to do this in a 500 space for years. It's just a great tool!"
Steven Page
Formerly of Barenaked Ladies & Solo Artist
"Radial products are a staple of my daily life; When I arrive at a gig and see Radial DIs on the stage, it tells me right away that the venue and sound company care about quality and detail. For the days when they don't, I have a Radial JDI or a JDV on every one of my pedalboards. In the studio, Radial's tools like EXTC and JDX 500 make it easy to act on every moment of inspiration right away. Every piece they make is solid, uncompromising and brings out the best in everything I plug in."
EXTC-SA

Resources
Part no:
R800 1420 00
{{ postData.post_title }}
{{ postData.productSubTitle }}
Part no: {{ postData.partNo }}
Part no: View Product
{{ postData.post_excerpt }}
View Product