Phantom Powered Active Direct Box
The J48 is a high performance active direct box for live concert touring and professional recording studio applications, with the ability to handle extreme transients without distortion while delivering the natural sound of your instrument.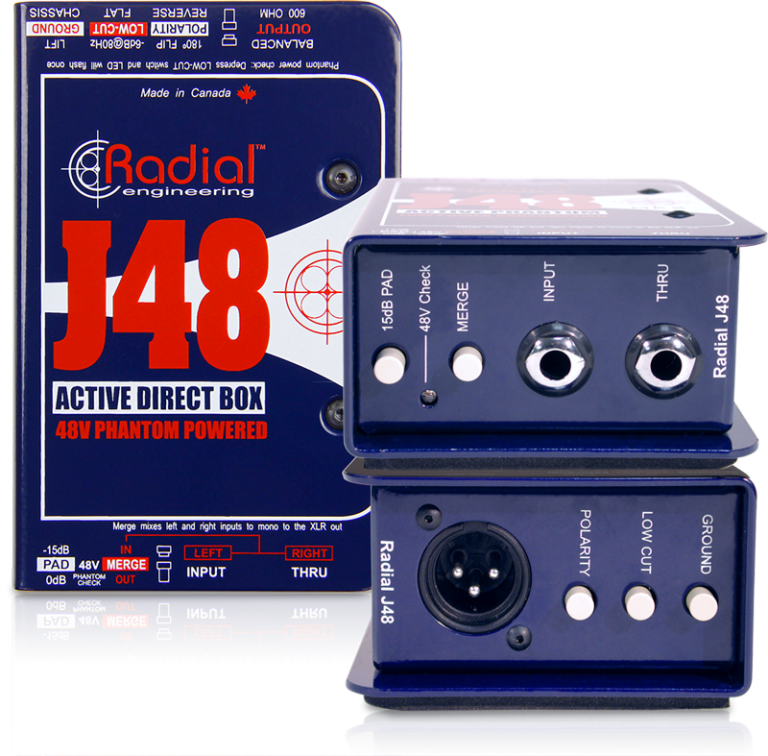 Photos
Exceptional headroom & dynamic range
Retains the natural sound of the instrument
Merge switch sums stereo instruments to mono
Powered by 48V phantom, no batteries required
Higher Rail Voltage, Higher Headroom
Most battery-powered guitars and basses will produce as much as 7 Volts when played at maximum volume, which can easily overload typical active direct boxes which have are only able to handle about 3 Volts. The J48 uses a unique switching power supply that raises the internal rail voltage so it can handle up to an incredible 9 Volts, resulting in improved signal handling and greater headroom. This additional headroom significantly reduces distortion of all types, allowing the natural tone and character of the instrument to shine through.
J48

Applications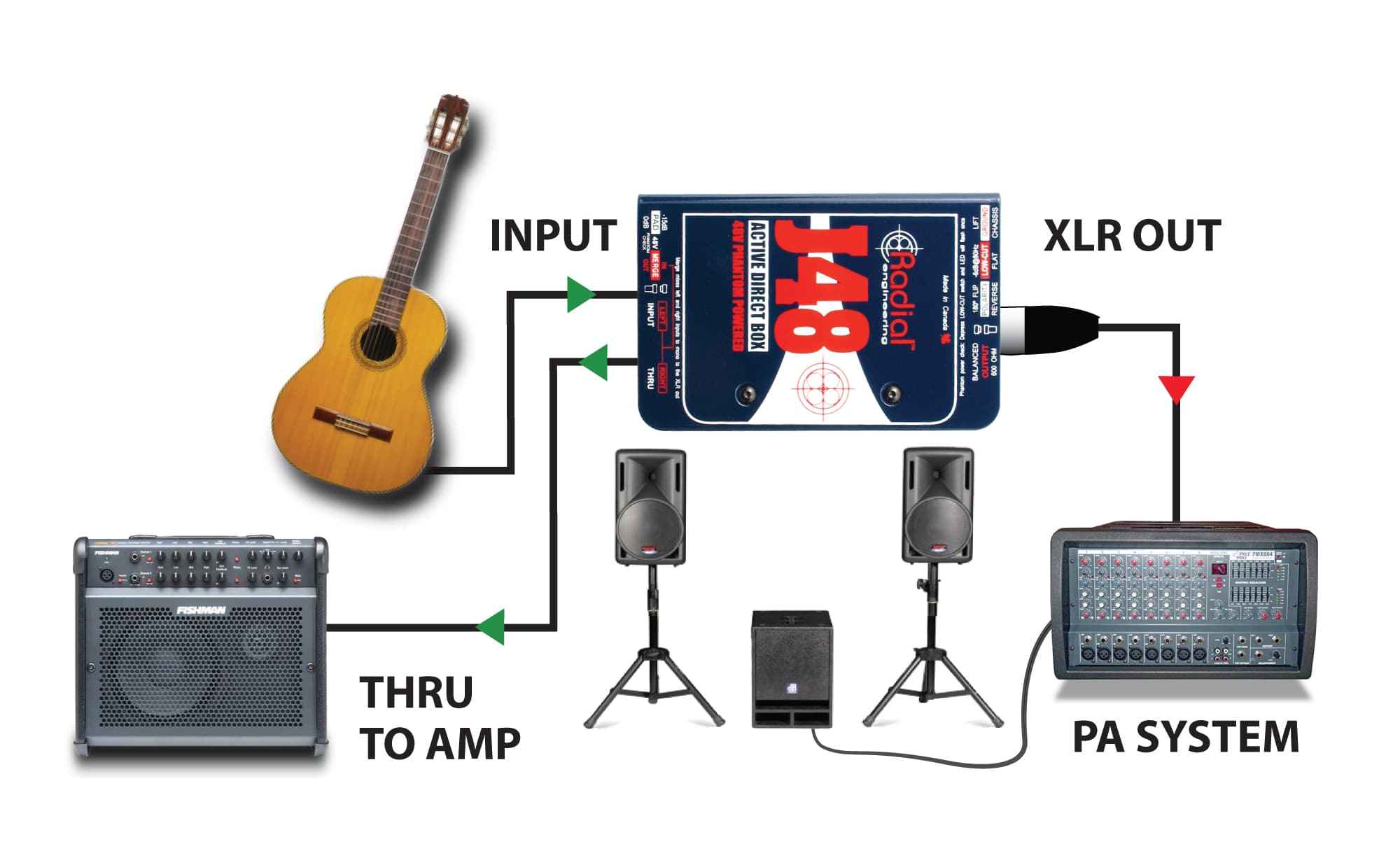 J48 for Live Touring
A direct box is primarily used to get an instrument signal from the stage to the mixing desk and PA system. The Radial J48 delivers the natural tone exceptionally long distances without adding distortion or coloring the sound in any way.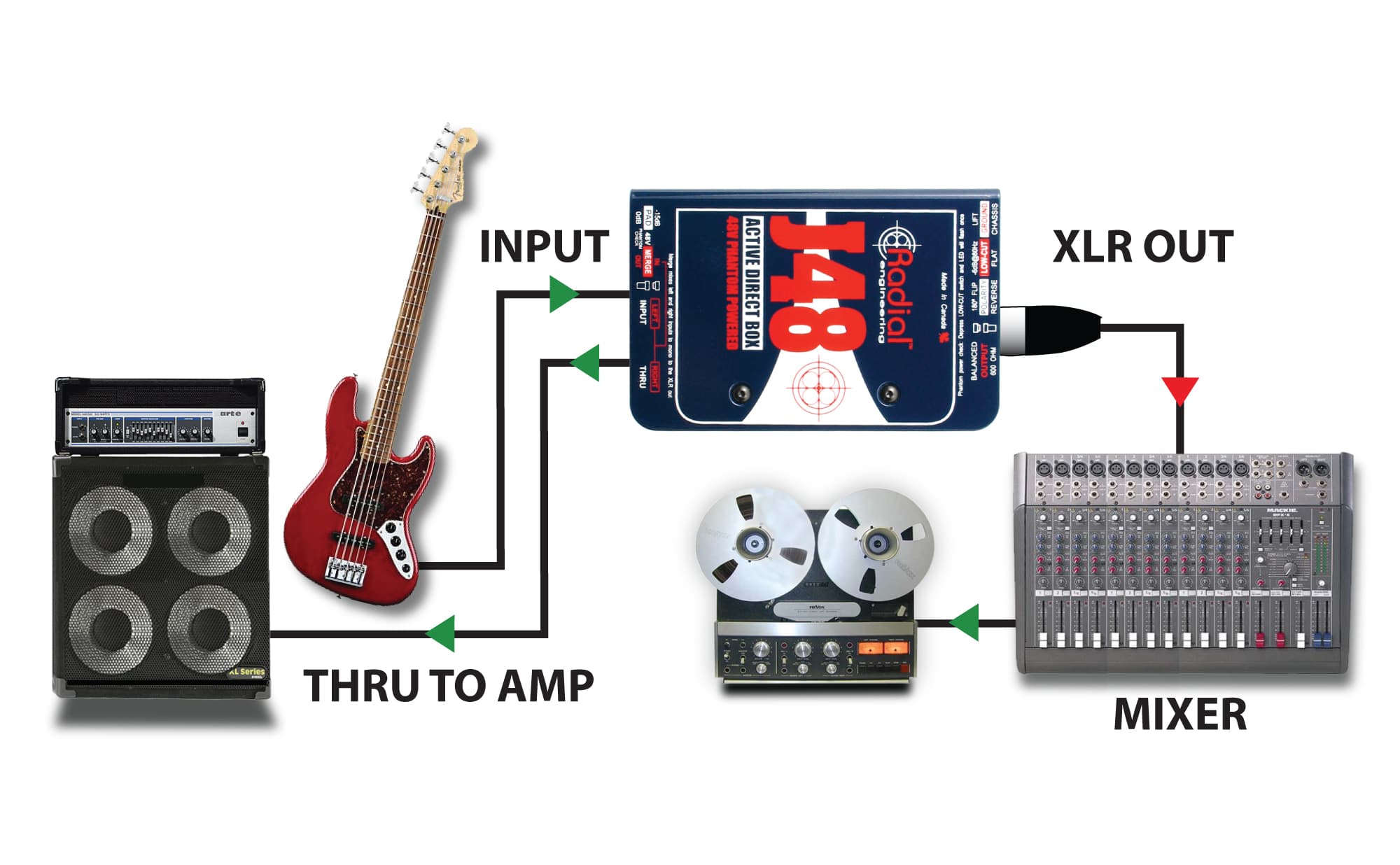 J48 in the Studio
When recording direct, the quality of the direct box interface assures the purest signal going to the track. The Radial J48 is particularly well suited for recording bass or capturing a direct track from a guitar.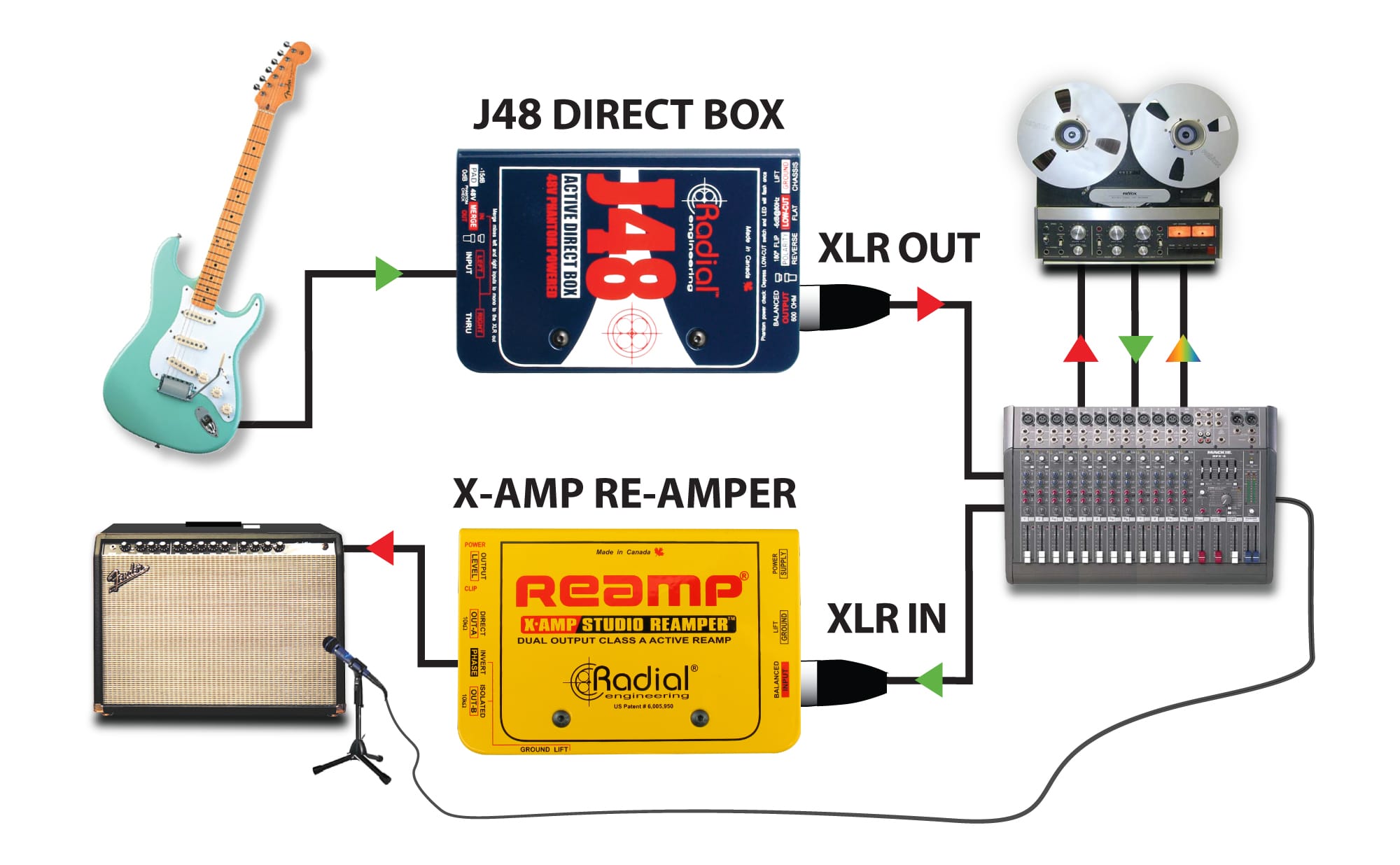 Reamping with the J48
Reamping means sending a dry track from the recorder back out to pedals and amps. This tricks has been used for years by top professionals. The Radial J48 is ideally suited to capture the sound of the instrument for later Reamping.
Videos
Tech Corner- A Good Day to D.I.

How to Choose a DI: Active vs. Passive
Reviews

"I've had my own Radial J48 for several years, and I can't remember the last time I didn't use it when making a "proper" recording of an amped guitar or bass. It's one of those pieces of kit that just works properly every time it's needed."
"One of the problems with a lot of active DI boxes is that if you lift the ground, phantom power can no longer pass through and therefore they have to use an internal battery. Radial gets around this by using a switching supply. Just plain ingenious! The J48 is very clean with good solid low end and a vast amount of headroom."
{{ postData.post_title }}
{{ postData.productSubTitle }}
Part no: {{ postData.partNo }}
Part no: View Product
{{ postData.post_excerpt }}
View Product