Studio Guitar Distribution and Splitting
The JD7™ is a guitar signal splitter that is able to drive as many as seven amplifiers at the same time without introducing noise, signal loss, or hum and buzz from ground loops.
Photos
Drive up to 7 amplifiers and 2 effects loops at the same time
Jensen transformer isolation eliminates hum and buzz
Built-in Radial Direct box and Reamp® capabilities
Drag control load correction for natural tone
Natural tone, quiet operation
The JD7 allows you to feed up to seven amplifiers simultaneously, with premium Jensen transformers on the outputs that ensure distortion-free signal transfer while blocking hum and buzz from ground loops. To help retain the natural tone of your instrument, Drag control load correction is also featured on the input so you won't lose the tone and feel of connecting your guitar directly to an amplifier.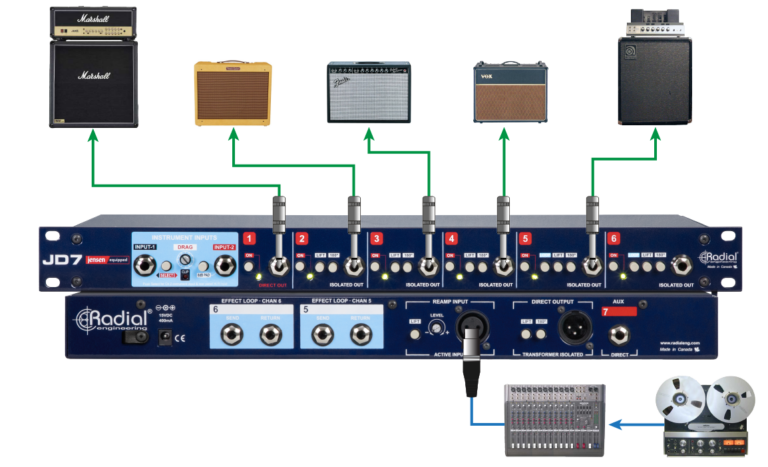 Record direct and Reamp® through multiple amps
The JD7 has a built-in Radial DI box, so you can take a clean guitar track directly to your recording interface while simultaneously playing through multiple amplifiers. A Reamp® input allows you to send your recorded guitar track from your recording device back through any or all of your amps, so you can focus on the performance and have the freedom to tweak your amps and microphones later on.
JD7

Applications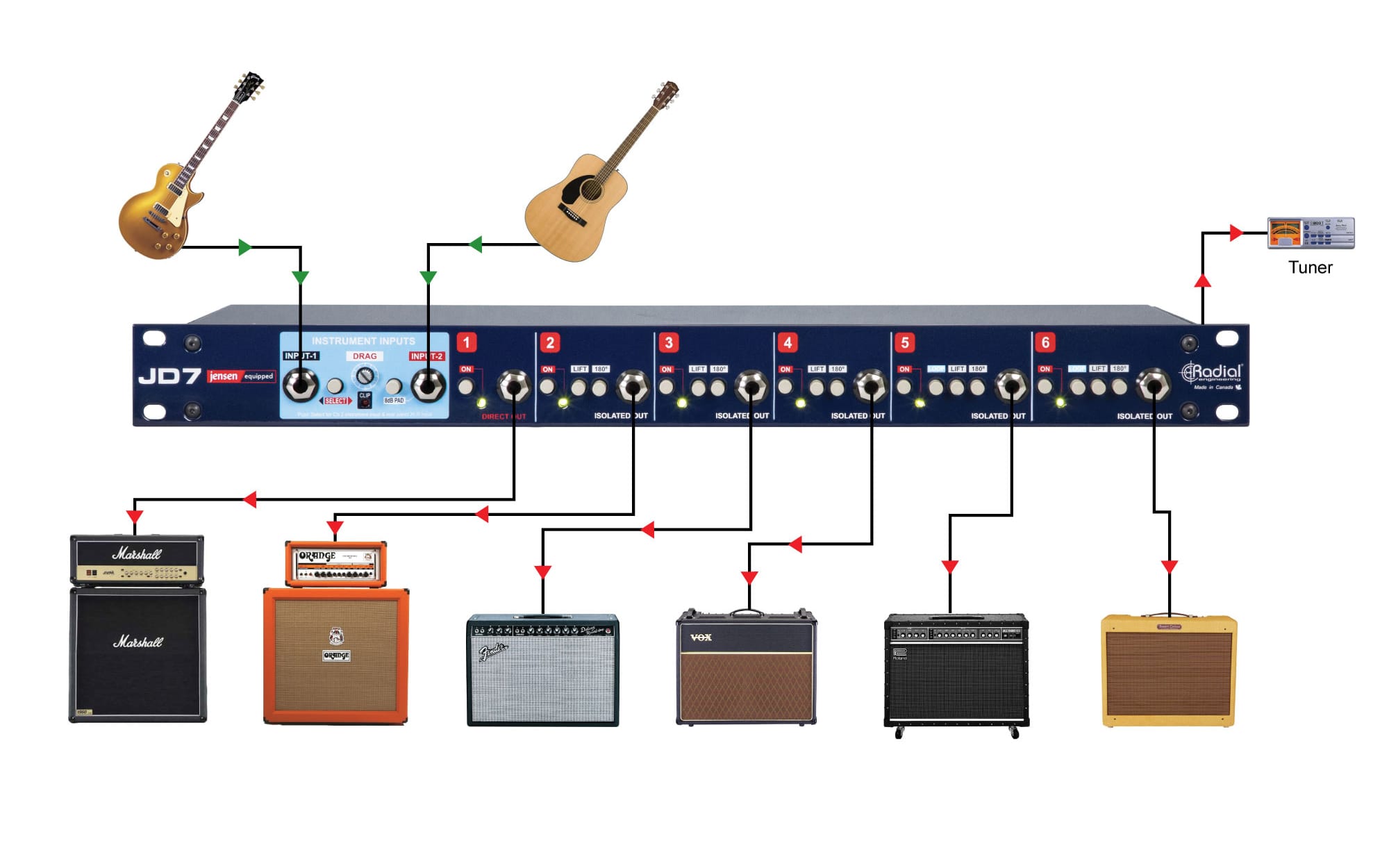 Using the JD7 as a splitter
The JD7 is equipped with A or B inputs and 6 guitar outs on the front panel plus a tuner out on the rear. Use ch-1 with a properly grounded amp, then add as many as you like. All outputs are isolated to eliminate hum and buzz.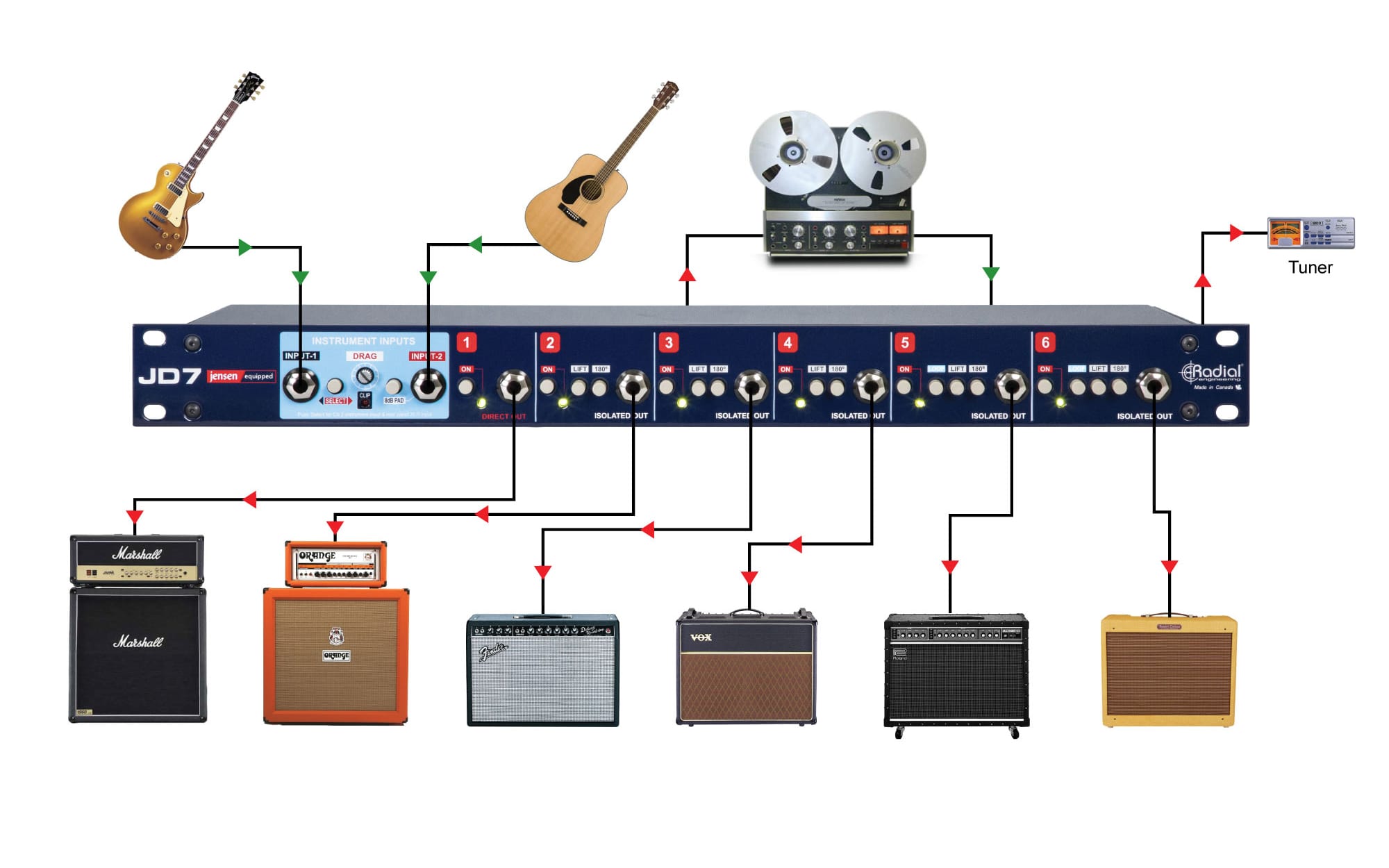 Using the JD7 for Reamping
Start by recording a dry track using the JD7's DI output. Then send the clean track back to the Radial JD7's rear panel XLR input. Adjust the level and you are now set to drive as many amps as you need. Move the mics, change the tone settings.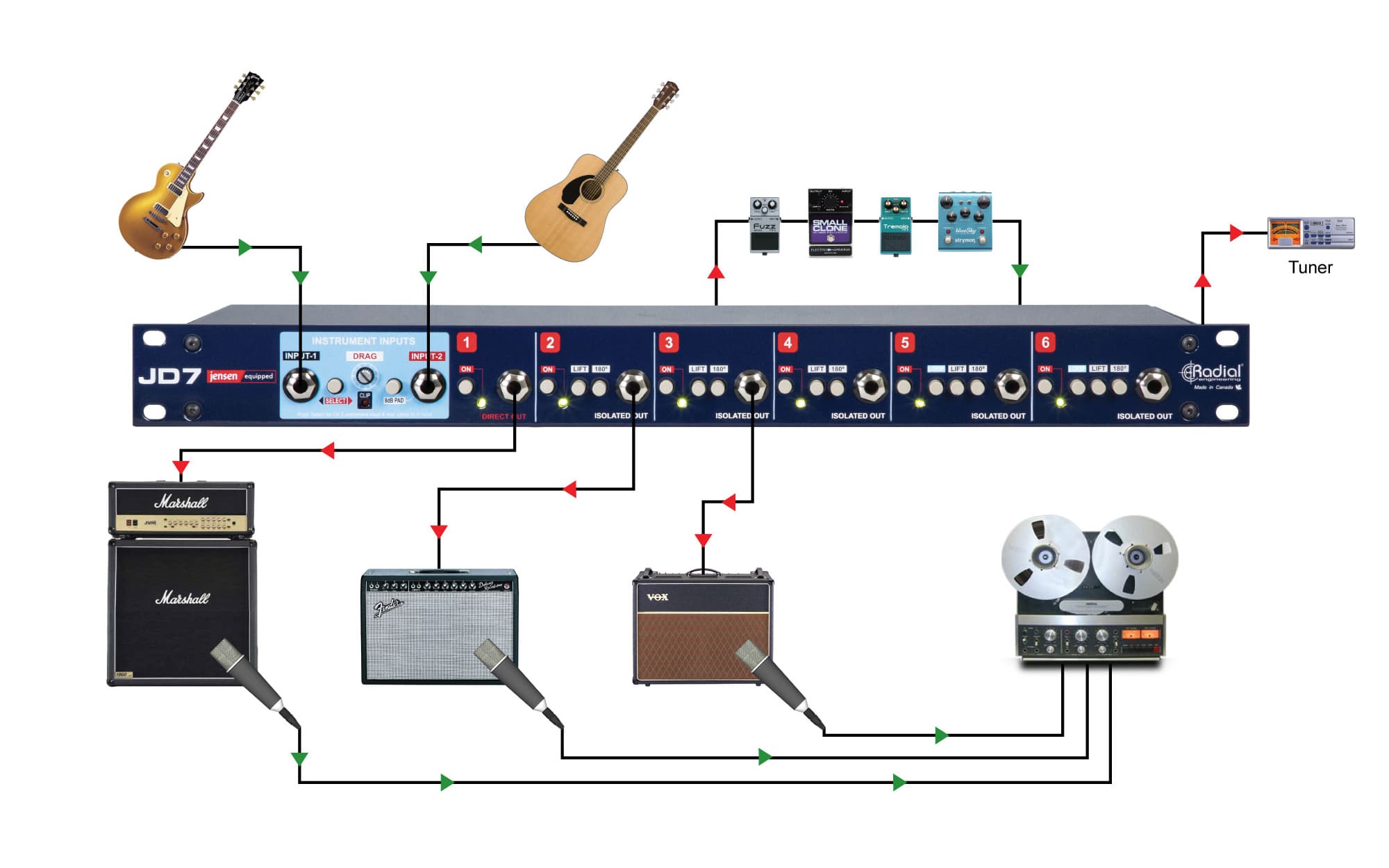 Using the JD7 with effects
A great way to quiet down noisy guitars is to run all your signals through the JD7. The high performance class-A buffers and Jensen transformer isolated outputs are truly amazing! Channels 5 and 6 are also equipped with effects loops.
JD7

Resources
Part no:
R800 7000 00
{{ postData.post_title }}
{{ postData.productSubTitle }}
Part no: {{ postData.partNo }}
Part no: View Product
{{ postData.post_excerpt }}
View Product