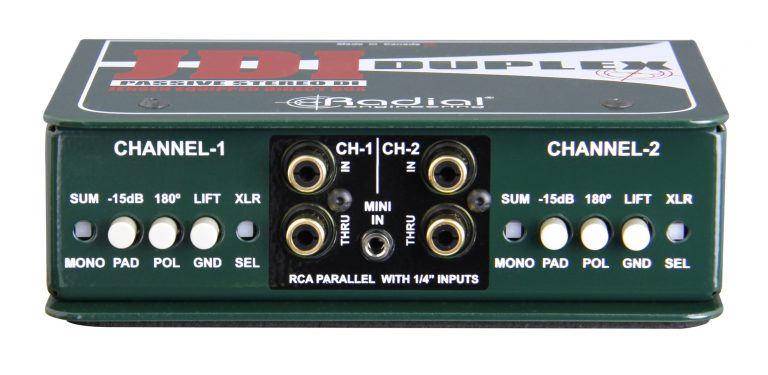 1
2
3
4
5
6
7
Mono Sum
Turns the input & thru jacks into a passive mixer to sum stereo signals to mono.
1
-15dB Pad
Reduces the input sensitivity to allow high output signals from keyboards to be connected without distortion.
2
3.5mm Input
Mini TRS provides easy interface for laptops, tablets, smart phones and iPods.
3
RCA Inputs
Stereo inputs for -10dB consumer level devices such as CD players and other hifi devices.
4
180°
Reverses pin-2 and pin-3 on the XLR output to help phase align the stage sound with the PA system.
5
Ground Lift
Lifts the audio ground (pin-1 on the XLR output) to help reduce hum and buzz caused by ground loops;
6
XLR In
Activates the +4dB line level balanced XLR input and disconnects the ¼" & RCA jacks.
7
1
2
3
+4dB XLR Input
Used to connect balanced line-level sources like mixing consoles and pro VTRs.
1
XLR Output
600Ω balanced mic-level output enables cable runs of 100 meters (300') without noise.
2
Input
1/4" input jack used to connect the instrument or line level source to the Duplex.
3