Guitar Amp Simulator & DI Box
The JDX Direct-Drive is a unique and powerful device that emulates the sound of a guitar amplifier while doubling as a direct box, providing a realistic amp sound that allows you to play a gig without needing an amp on stage.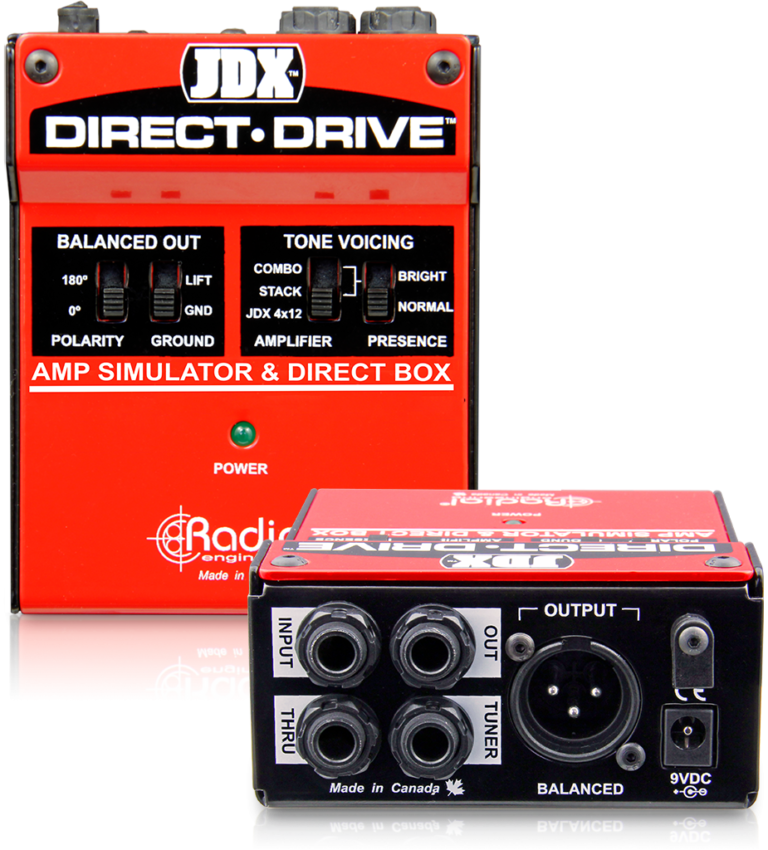 Photos
Guitar amp simulator for pedalboards
Eliminates need to bring an amp to the gig
4 x 12 half-stack & open back combo tones
Employs Radial's popular JDX tone shaping
Classic amp tones in a compact pedal
The Direct-Drive is an amp simulator designed for your pedalboard, providing a realistic amp tone that can be connected directly to the PA system. Three amplifier voicing options are provided: the first is the popular JDX tone which simulates the sound of an dynamic microphone on a 4x12 cabinet. The second setting is similar in character to a British tube head amplifier, while the remaining tone is modeled after a clean twin combo amp. With three classic voicings available, the Direct-Drive provides a natural amp tone through the PA system and consistency from night to night.
JDX Direct-Drive

Applications
Using the Direct-Drive without an amp
Connect your pedals to the Direct-Drive and enjoy the natural tone of a guitar amp using the PA system or monitors instead of an amp. Select between three voice settings to find the one that works best.
Using the Direct-Drive with your amp
Use the Direct-Drive at the output of your pedalboard to feed your amp and the PA at the same time. This allows the engineer to mix the two signals to get the best tone out of the PA system.
Using the Direct-Drive for silent recording
With the Direct-Drive as your amp, quietly record your guitar directly from your pedalboard. Use the ¼" output to feed an effects processor and mix to create amazing tonal textures.
Your Guitar, Your Pedals, No Amp

Record silently while still getting the tone you're familiar with from your pedals. Below are examples of the audio captured from a pedalboard with and without the JDX Direct-Drive.
With JDX Direct-Drive - Minor Blues Lead

0:52

No JDX Direct-Drive - Minor Blues Lead

0:52

With JDX Direct-Drive - Rock Rhythm

0:44

No JDX Direct-Drive - Rock Rhythm

0:44

With JDX Direct-Drive - Boot Kicker

0:53

No JDX Direct-Drive - Boot Kicker

0:53
Videos
Tonebone JDX Direct-Drive Demo

Radial Tonebone JDX Direct Drive, demo by Pete Thorn

Radial JDX Direct-Drive | Review
{{ postData.post_title }}
{{ postData.productSubTitle }}
Part no: {{ postData.partNo }}
Part no: View Product
{{ postData.post_excerpt }}
View Product