Active Direct Box for Laptop Computers
The JPC is an analog stereo interface designed to help solve the hum and buzz problems commonly associated with connecting a computer or consumer playback device to an audio system.
Photos
Easy to use stereo interface for laptop computers
Active signal path with transformer isolation
Eliminates hum and buzz common to PCs
Multiple connector types for any audio source
Hybrid circuit for low noise
The JPC is a stereo direct box that is easy to use with practically any consumer electronic device. It utilizes active buffers and transformer isolation to create a hybrid circuit that blocks ground loops and reduces system noise, along with AC blocking capacitors to prevent any audio system noise from bleeding back into the computer. The choice of ¼", RCA and 3.5mm input connectors make it easy to interface with all types of unbalanced audio sources such as computers, smartphones, and tablets, and the outputs are XLR balanced mic level to feed snake systems and PAs. Powering the JPC is accomplished via 48V phantom from a mixing console, allowing the JPC to be used in concert environments without requiring an external power supply.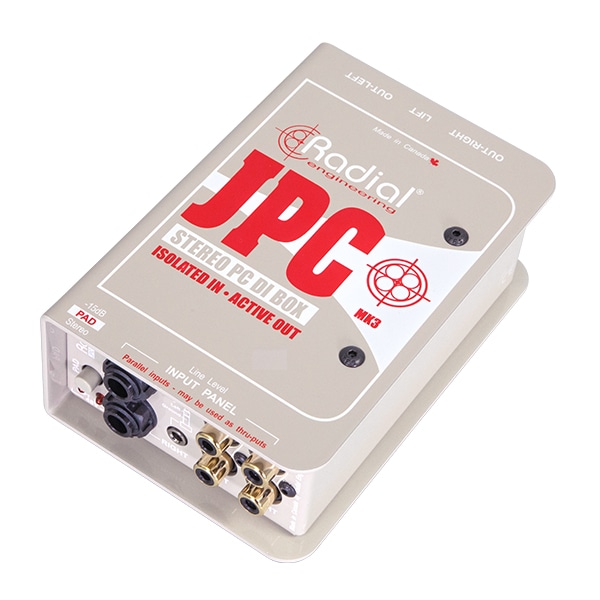 JPC

Applications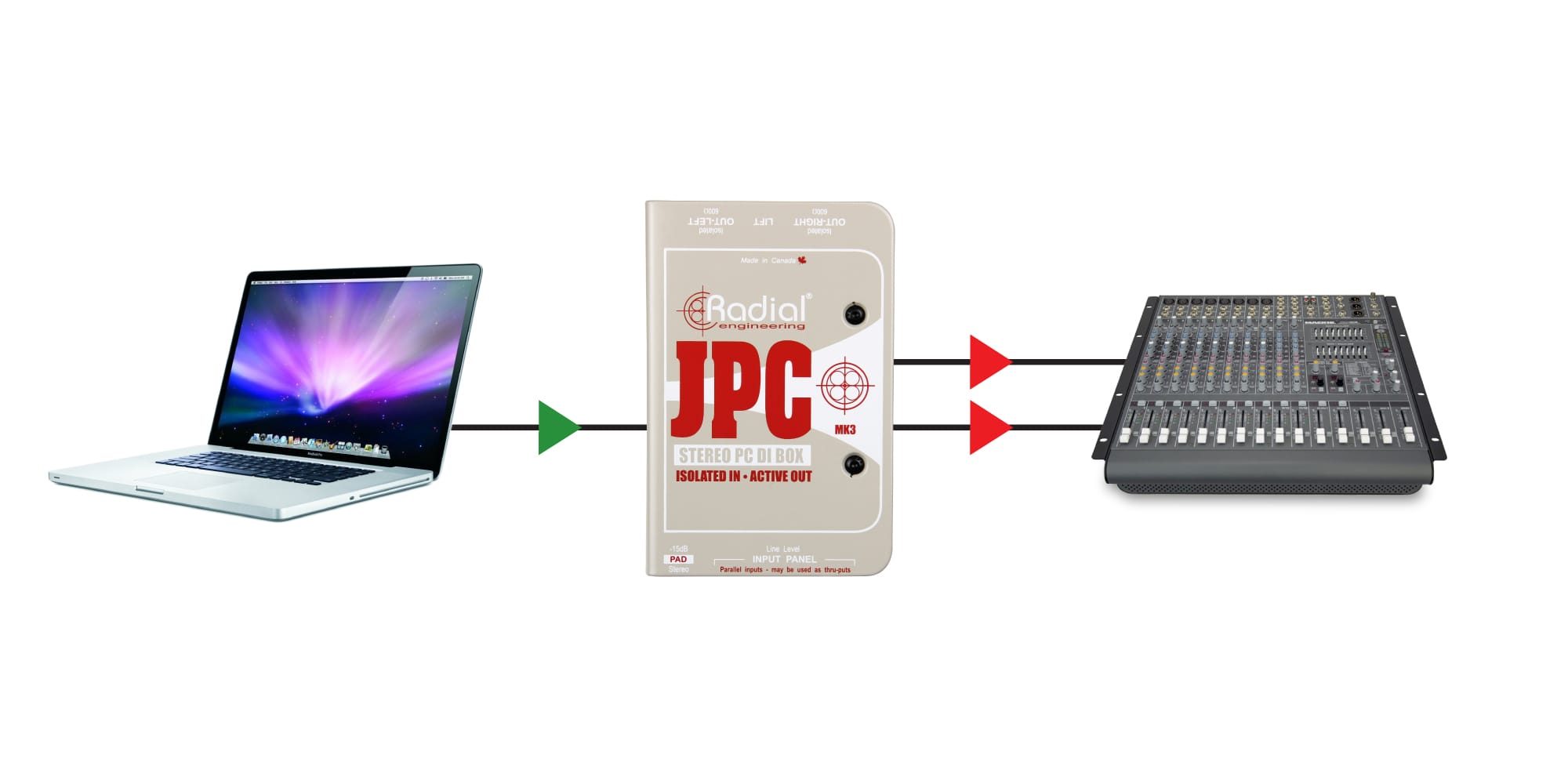 Using the JPC with a computer
Computers are often the cause of noise in the PA system. The JPC's combination of transformer isolation with an active drive circuit helps reduce noise by eliminating stray currents.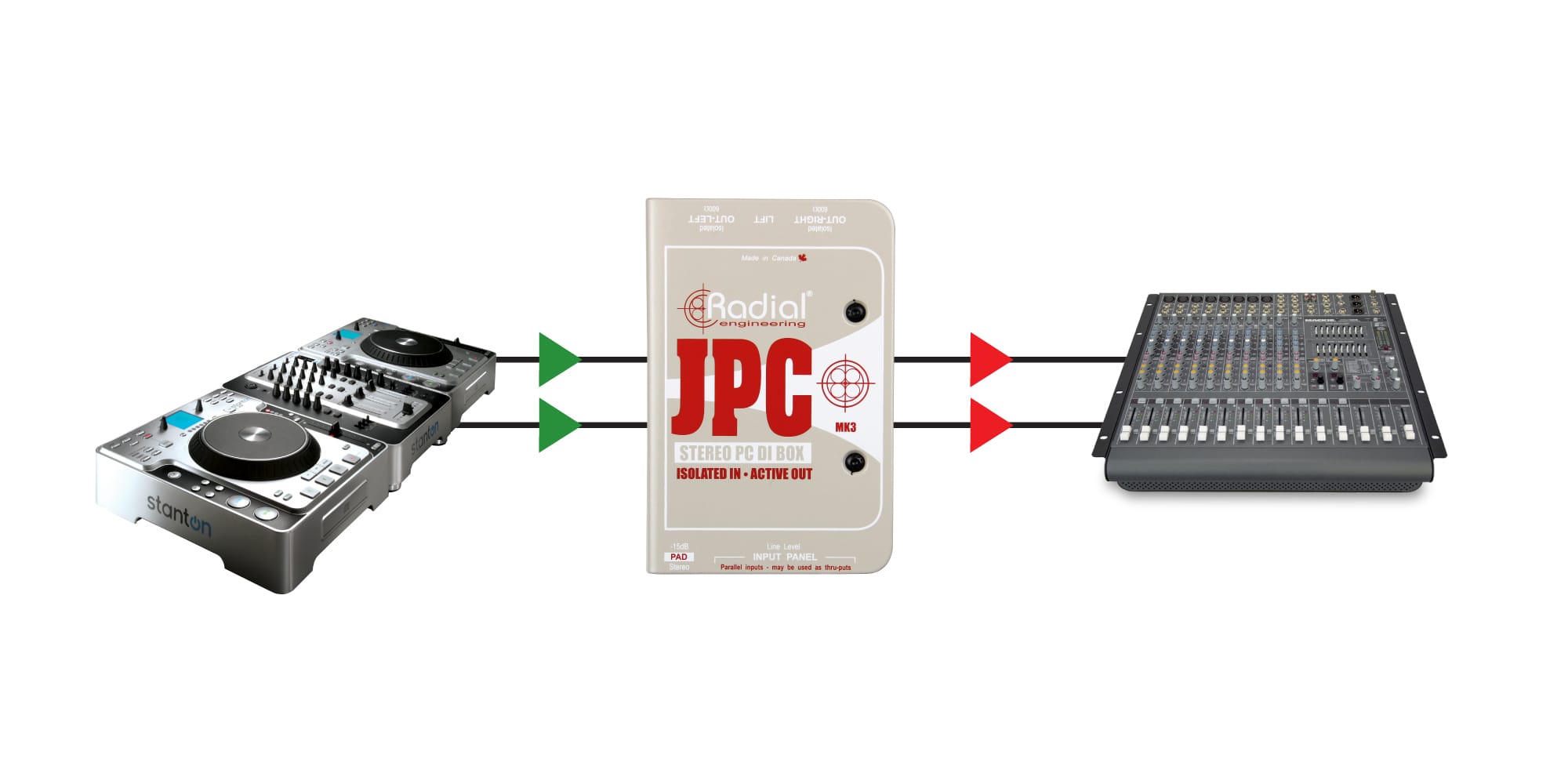 Using the JPC with a DJ setup
The JPC is well suited to handle the type of audio generated by CDs and digital audio files. By isolating the the source with the PA system you also eliminate noisy ground loops.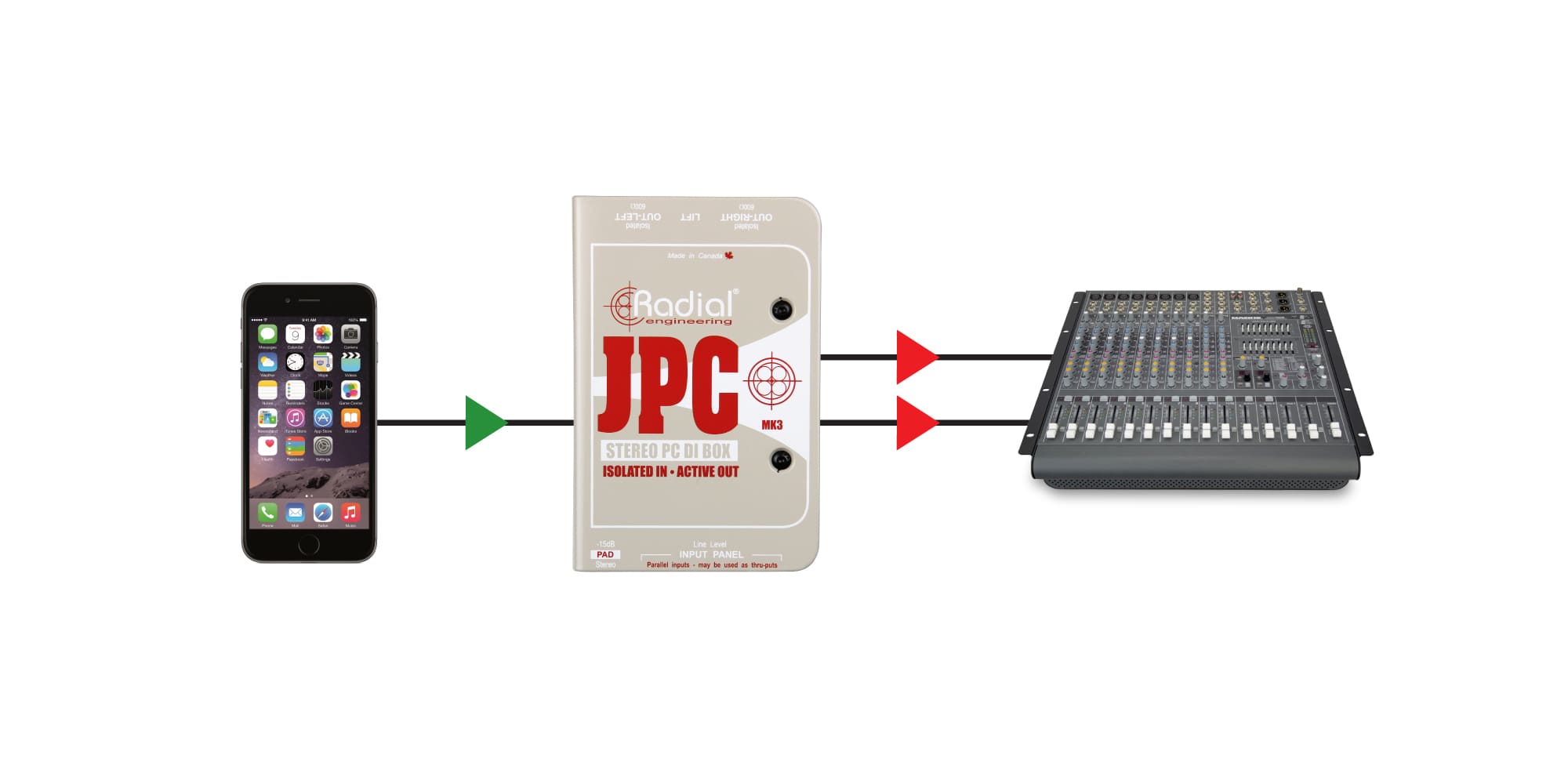 Using the JPC with a Phone
The JPC's 3.5mm (1/8") TRS jack makes it easy to interface portable playback devices. This makes it easy to bring unbalanced audio tracks into the PA system via the balanced mic input of a console.
Reviews
"The JPC provides high quality audio output from almost any device with a high impedance unbalanced output, but protects expensive laptops, tablets and phones from any potential electronic dangers. Once again, Radial's genius for noticing a void in the product market and filling it with an exceptional tool becomes immediately apparent."

"My biggest regret is not finding out about Radial Engineering direct boxes sooner! We have transitioned through our move to individual monitor mixes from FOH, to a dedicated monitor console, to personal mixers and the Radial direct boxes have continued to work flawlessly through all of our upgrades."
Artis

ts
Russ Miller
Producer, Mixer FOH Sound Engineer - Johnny Marr, Alison Moyet, Lacuna Coil, Rodriguez Cancer Bats
"The JPC is typical of ALL Radial gear, built like a tank, sonically flawless, streamlined in operation and absolutely indispensable. The JPC's isolation transformers provide a sleek solution to the 'noise' and 'hum' often inherent live systems. It's saved my ass in a lot of less than ideal combat audio situations, where set-up time is more than precious, it's practically nonexistent! It sounds great, is unobtrusive and is so reliable, you forget it's even there. I LOVE THIS BOX!!!"
Joel Lonky
FOH engineer & Production Manager - Rob Zombie, The Goo Goo Dolls, P. Diddy, Billy Idol
"I love my Radial products, since I got my first J48 on a pop tour in 2004, I have never looked back. I searched for the perfect DI for years, but Radial products ended my search. I can't even imagine not using Radial products any more. It's not even a thought. Using them has given me back control of the stage sound."
Artists
Small Boxes, Big Sounds
The following is an article written by David Morgan and was published in the August 2016 (14.11) edition of FOH Magazine. David is the FOH Engineer for James Taylor, Seal,... Read More
{{ postData.post_title }}
{{ postData.productSubTitle }}
Part no: {{ postData.partNo }}
Part no: View Product
{{ postData.post_excerpt }}
View Product