Guitar, Amp, & FX Signal Manager
The Radial JX44 V2 is a guitar, amplifier, and FX signal manager redesigned for today's touring professional, with unique features such as an assignable stereo FX loop, the ability to connect to remote pedalboards without signal loss, and options for footswitch control including built-in MIDI functionality.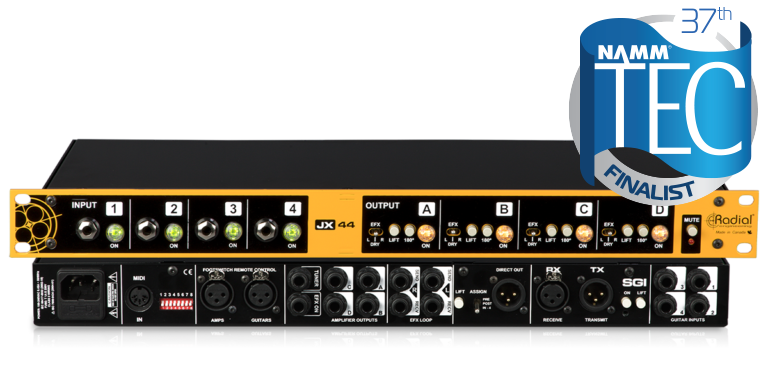 Photos
Switch between 4 instrument inputs and 4 amp outputs
Assignable stereo effects loop simplifies FX routing
Connect to a local or remote pedalboard with SGI-44
Remote switching control with optional JR-5 or MIDI
Gold-contact i/o connections, and premium Jensen transformers
Built-in 120/240V power supply for worldwide touring
Stress-Free Signal Management
Created to meet the needs of meticulous guitar techs and built to handle the rigors of concert touring, the JX44 V2 is the professional's choice for managing and switching guitar signals on stage. Four instruments or wireless receivers can be connected and activated simultaneously, with all inactive inputs automatically feeding a buffered Tuner output, streamlining instrument hand-offs and accommodating for silent tune-ups during a performance. Inputs and outputs feature large illuminated switches for instant visual feedback, and redundant front-panel input jacks accommodate for last minute changes on the fly. All switching is silent and immediate, for flawless transitions that enhance the performance without disruption.


FX Routing and Remote Control
The JX44 also handles complex effects routing with ease, with connections for a local stereo EFX loop and the ability to assign individual EFX channels to any amplifier for wet/dry/wet setups. Remote pedalboards can also be added without signal loss or degradation using the optional SGI-44, giving the artist control over pedal FX without sacrificing tone, even from 100 feet away. While the JX44 V2 works on its own as a complete guitar control center, it can also be controlled remotely, with dual inputs for Radial JR-5 remote footswitches to control either guitar or amp switching, and a MIDI 5-pin connection for operation via MIDI controllers and foot pedals.
Putting Tone and Quality Above All
Four unbalanced outputs are all isolated with premium Jensen transformers for optimal tone and signal quality, with ground lift and 180 polarity reverse switches, ensuring multi-amp setups playback without phase issues or ground loop noise including hum and buzz. Gold-contact connectors are used throughout, with Radial's trusted build quality to survive any touring conditions with ease. A Radial DI box output is also included for when a direct feed from acoustic instruments to FOH is required, also Jensen-equipped. For use on world touring acts, the JX44 V2 features an internal 120/240V switching power supply with an IEC cable that can easily be swapped out when travelling internationally.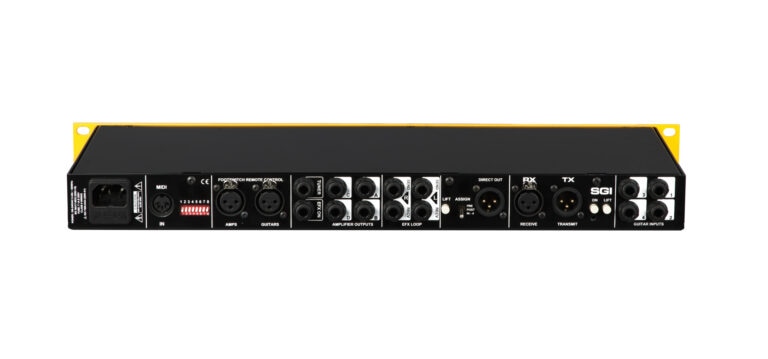 JX44 V2

Applications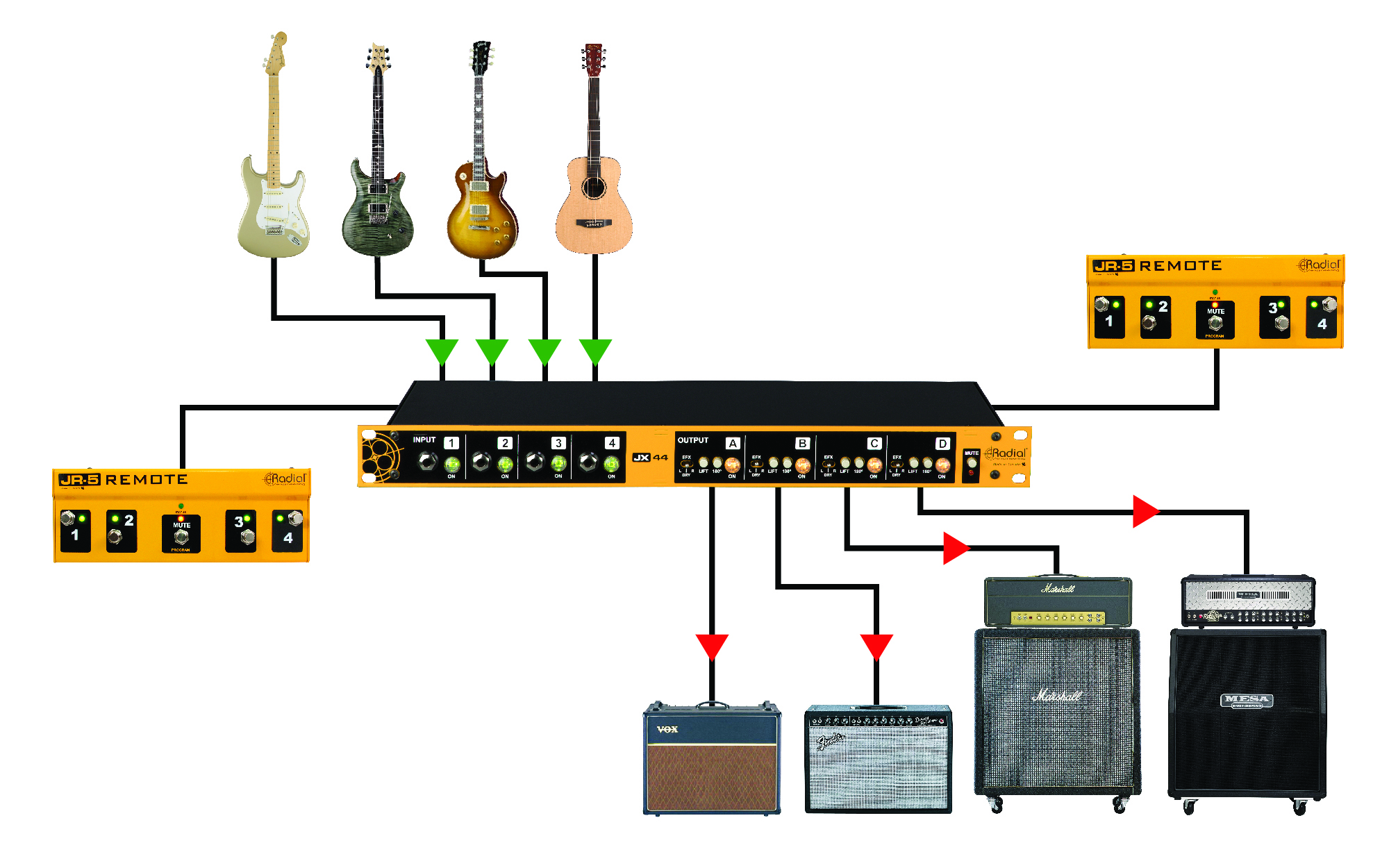 Switch between four guitars and four amps
Instrument and amp changeovers on stage are seamless and noise-free with the JX44. Use the front panel controls or connect the optional JR-5 remote footswitch to select guitars or amps.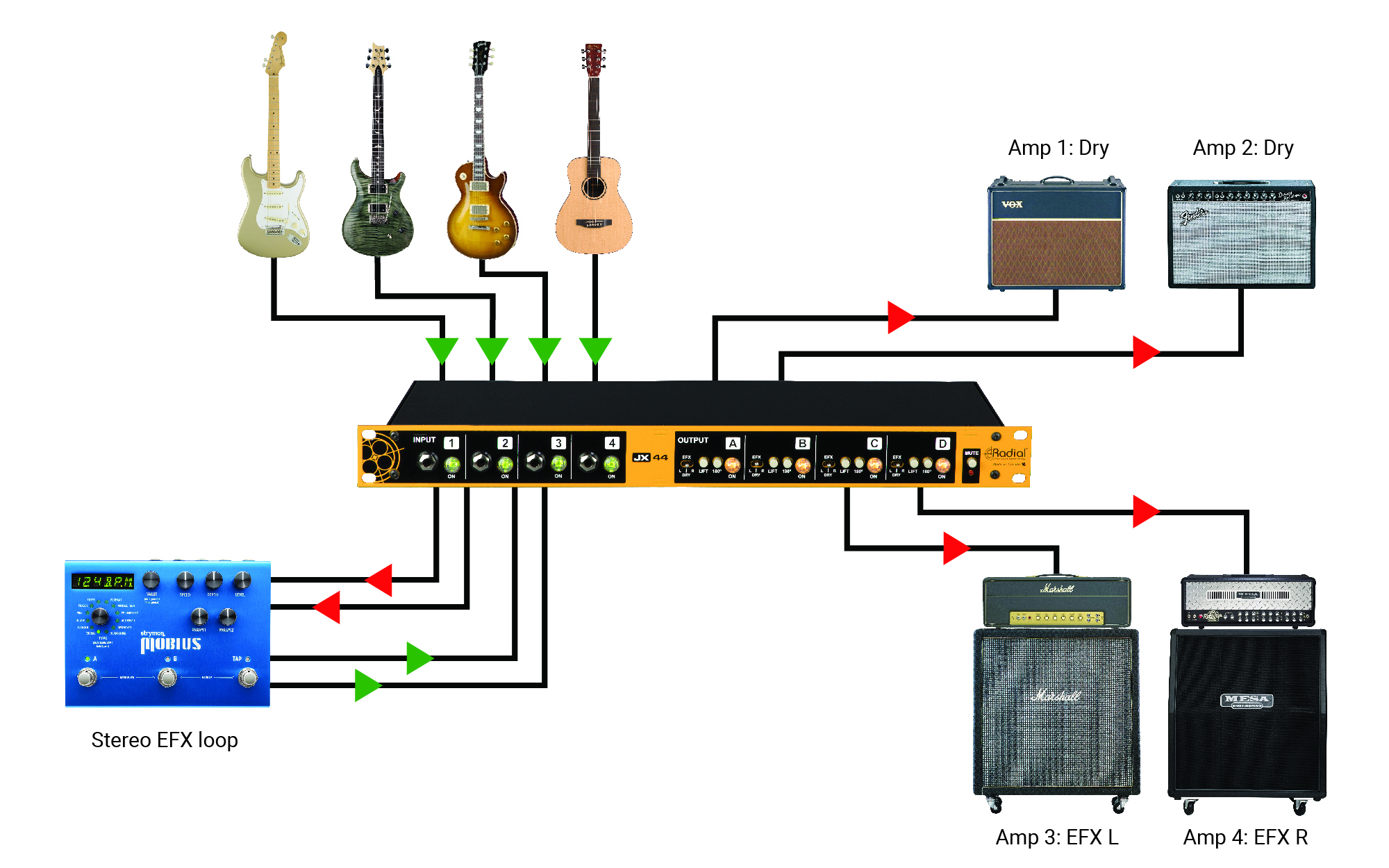 Route effects to multiple amplifiers
A local stereo effects loop on the JX44 allows you to connect rackmount or pedal effects and easily assign them to each of the amplifier outputs, making various wet/dry setups a breeze.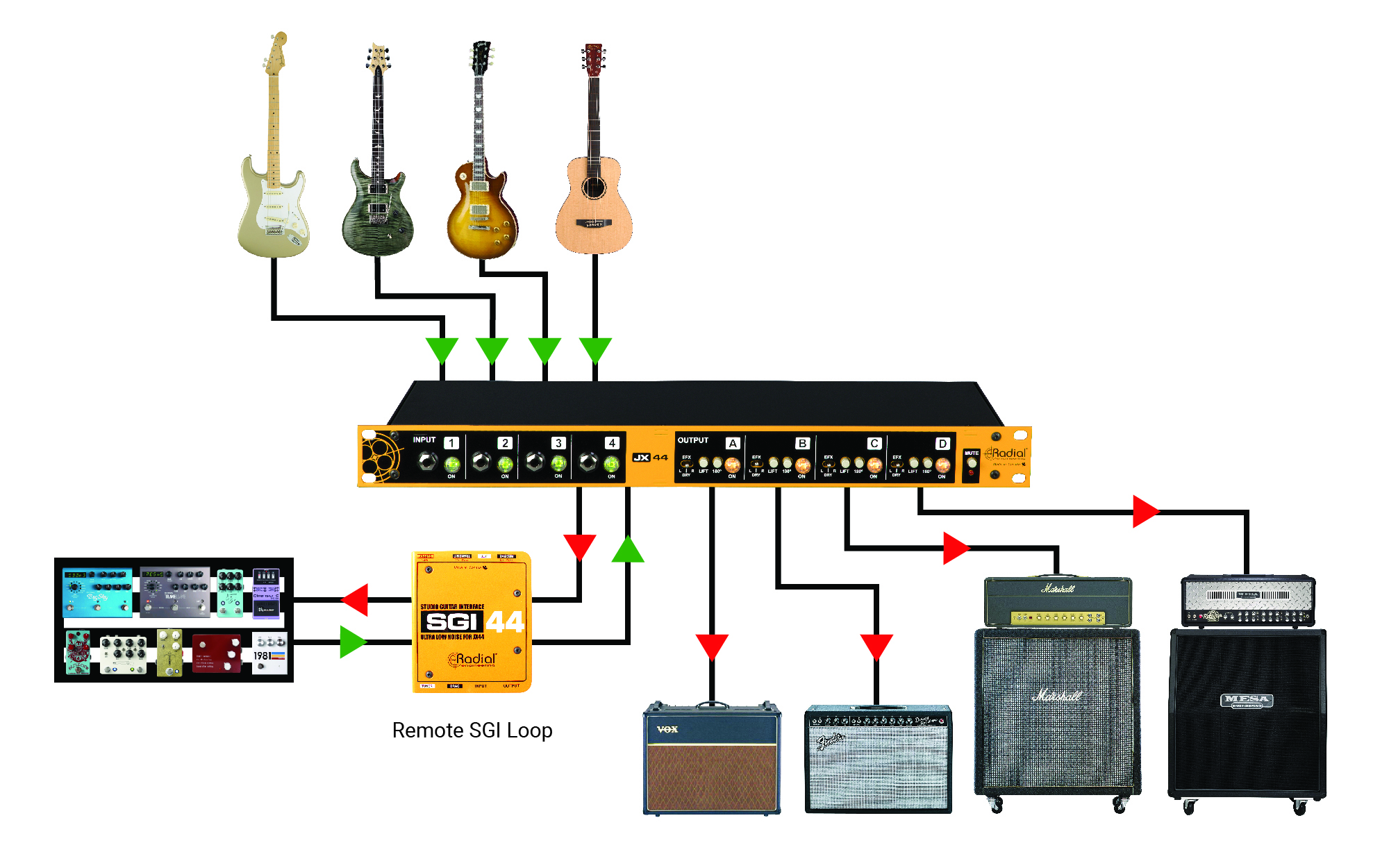 Connect a remote pedalboard with the SGI-44
With the optional SGI-44 remote effects loop, you can connect a pedalboard from up to 300 feet away without signal loss or added noise, keeping the artist in control of their sound while the JX44 is off stage.
Control guitar & amp switching via MIDI
The JX44 has a built-in MIDI input that allows all switching features to be controlled using a MIDI controller or pedalboard, so you can program all changes ahead of time for a stress-free gig.
{{ postData.post_title }}
{{ postData.productSubTitle }}
Part no: {{ postData.partNo }}
Part no: View Product
{{ postData.post_excerpt }}
View Product