Keyboard Mixer, USB Interface and Performance Pedal
The Key-Largo is a unique and powerful device that combines a multi-channel keyboard mixer with a USB audio interface, while providing the ability to control elements of the performance with footswitch control.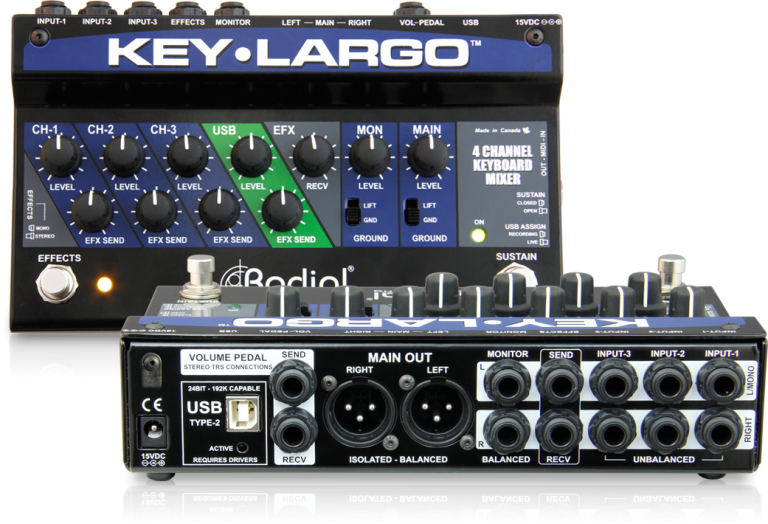 Photos
Three stereo analog inputs for keyboards
Digital USB connection for laptop soft-synths
On-board sustain and effects loop footswitches
Separate balanced outputs for the PA and stage monitors
A mixer for today's gigging keyboard player
Designed for stage use, the Key-Largo allows you to connect up to three stereo keyboards, effects and volume pedals, and a laptop computer via USB, managing all these signals to send a balanced audio feed to a PA system for a seamless performance on stage. Three stereo analog inputs feature individual volume controls to balance levels, and each can be sent to a shared effects loop to add reverb or delay in an instant using a dedicated footswitch. A USB connection allows laptop computers to be integrated into the setup for control of soft-synths, and a built-in sustain footswitch and connections for a stereo volume pedal provide additional ways to control your performance.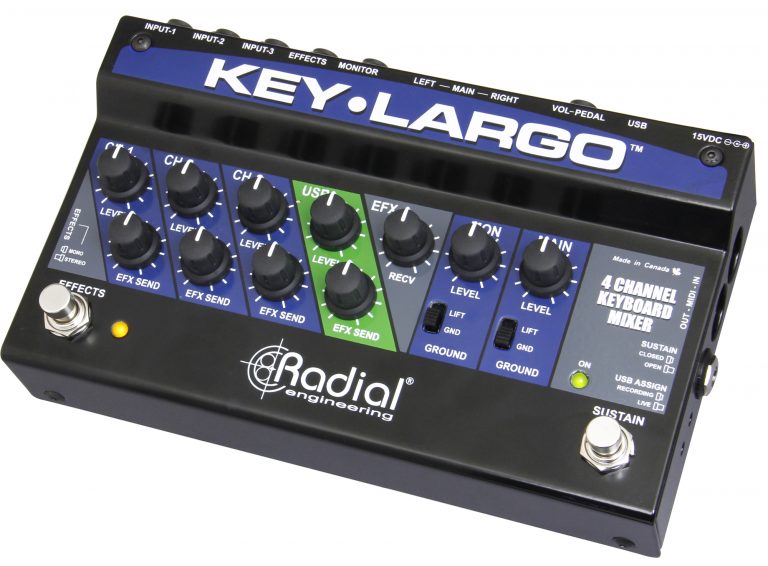 High headroom, low noise
A switch-mode power supply inside the Key-Largo elevates the rail voltage to 24 volts for extra headroom to handle the most dynamic digital keyboards and the hottest analog synths without fear of overload or distortion. This is paired with 24bit/192kHz digital audio converters for high quality audio over USB when playing soft-synths or pre-recorded tracks. To eliminate noise when connecting multiple devices on stage, the main outputs are transformer-isolated to eliminate hum and buzz from ground loops, and all outputs are equipped with ground lift switches to further reduce noise.
Key-Largo

Applications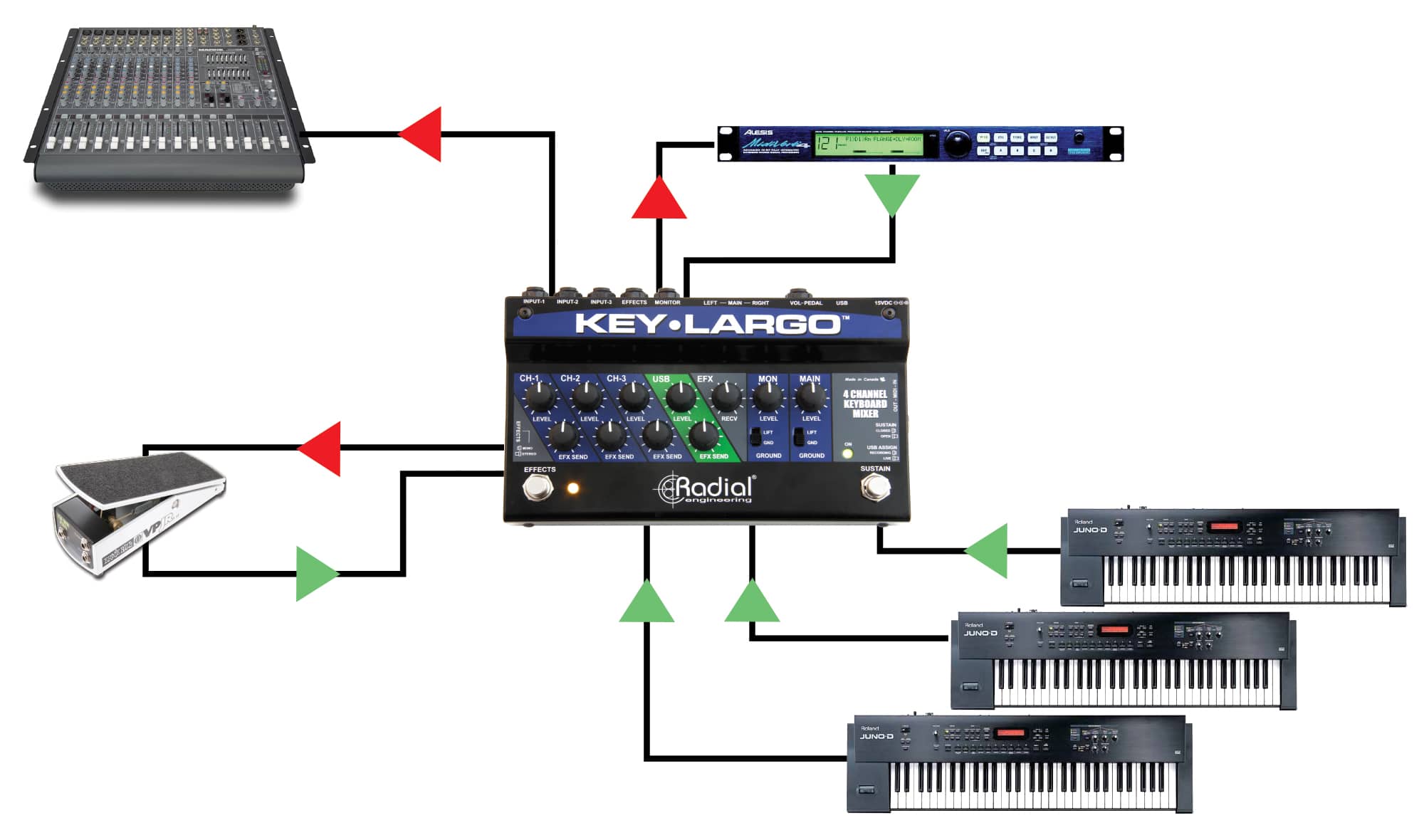 Manage a multi-keyboard setup with ease
The Key-Largo effortlessly mixes multiple keyboard outputs down to a stereo feed for the PA system over XLRs. Add more excitement to the performance with a switchable effects loop and master volume pedal.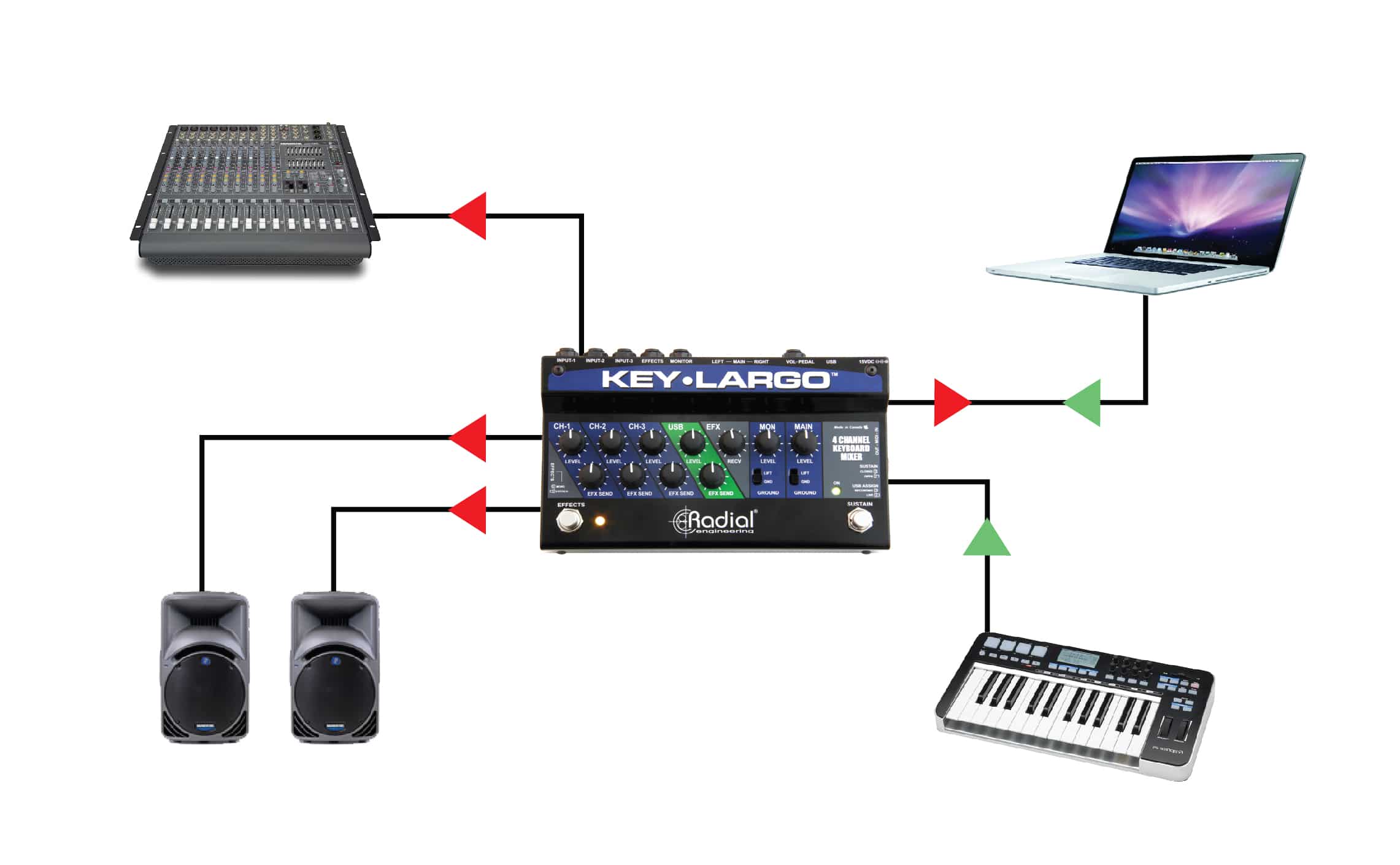 Integrate a soft-synth on stage
The Key-Largo can take the MIDI output from a controller to play a soft-synth on your laptop. High quality digital-to-analog converters give you great sound quality on local monitors and at the PA system.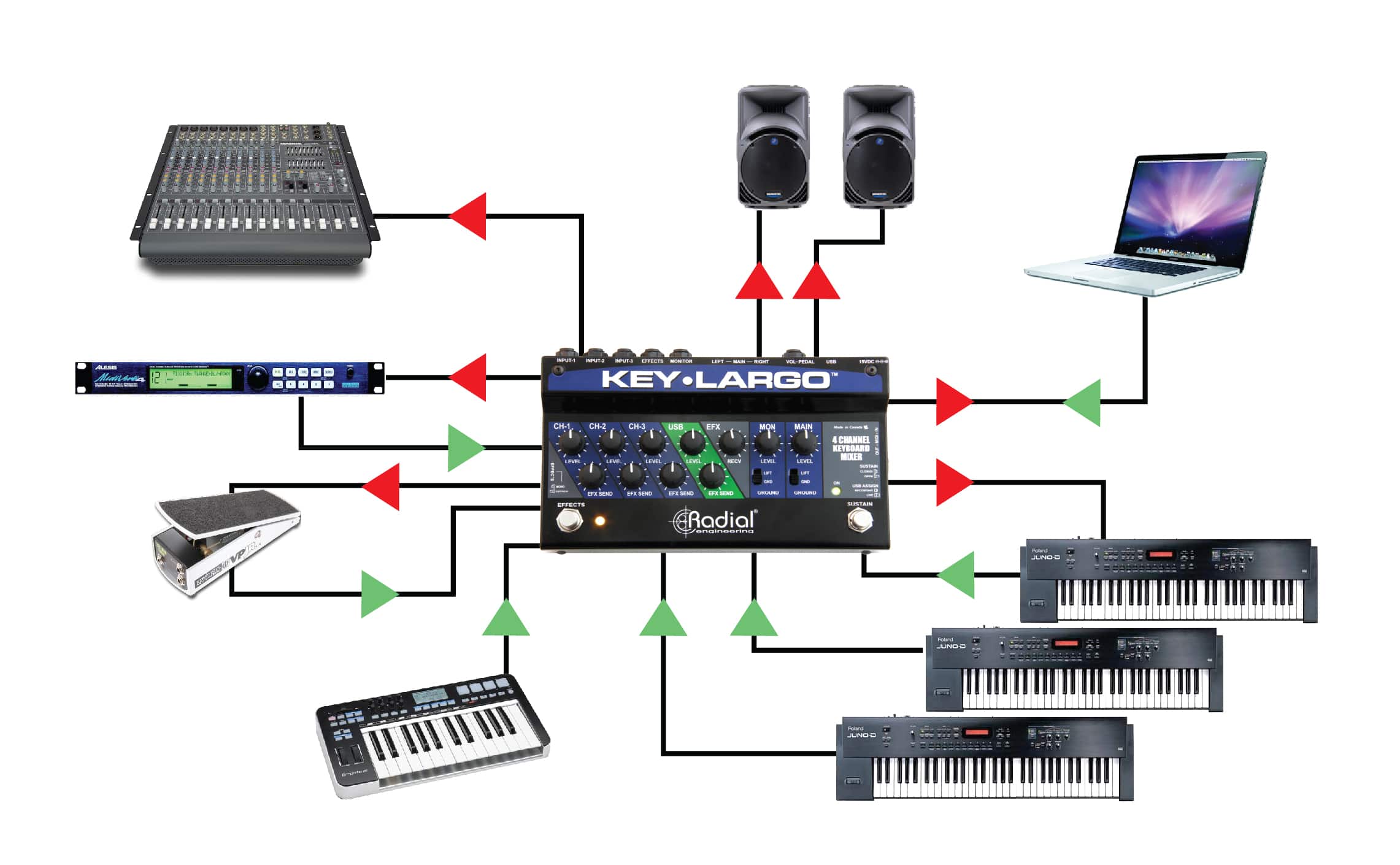 Combine analog and digital on stage
Mix three keyboards together with the output of a laptop soft-synth, making the Key-Largo the center of your performance setup. Connect a ¼" cable to the footswitch input on your main keyboard to utilize the Key-Largo as a sustain pedal, fully implementing the many features of this powerful pedal.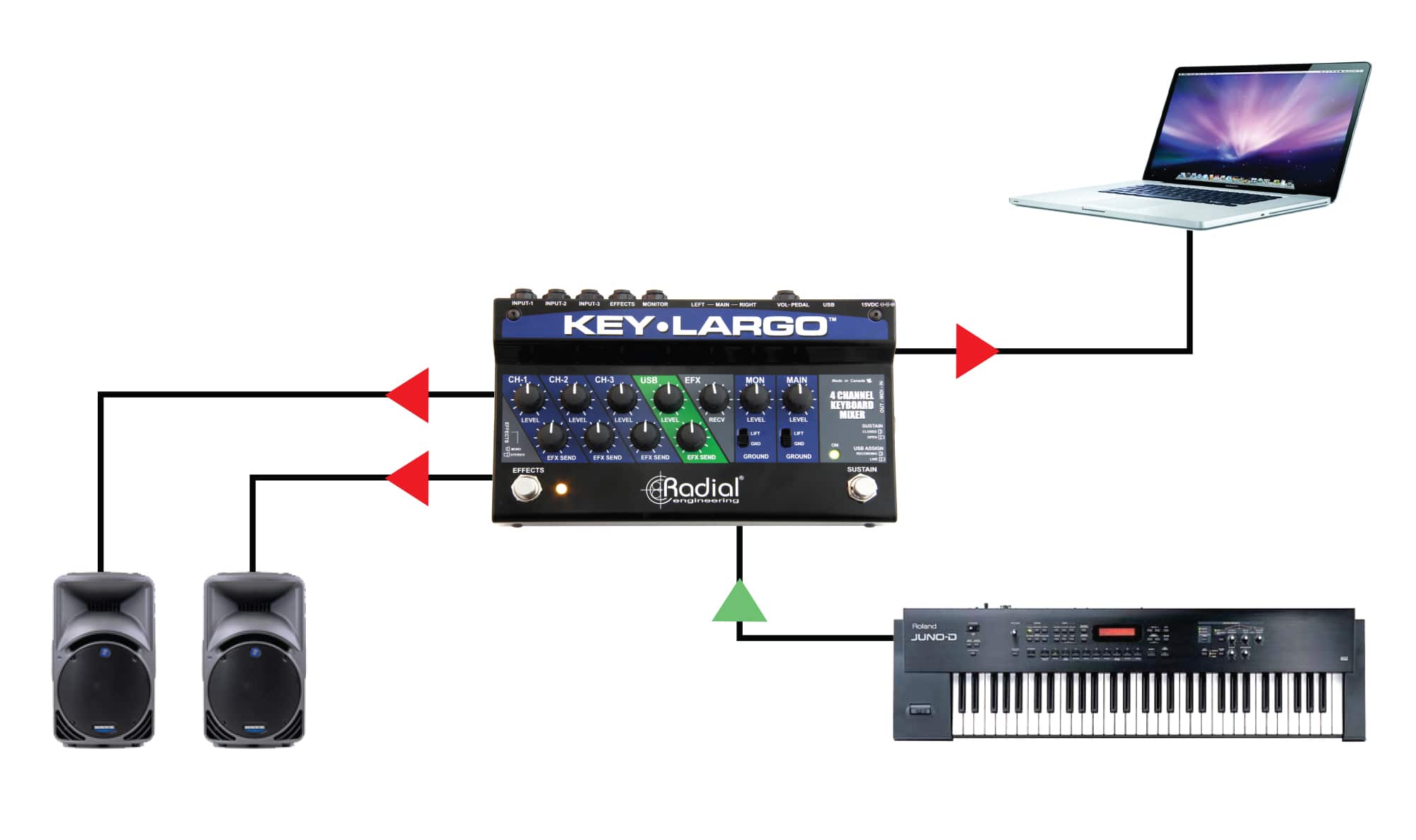 The Key-Largo as a recording interface
24bit/192kHz converters provide more than just high quality playback on stage, the Key-Largo can also be used to record pristine tracks using your favorite audio program. This allows you to easily record studio-quality tracks while on the road, or to capture your live performance.
Videos
Radial Key-Largo Mixer and Performance Pedal

Jordan Rudess and the Radial Key-Largo

Derek Sherinian tries out the Radial Key Largo

Radial Engineering Key-Largo Keyboard Mixer/Performance Pedal Overview | Full Compass
Artis

ts
Jordan Rudess
Dream Theater, David Bowie, Liquid Tension Experiment, Dixie Dregs, Steven Wilson
"The Key-Largo keyboard mixer by Radial is my new best friend! I plugged in 2 stereo keyboards, my stereo iPad and my Seaboard, a standard MIDI keyboard through the DIN port and all I could do was smile!"
Derek Sherinian
Sons of Apollo, Billy Idol, Black Country Communion, Joe Bonamassa, Dream Theater, Steve Lukather
"The Key-Largo by Radial is the Swiss Army knife portable keyboard mixer, for any player and any rig set up. I love this thing."
Luiggy Santiago
Festival Viña del Mar, Premios Lo Nuestro, Latin Grammys, numerous tours at Madison Square Garden and Los Angeles Staple Center
"Radial's Key-Largo gives me a compact solution to connect all my keyboards and computer in one small and convenient box with the remarkable Radial DI technology inside. Perfect for touring and the studio."
Key-Largo

Resources
Part no:
R800 1427 00
{{ postData.post_title }}
{{ postData.productSubTitle }}
Part no: {{ postData.partNo }}
Part no: View Product
{{ postData.post_excerpt }}
View Product