Ultimate Keyboard Control
The KL-8 is a rackmount keyboard mixing station designed to provide complete control over a professional keyboard setup, both on-stage and in the recording studio.

Photos
Four stereo analog inputs for keyboards
Redundant USB connections for laptop soft-synths
Stereo Aux Send/Receive with optional footswitch control
Headphone outputs and cue switches for silent monitoring
Link multiple KL-8s for larger setups
Put yourself in control of the mix
The KL-8 is a powerful mixing station created with keyboard pros in mind, with a number of features designed specifically to streamline and enhance any keyboard setup. You can connect up to four keyboards in mono or stereo, with level controls, aux sends, and LED indicators for each. A stereo aux send/receive is available to feed rackmount reverbs and delays and effects pedals, or it can be used as an additional input for a fifth keyboard. MIDI and USB connections make it easy to control a laptop soft-synth, utilizing high quality 24bit/192kHz digital audio converters. The KL-8 also features multiple output options, with transformer-isolated XLR main outputs to feed the PA, monitor outputs for a set of speakers on stage, and dual headphone outputs for local monitoring and testing.
Redundant USB inputs
When you can't afford to have a break in the performance due to laptop failure, the KL-8 allows you to set up redundant laptop systems and seamlessly transition from one to another. A secondary USB input on the KL-8 allows you to keep your backup laptop at the ready - when failure occurs simply hit the USB select switch on the front panel or use the optional JR-1L remote footswitch to instantly switch to the backup system.
Silent cueing and monitoring via headphones
A built in headphone amp and dual 1/4" TRS outputs give you the option to practice and record silently, or cue up individual inputs on stage without feeding signal out to the audience over the PA system. Each input channel on the KL-8 is accompanied by a Cue switch that will remove that input from the main and monitor outputs and reroute it directly to the headphones, so you can easily adjust patch settings and test playback over USB without affecting the performance.

KL-8

Applications
Easily manage a multi-keyboard setup
The KL-8 allows you to mix up to four keyboards send a stereo or mono feed over XLRs to the PA system. 1/4" TRS insert connections allow you to connect a stereo volume pedal and control the overall output, and XLR monitor outputs and headphones are provided for monitoring your signal on stage.
Integrate a soft-synth on stage
The KL-8 can take the MIDI output from a controller to play a soft-synth on your laptop. High quality digital-to-analog converters give you great sound quality on local monitors and at the PA system.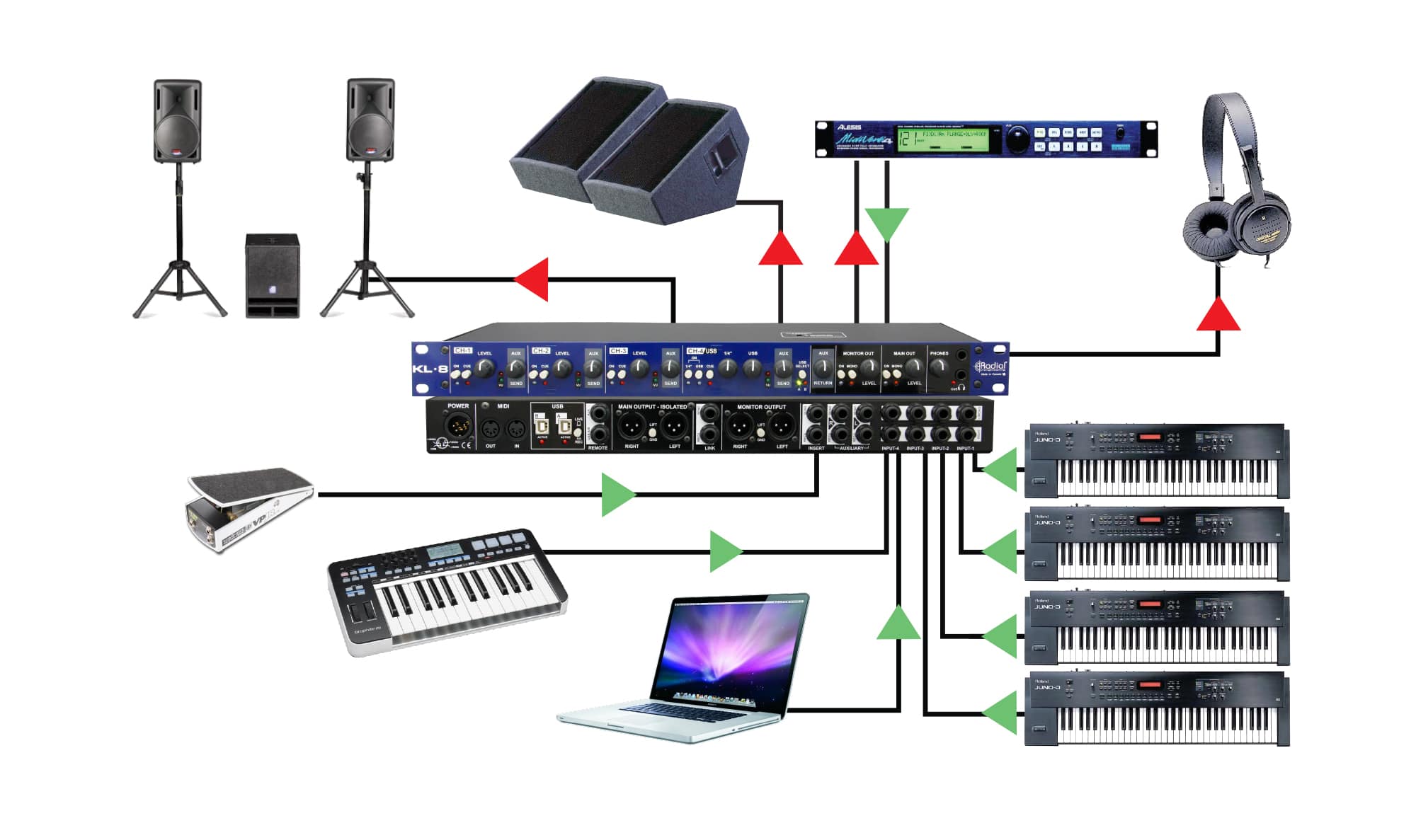 Combine analog and digital on stage
Mix four keyboards together with the output of a laptop soft-synth, making the KL-8 the center of your performance setup. Stereo Auxiliary send and return connections allow you to incorporate rackmount effects or pedals into the signal chain.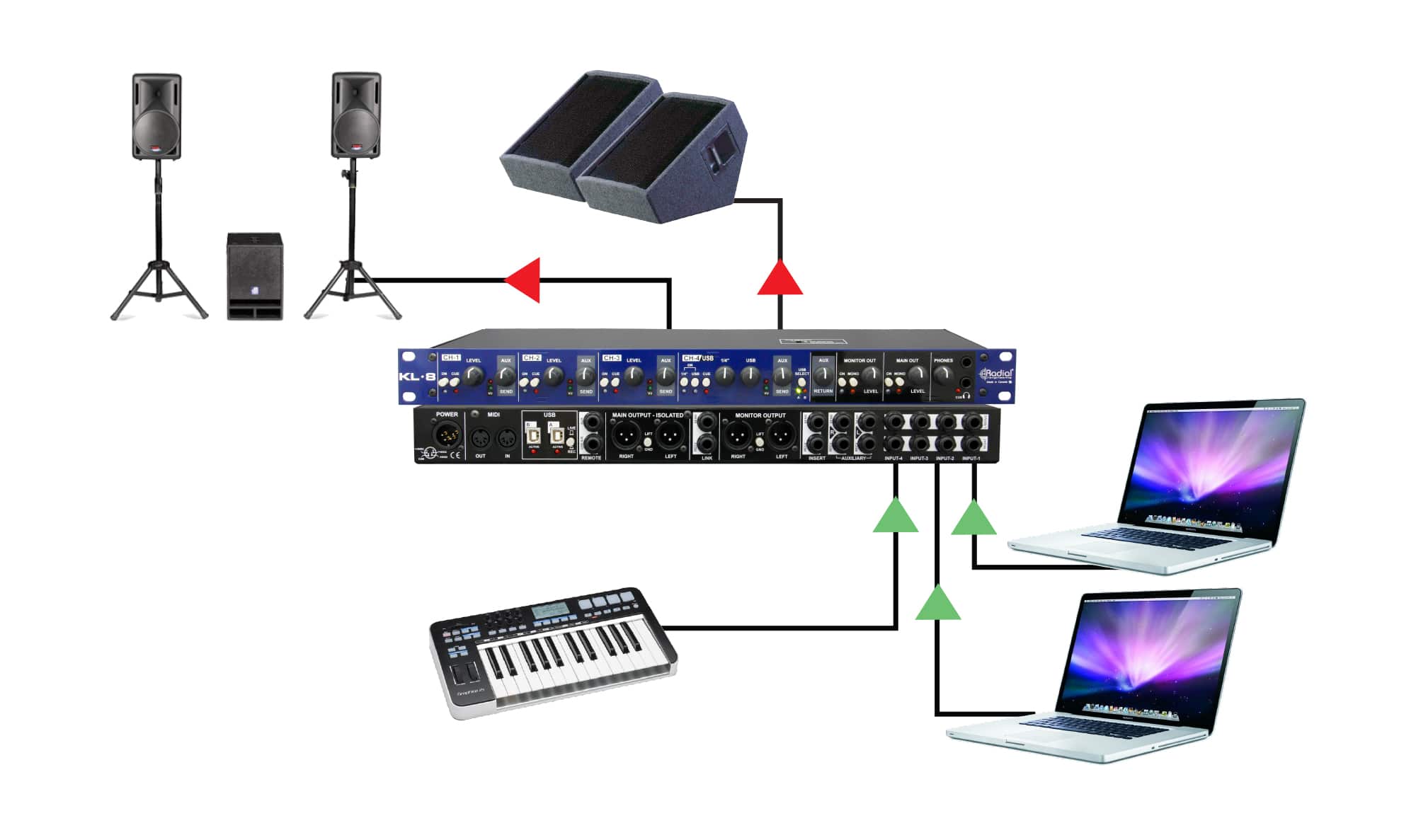 Create redundant laptop systems
The KL-8 features a secondary USB input, so if your main laptop fails during a performance, you can seamlessly switch to a backup system for soft-synths or playback tracks. A USB-select switch on the front panel determines which of the two USB inputs is active.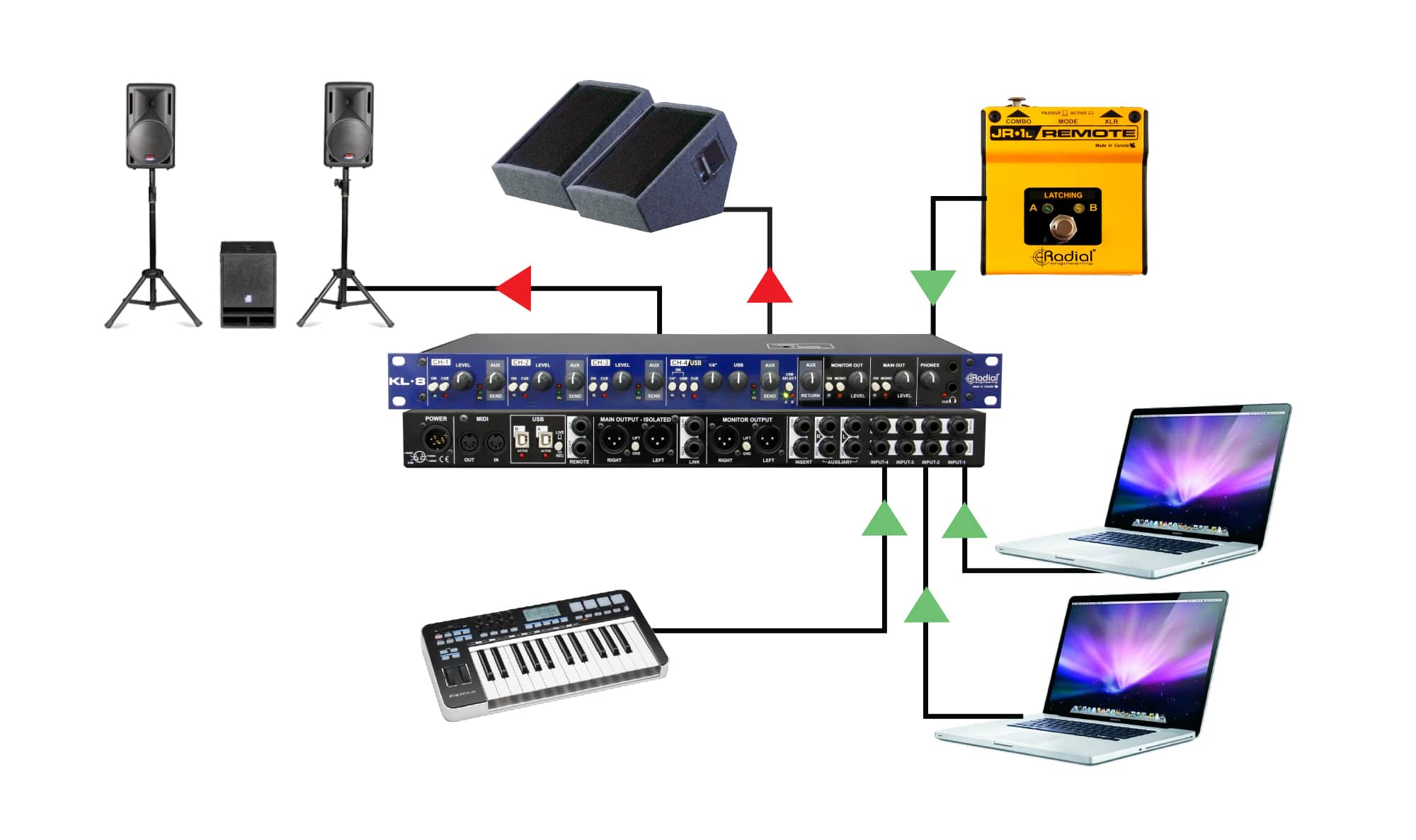 Integrate footswitch control
The optional JR-1L footswitch can be used to control the USB switching feature or turn the Aux on and off, giving you the ability to activate your effects during a solo, or provide a hands-free way to quickly switch to your backup laptop.
The KL-8 as a recording interface
24bit/192kHz converters provide more than just high quality playback on stage, the KL-8 can also be used to record pristine tracks using your favorite audio program. This allows you to easily record studio-quality tracks while on the road, or to capture your live performance.
Videos
KL-8 | Total Keyboard Control
Reviews
""The KL-8 is an impressive keyboard mixer with a well-focused feature set, superb flexibility and configurability. great technical performance, and solid reliability.""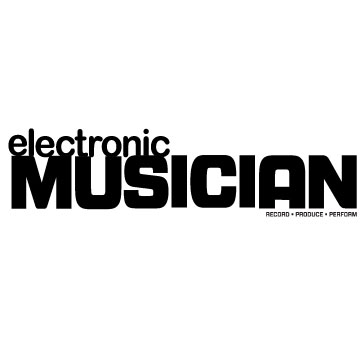 ""A feature-packed mixer/interface designed with the working keyboardist in mind.""
"The KL-8 is maybe the most feature packed product I've ever held. For a 1U unit, it's unbelievable that Radial has packed not only the 5 inputs and outputs in, but also sends for every channel, and toggles between USB inputs and headphone sends."
KL-8

Resources
Part no:
R800 1428 00
{{ postData.post_title }}
{{ postData.productSubTitle }}
Part no: {{ postData.partNo }}
Part no: View Product
{{ postData.post_excerpt }}
View Product