Reamp Kit
The Radial Reamp Kit includes everything you need to capture and Reamp your instrument in a single case. The Radial J48 active direct box allows you to record the natural sound of your instrument without noise or distortion, while the X-Amp active Reamper sends the recorded tracks back through up to two amplifiers at once so you can experiment with different settings and effects.
The Ultimate Recording & Reamping combo
The studio recording technique known as Reamping opens up a wide range of new sounds and effects to experiment with when recording and mixing. The basic principle involves playing back recorded audio tracks through guitar pedals and amplifiers and capturing the results - the better quality your original recording is, the easier it is to get a great sounding Reamped track. Start by recording your instrument with the industry standard Radial J48 direct box. This active DI is ideal for capturing a detailed and pristine performance for future Reamping. The X-Amp active Reamper then feeds pre-recorded tracks from your recording interface to your guitar effects and amps, while optimizing the signal path and eliminating noise so you can experiment without degrading the audio quality.
Reamp Kit (J48 & X-Amp)

Applications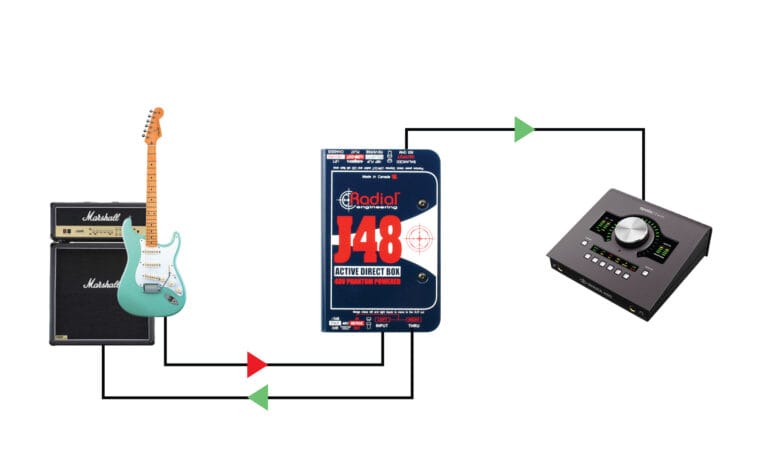 Reamping Step 1
Start the Reamping process by recording a dry track, using the Radial J48 to capture the performance in your DAW while splitting the signal to an amplifier so the artist can hear themselves.
Reamping Step 2
Once you have your recorded track, feed them back through to your guitar amps and pedals using the X-Amp. Since the performance has already been recorded, you can experiment with amp settings and mic placement to your heart's content.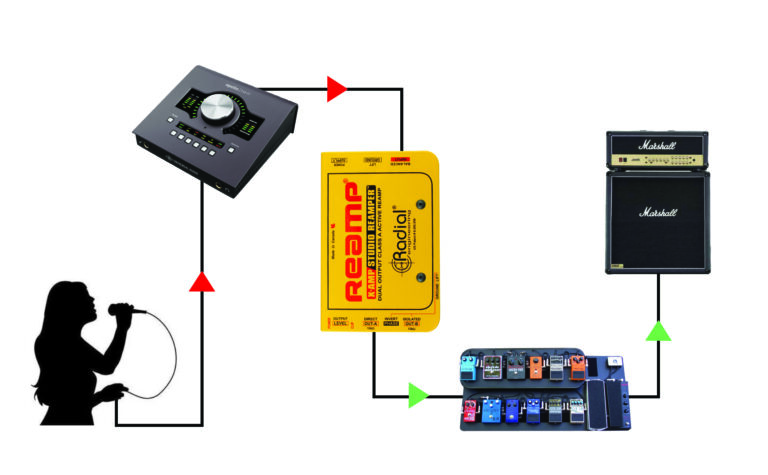 Reamping - not just for guitars!
With the X-Amp, you can Reamp any pre-recorded audio track, including vocals, keys, drums, and horns. Experiment with adding your guitar effects pedals to multiple sources to create new & unique sonic combinations.
Videos
Reamping: Exploring the Differences
{{ postData.post_title }}
{{ postData.productSubTitle }}
Part no: {{ postData.partNo }}
Part no: View Product
{{ postData.post_excerpt }}
View Product