Mic Preamp and Effect Loop
The Voco-Loco is a foot-controlled microphone preamp and effects loop switcher that enables a vocalist or acoustic instrumentalist to incorporate guitar effects pedals into their signal path.
Photos
Add guitar effects pedals to vocal or instrument mics
Create exciting and unique effects as you perform
Turn on multiple effects with one footswitch
Works with dynamic and condenser microphones
Connect any mic to your guitar pedals
The Voco-Loco combines a microphone preamp with a guitar pedal effects loop, allowing a lead vocalist, sax or trumpet player to add guitar pedals to their audio signal path just like an electric guitarist adds effects for soloing. Simply plug your mic into the Voco-Loco via the XLR input, connect your effects pedals using standard ¼" guitar cables, and then send the output from the Voco-Loco to the input on your mixer. Now with the touch of a footswitch you can add your favorite delay, reverb, distortion or wah-wah to any mic'd up instrument or vocal - the options are only limited by your imagination.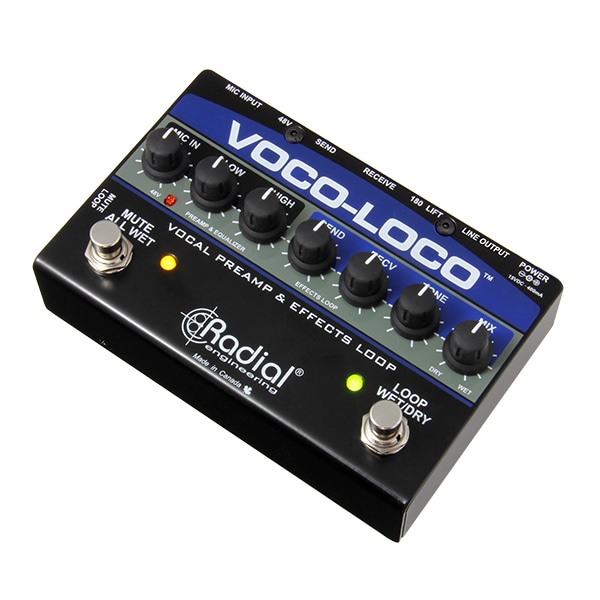 Voco-Loco

Applications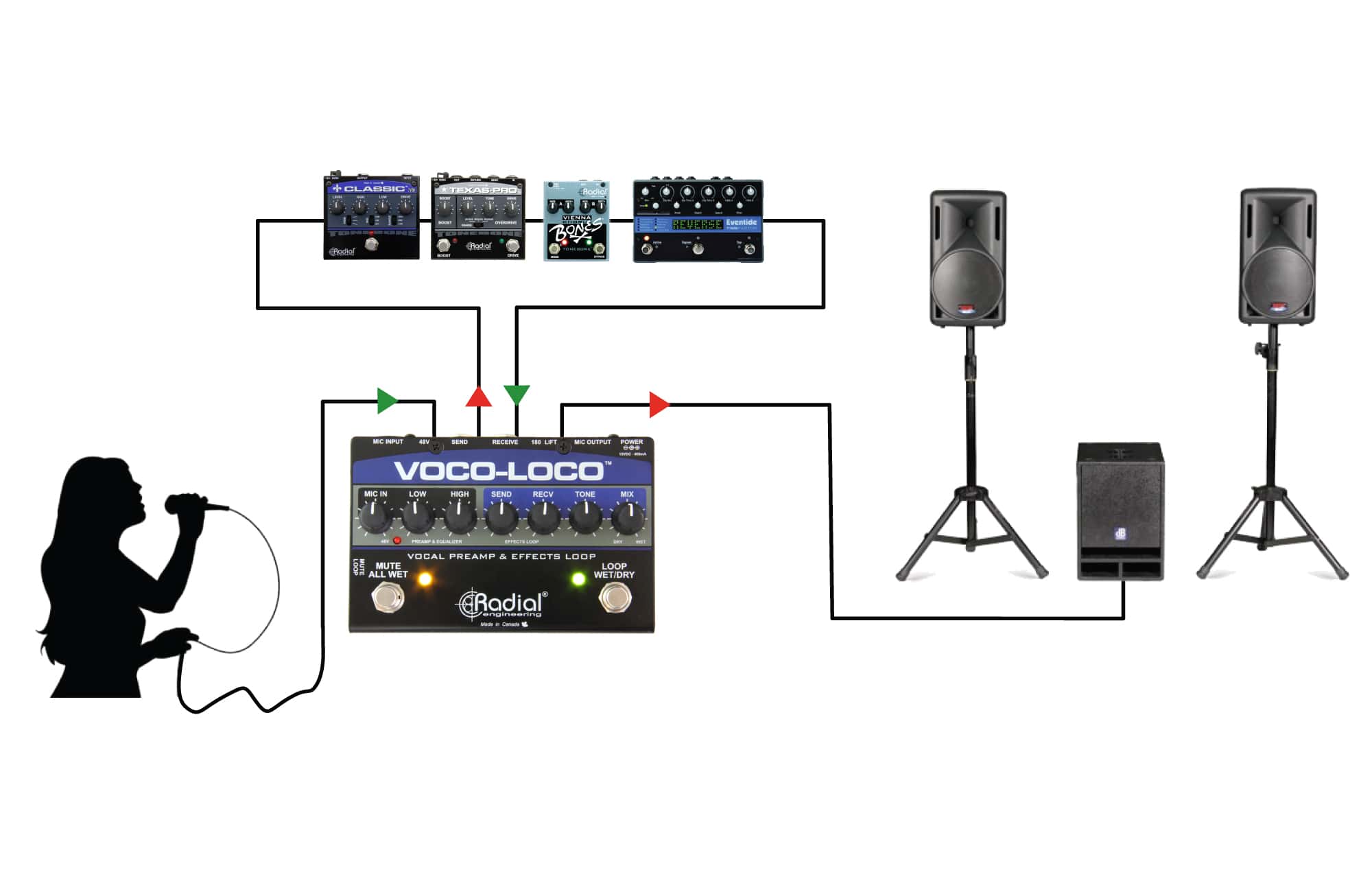 Voco-Loco on voice
Plug your microphone into the Voco-Loco and add exciting effects using guitar pedals for echo, reverb or distortion and control the effects the way you want.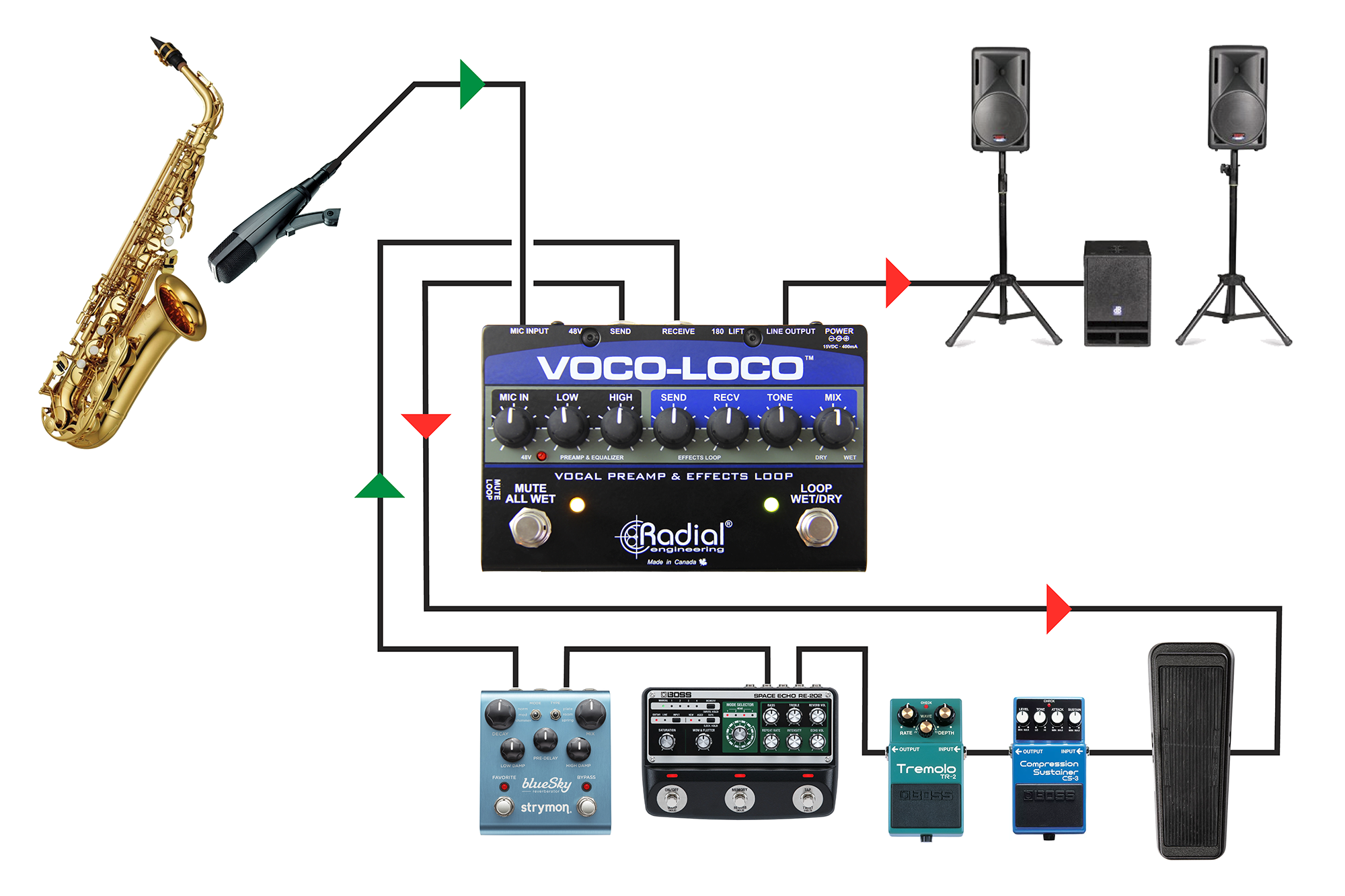 Voco-Loco with brass
Add effects to your sax or trumpet to make your solos stand out from the crowd and deliver a unique performance to the audience that they will never forget!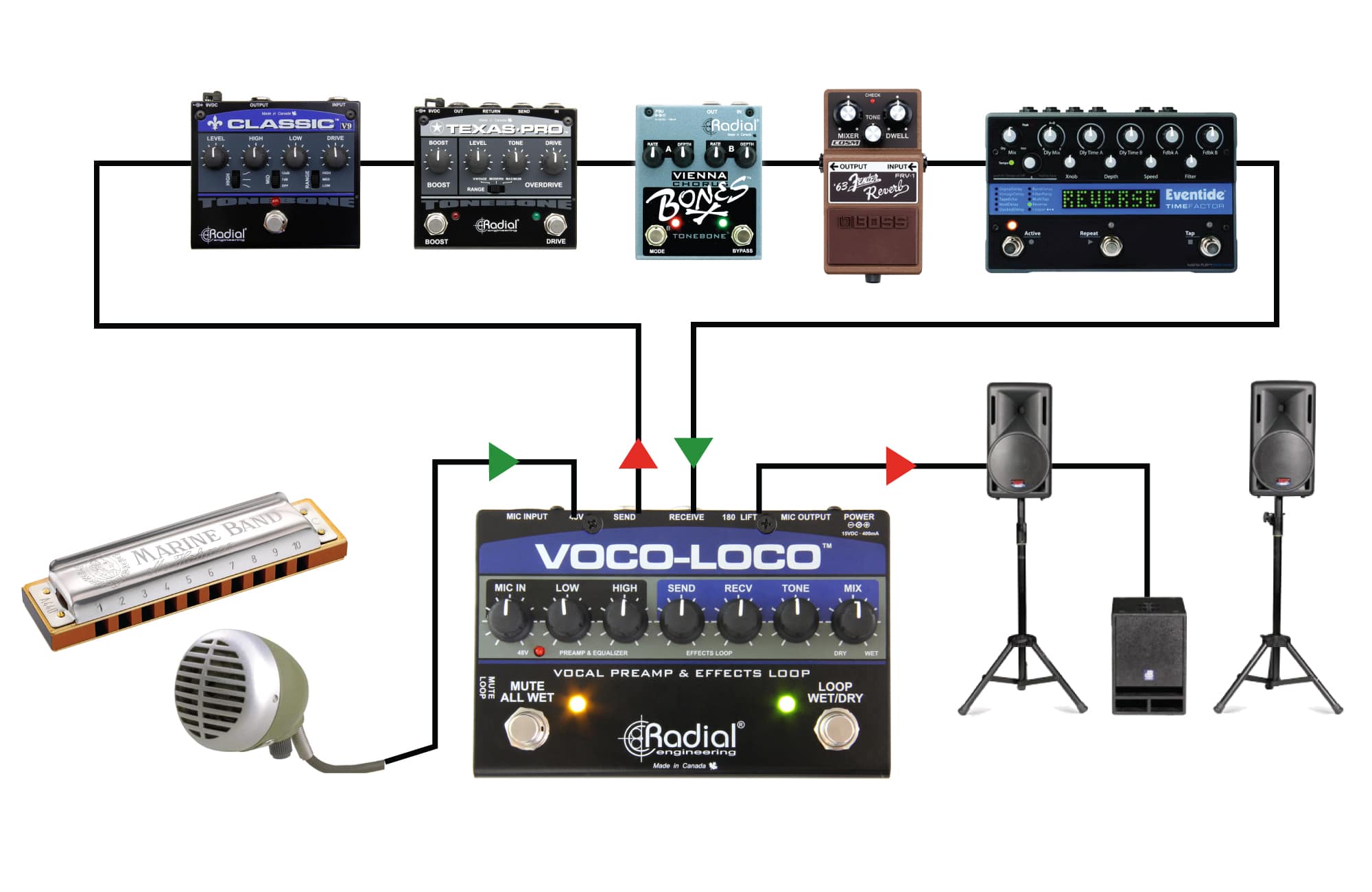 Voco-Loco with harmonica
The Voco-Loco lets you incorporate a chorus, overdrive and reverb to your harp solos to deliver amazing tones without having to bring an amp to the gig. The blues never sounded so good!
Videos
Sweetwater hands on with the Voco-Loco

Vince Mai with the Voco-Loco Radial Engineering
Artis

ts
Randy Brecker
Trumpet - Multi grammy award winning player
"The Voco-Loco is a great tool for horn players that use stomp boxes. It improves the quality of the signal, reduces noise and simplifies the signal chain."
Joe Cardamone
The Icarus Line
"Using stompboxes and other unconventional effects have long been part of my performances both on the stage and in the studio. Enter the Voco-Loco. I have been waiting for something like this since I began making records. As per usual Radial delivers tools that feature uses for real-life artists. If you know Radial gear you already know that you're getting something that sounds sweet and that you could hammer nails with."
Vince Mai
Sarah McLaughlin, Divine Brown, Michael Bublé, The Powder Blues, Tom Jones, David Clayton Thomas, David Foster
"I'm really gassed about the Voco-Loco... It's changed the way I approach electronics and my horn. The ability to quickly switch to and mix in echos, reverbs, wah-wah and other effects is mind boggling!... And with the Voco-Loco, my true sound that I've worked so long and hard for is captured faithfully and mixed in new and innovative ways."
Voco-Loco

Resources
Part no:
R800 1425 00
{{ postData.post_title }}
{{ postData.productSubTitle }}
Part no: {{ postData.partNo }}
Part no: View Product
{{ postData.post_excerpt }}
View Product