500 Series Reamp®
The Radial X-Amp is a 500 series module that lets you take a pre-recorded guitar track and send it back to amplifiers and effects so that you can tailor the sound to suit. The advantages of Reamping are many: when recording, the guitarist need only concentrate on the performance. Working out specific sounds and optimal mic placement can be done later. This eliminates hours of tiresome repetition while allowing the producer to adjust the character of the track as the production evolves.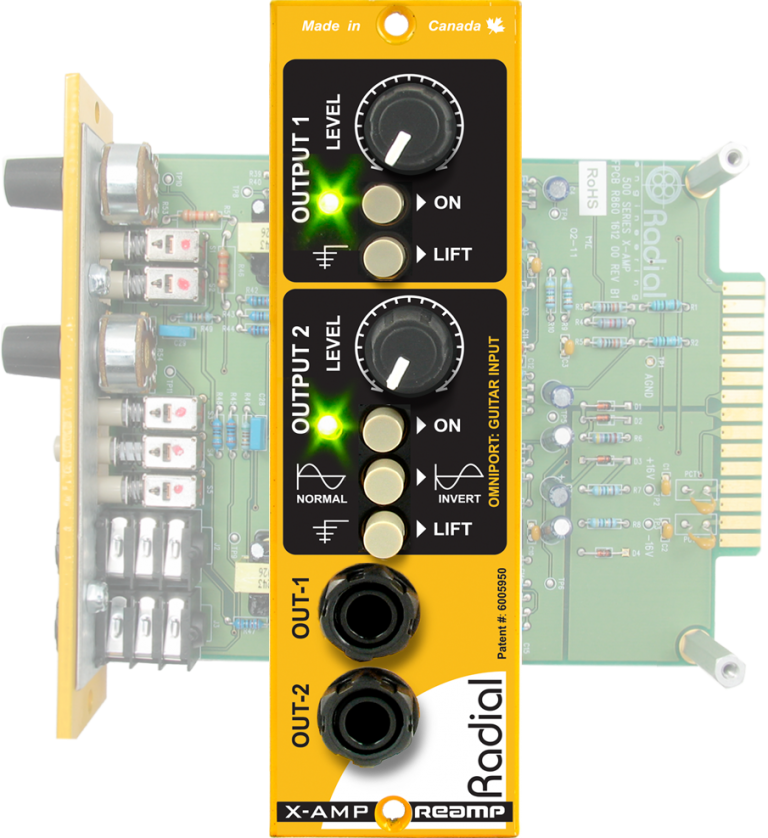 Photos
Active Reamp® designed for 500 series racks
100% discrete class-A electronics for best tone
Transformer isolated to eliminate hum and buzz
Easy access front panel jacks & controls
Professional Reamp®
Using the X-Amp is 'plug and play' easy to use. The design begins with an XLR balanced line level input located on the 500 series rear panel that feeds the X-Amp. To ensure the very highest fidelity, 100% discrete class-A circuitry is employed. The X-Amp unbalances and buffers the pre-recorded signal where it then feeds two transformer isolated hi-Z guitar level outputs. The ¼" jacks are front mounted for desk-top convenience and equipped with ground lifts to help eliminate hum and buzz caused by ground loops. Independent level controls enable you to adjust the drive going to each amp for optimal tone. Should one of the amps be out of phase, depressing the 180º quickly brings both in line.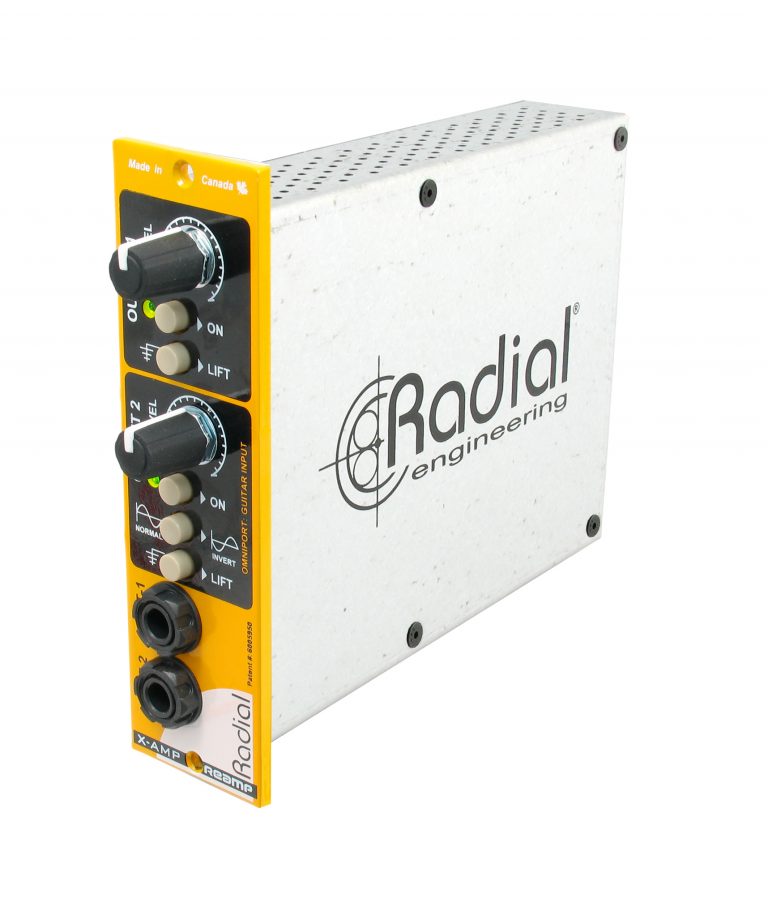 X-Amp 500

Applications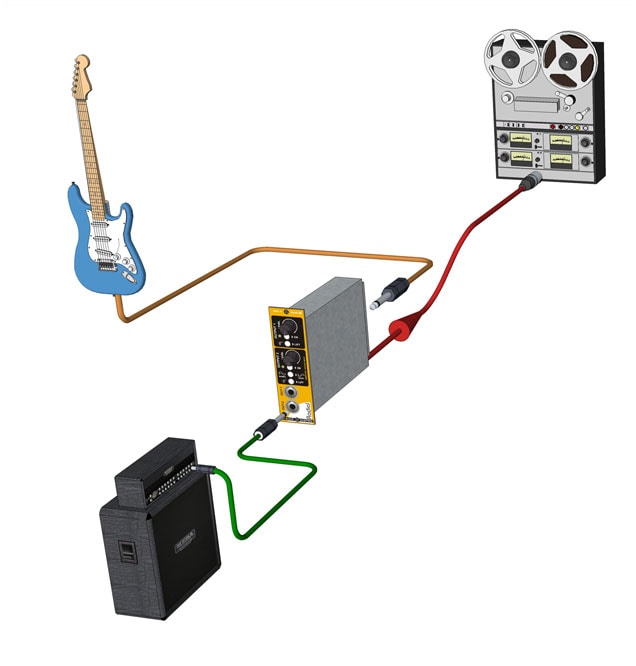 Recording a Dry Track with the X-Amp
Plug your guitar into the Omniport on the Workhorse rack, feed guitar amps with the front panel ¼" outputs and send the dry guitar signal from the XLR output connector on the back of the Workhorse into your favorite DAW for future Reamping!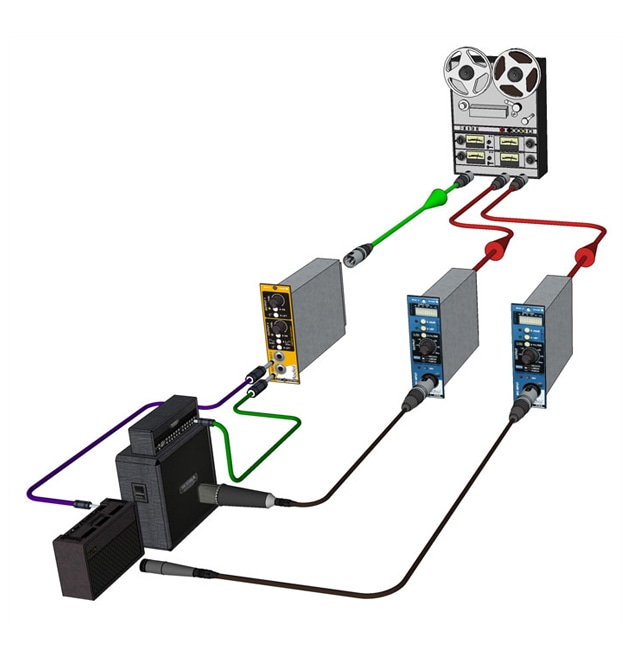 Reamping with the X-Amp
Send the prerecorded clean (dry) track to the X-Amp using the XLR input on your 500 series rack. Feed the signal from Out-1 and Out-2 to your guitar amps. Mic them and record!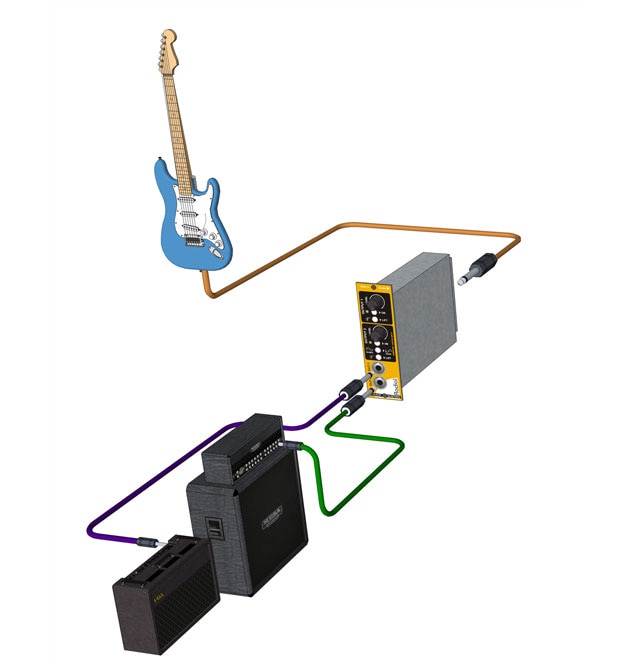 Using the X-Amp as a Distro
Connect your guitar to the Omniport on the Workhorse. The guitar signal can then be sent to two amplifiers using out-1 and out-2 up to 15 meters (50 feet) away; adjust the volume to suit.
{{ postData.post_title }}
{{ postData.productSubTitle }}
Part no: {{ postData.partNo }}
Part no: View Product
{{ postData.post_excerpt }}
View Product