Back in July, we announced that two Radial products had been nominated for NAMM TEC Awards. Both the JX44 V2 and PZ-Pro made the grade, and now its time to see what the public think…
The JX44 V2 Guitar, Amp & FX Signal Manager has been nominated in the 'Production Essentials' category. An updated version of the popular JX44, the V2 allows you to combine 4 instrument inputs with 4 amp outputs, and includes a bunch of helpful features for maximum switching flexibility. A stereo FX loop, a wealth of footswitch control options (including MIDI), an in-built SGI line driver, amongst others, mean there are few switching situations the unit won't be able to assist with.
Meanwhile, the PZ-Pro Acoustic Preamp is nominated in the 'Musical Instrument Amplification & Effects' category. The 2-channel acoustic pre-amp is a complete 'Swiss Army Knife' for acoustic performers, combining a DI with a versatile switcher, and also incorporates a mic input, in-depth EQ options and an FX loop.
The TEC Awards are amongst the most prestigious in the music tech industry. Since their inception in 1985, Radial have appeared on the nominees list numerous times, with the Workhorse WR8 taking home the 'Signal Processing Technology/Hardware' award in 2011.
If you fancy yourself as a bit of a gear-head, and want to sound off about your favorite tech of the past year, the TEC awards are your chance to have your say. Awards will be given out in over 20 categories, covering all aspects of music tech, from DJ-ing to Education; headphones to FOH rigs.
The winners will be announced on June 4th, 2022 at the NAMM show in Anaheim, California. If think they deserve this accolade, click the button below to cast your vote.
---
Meet the Nominees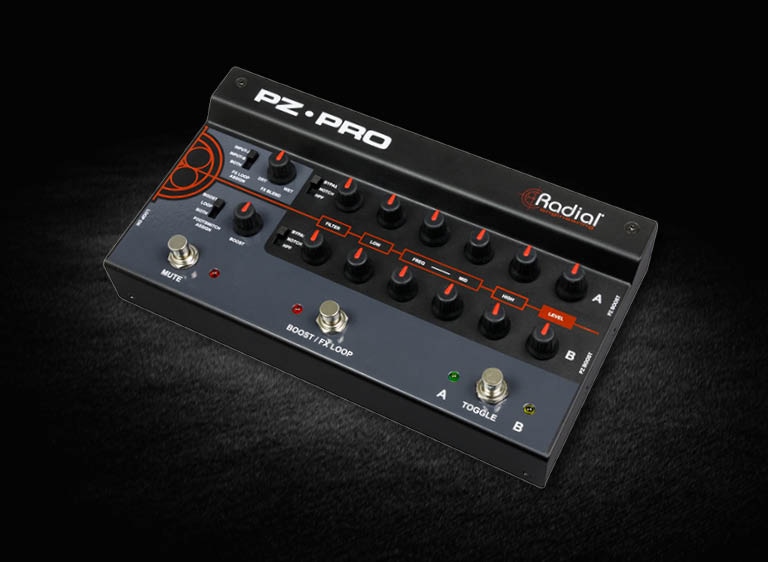 PZ-Pro
2-Channel Acoustic Preamp
Take complete control over your tone, EQ settings, and effects with the PZ-Pro, a two channel instrument preamp, DI and switcher.
JX44 V2
Concert Touring Guitar & Amp Signal Manager
The JX44 V2 is a guitar signal manager designed to handle four guitar, four amplifier with effects routing and midi control.