In addition to our commitment of designing and building some of the finest audio gear in the business, our relationships with artists on our roster are one of the foundations and cornerstones of our success. We are truly honoured by the support these artists, technicians, engineers, producers, and others have provided us over the years.
We thank everyone for their loyalty and look forward to fostering these relationships for many years to come.
In order to better understand Radial's artist relations program, please take a few minutes to look closer at what the program offers and what it takes to be part of the Radial Artist Roster.
To find out more information about changes to the artist program, please click here.
"We salute you."
Jim Rhodes
Artist Relations
Radial Engineering Ltd.
Jason Hook (guitarist – 5 Finger Death Punch, Bulletboys, Alice Cooper) with Jim Rhodes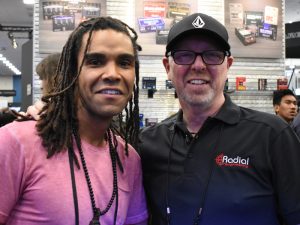 Zach Rudolph (bass player – Andy Grammer, Colbie Caillat, Gavin DeGraw, Ben Rector) with Jim Rhodes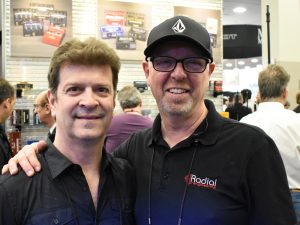 David Rosenthal (keyboardist, producer – Billy Joel, Rainbow) with Jim Rhodes