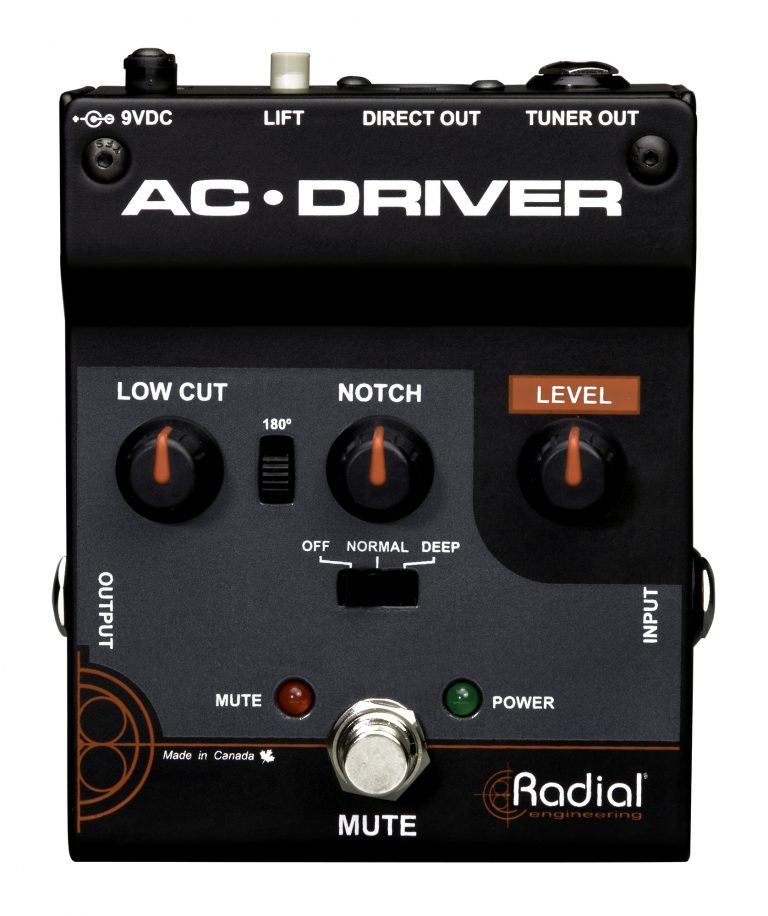 1
2
3
4
5
6
7
8
¼" Output
¼" post-EQ output used to feed an on-stage amplifier.
1
Low Cut
Variable filter rolls off excessive low frequencies and controls bass resonance.
2
Phase Reverse
Used to reduce on-stage feedback by reversing the polarity of the XLR output.
3
Notch-Q
3-position switch bypasses the notch filter or selects between regular or extra-deep notch. Works in conjunction with the notch frequency control.
4
Mute
Footswitch turns off all outputs except the tuner out. Used for quiet on-stage tuning.
5
Notch
Sets the center frequency for the notch filter. Used to eliminate feedback.
6
Level
Controls the output level of both the XLR and the ¼" outputs.
7
Input
¼" jack used to connect your instrument to the AC-Driver.
8
1
2
3
4
Tuner
Always on buffered output.
1
Balanced Output
XLR line level output connects directly to a powered PA speaker or PA system.
2
Ground Lift
Disconnects pin-1 ground at the XLR output.
3
Power
Connection for 9-12 volt DC (center pin negative power supply)
4