1
2
3
4
5
6
7
8
9
10
Boost
Controls the amount of signal boost from unity-gain to +8dB.
1
Boost Footswitch
Activates power booster or the mute function. Large, easy to see LED indicator.
2
Loop Wet/Dry
Rotary control lets you mix the original 'dry' bass sound with the 'wet' effects loop.
3
Loop Assign
Three position switch used to assign the effects loop to one or both channels.
4
3 Band EQ
Active EQ on channel-2 lets you carve your tone to suit any playing style or instrument.
5
HPF-2
High pass filter on channel-2 rolls-off excessive low frequency resonance and cleans up signal. Choose between 35Hz, 60Hz and off.
6
Loop Footswitch
Turns the effects loop on and off.
7
EQ-1
Three position switch selects between flat and two preset EQ contour curves on channel-1.
8
Level-1 and Level-2
Adjusts instrument level for each channel.
9
Select Footswitch
Selects between channels when used with one bass. Selects between instruments when used with two basses.
10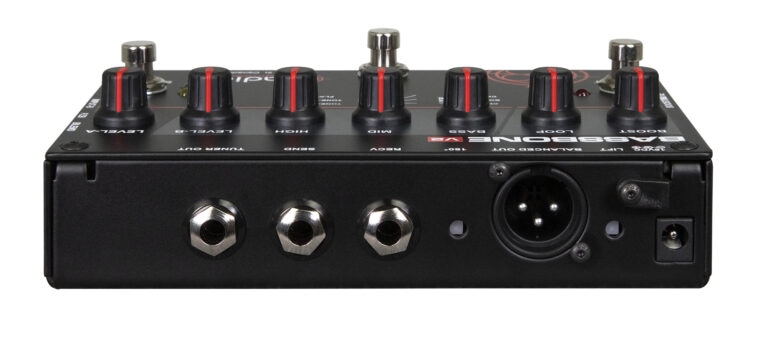 1
2
3
4
5
6
7
Tuner Out
Always on for tuning on the fly or used in conjunction with the mute footswitch for silent tuning.
1
Send & Recv
Send and receive ¼" jacks for the effects loop.
2
180° (XLR)
Recessed switch reverses pins-2 and 3 at the balanced XLR output to phase align sound with PA or to reduce feedback.
3
Balanced Out
Direct XLR output sends the 'post-EQ' Bassbone sound to the PA or recording console.
4
Ground Lift
Recessed ground lift switch disconnects pin-1 on the XLR output to help eliminate hum and buzz caused by ground loops.
5
Cable Clamp
Prevents accidental power disconnection by locking down the AC adapter cable.
6
15VDC
Connection for the Radial 15VDC/400mA power supply (included).
7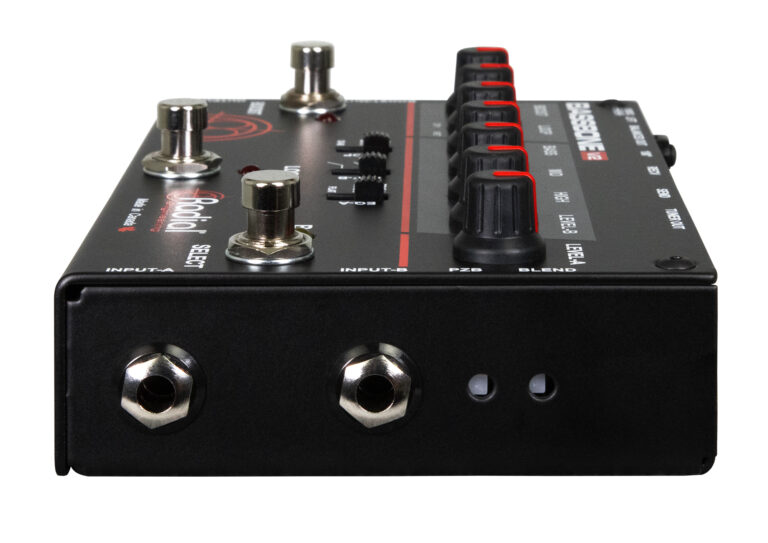 1
2
3
4
Input-1
Primary ¼" instrument input. The signal is also automatically sent to channel-2 when no instrument is connected to the input-2 jack.
1
Input-2
¼" instrument input jack for a second bass.
2
PZB (Input-2)
Recessed switch turns on the piezo booster and increases impedance to 10 meg-ohms and gain by 10dB.
3
Blend
Recessed switch turns on both channels for instruments with dual electric/acoustic pickup systems.
4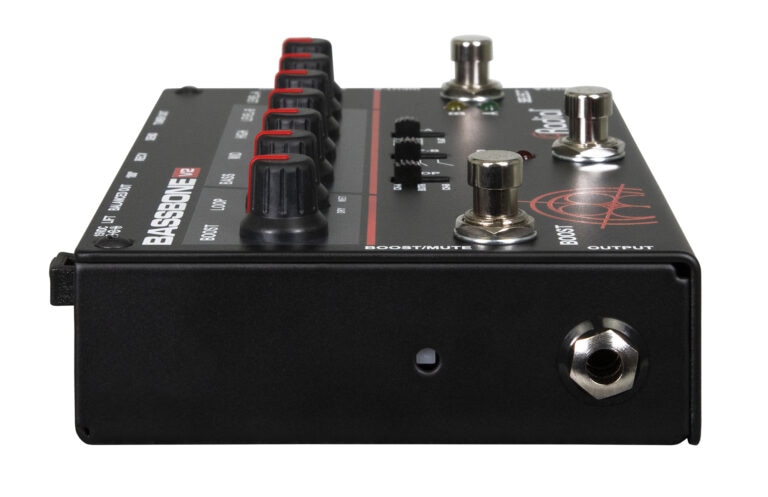 1
2
3
Boost/Mute
Recessed switch assigns the BOOST footswitch to either the power booster or mute.
1
Out
¼" instrument output jack connects to your bass amplifier.
2
Powder Coat Finish
Keeps your Tonebone Bassbone V2 looking good for years.
3