The BT-Pro is a Bluetooth® direct box designed to capture the wireless transmission from a Bluetooth® enabled device and convert the signal to a balanced line level output for use in a PA or recording system. It employs an innovative T-shaped access cavity which permits the wireless transmission signal to pass without interference, allowing reception distances of 12 meters (40′) with line of sight between devices. This range can be significantly extended under ideal conditions. The audio signal path itself employs the latest Bluetooth wireless A2DP interface over 2.0 EDR (Enhanced Data Rate) for higher speed transmission to deliver optimal audio quality. Exceptionally flat frequency response from 20Hz~20kHz ensures that you are getting the most out of your wireless audio signal, The BT-Pro is powered by an external 5V supply via a mini USB port and may also be powered from a laptop or USB hub.
Specifications
Audio circuit type:
Bluetooth A2DP Transceiver with Audio Line Drive
Frequency response:
20hz – 20Khz
Dynamic range:
90dB
Total harmonic distortion:
0.01%
Output Impedance:
300Ω Nominal
Bluetooth Compliance:
Bluetooth 2.0 W/EDR
Data Compression:
SBC Codec
Combatibility:
All Bluetooth A2DP compliant devices
Features
Mono Sum, Ground lift
Input Connectors:
Bluetooth 2.0 Antenna
Output Connectors:
Stereo balanced mic level XLR
Extras:
3.5mm headphone for testing
General
Size (L x W x D):
3.3" x 5.0" x 2" (84 x 127 x 48mm)
Weight:
1.5 lb (680 kg)
Power:
USB Mini connector (power only)
Conditions:
For use in dry locations only between 5°C and 40°C
Warranty:
Radial 3-year, transferable
Frequency Response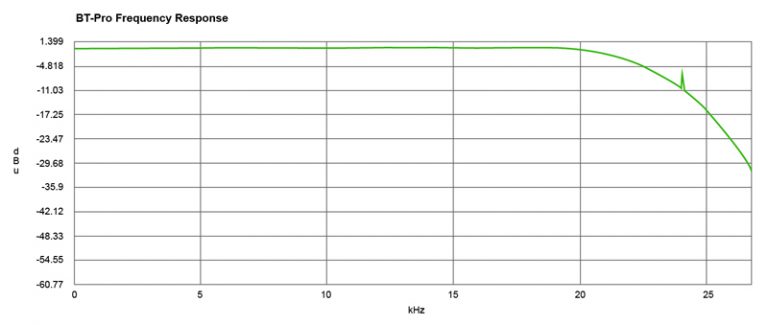 What do these graphs mean? Learn what to look for and why it matters.
Learn More