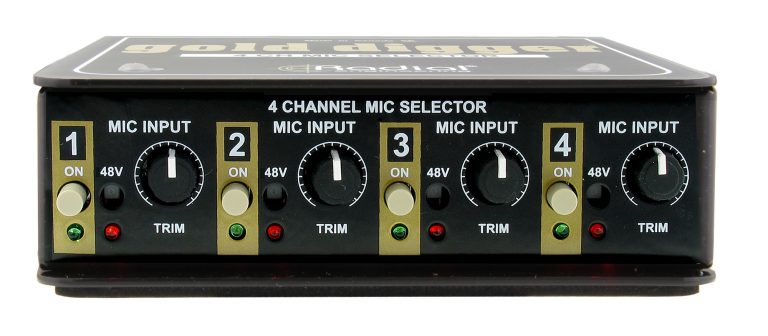 1
2
3
4
Channel On
Radio-style pushbutton switches automatically turn the selected mic on and the other microphones off to eliminate bleed. Activates the LED to let you know which channel is active.
1
Trim Adjust
Individual 'set & forget' trim controls let you quickly match the signal level between mics to ensure a fair and honest comparison.
2
Recessed Panel
Extended lip creates protective zone around the switches and controls when using the Gold Digger on stage or in less than ideal locations.
3
48V Phantom
Phantom power switch turns on 48 volts to power condenser microphones and active direct boxes. Recessed to protect against accidental 'turn on' that could damage vintage ribbon mics.
4

1
2
3
4
5
Cable Clamp
Locking cable clamp lets you secure the power cable to the Gold Digger to prevent accidental disconnection.
1
15VDC
Like professional mixers, the power supply is taken out of the box to reduce noise and ensure the most transparent signal flow.
2
14-Gauge Steel
Heavy duty construction eliminates stress on the PCB and provides excellent shielding against magnetic fields and RF which otherwise could introduce noise.
3
XLR Connectors
Used to connect microphones to the Gold Digger and the output to a preamp.
4
Pad
Full bottom no-slip neoprene foam pad provides electrical insulation and mechanical isolation for plenty of stay-put.
5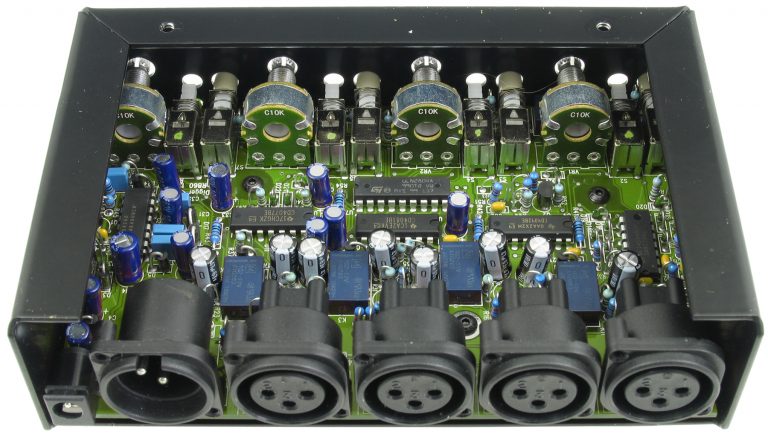 1
2
3
Isolated XLRs
Heavy duty glass-filled XLRs with nickel-silver contacts are stronger than steel and provide 100% isolation between channels to reduce noise and crosstalk.
1
Heavy Duty Switches
Both switches and potentiometers employ steel casings and shafts for long-term durability.
2
Gold Sealed Relays
Military spec relays are used to switch the microphones on and off for straight-wire signal path.
3