1
2
3
4
5
6
All On
changes the MUTE footswitch function to ALL-ON when activated.
1
180°
Corrects the relative phase of one amp to another.
2
Lift
Used to help reduce hum and buzz caused by ground loops
3
Drag
Lets you adjust the load on the pickup for the most natural tone.
4
Mute / All On
Footswith used to mute the amps for tuning or can be set to turn all outputs on at the same time.
5
Select
Heavy duty footswitch used to cycle through outputs 1 - 4 using radio-button style functionality brick.
6
1
2
3
4
5
Input
¼" input used to connect guitar or bass to the Headlight.
1
Outputs 2-4
Isolated ¼" outputs used to send signal to different amps or effects.
2
Output 1
Is the default output and should always be used as it provides a safety ground path to the instrument.
3
Switching Jacks
Sets the rotation of the output select footswitch depending on which outputs are connected.
4
Tuner
Dedicated separately buffered ¼" output is always on - connects to tuner.
5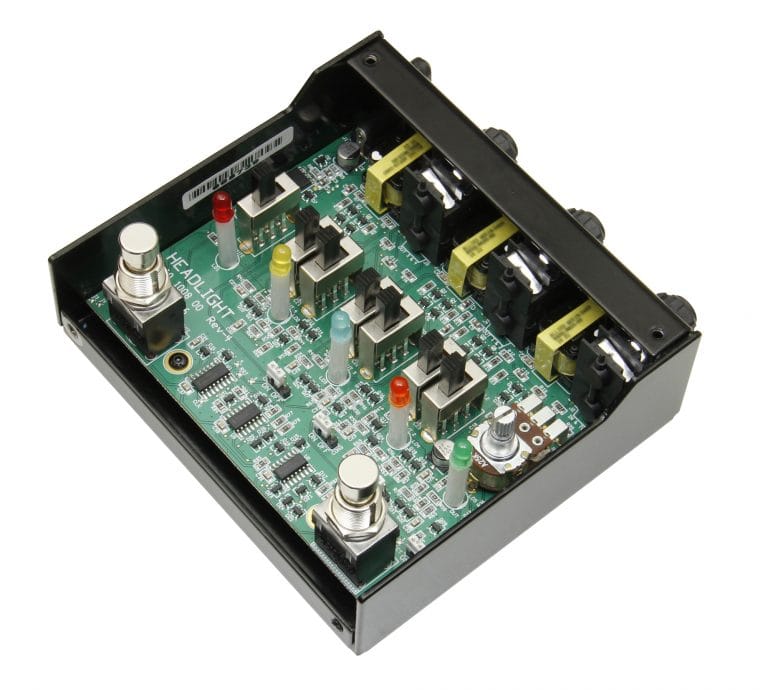 1
2
3
Transformers
Custom Radial Transformers for distortion-free signal transfer.
1
Class-A Circuit
100% discrete Class-A circuitry for minimal negative feedback and the most natural tone.
2
Jumpers
Let you set which amps will be on when in the all-on mode and the mute footswitch is engaged.
3