Active Turntable Preamp & DI Box
The J33™ combines a high quality turntable (phono) preamp with a DI box, providing consumer line-level outputs in addition to balanced mic-level outputs that allow you to connect a record player to pro audio equipment such as mixing consoles and recording interfaces.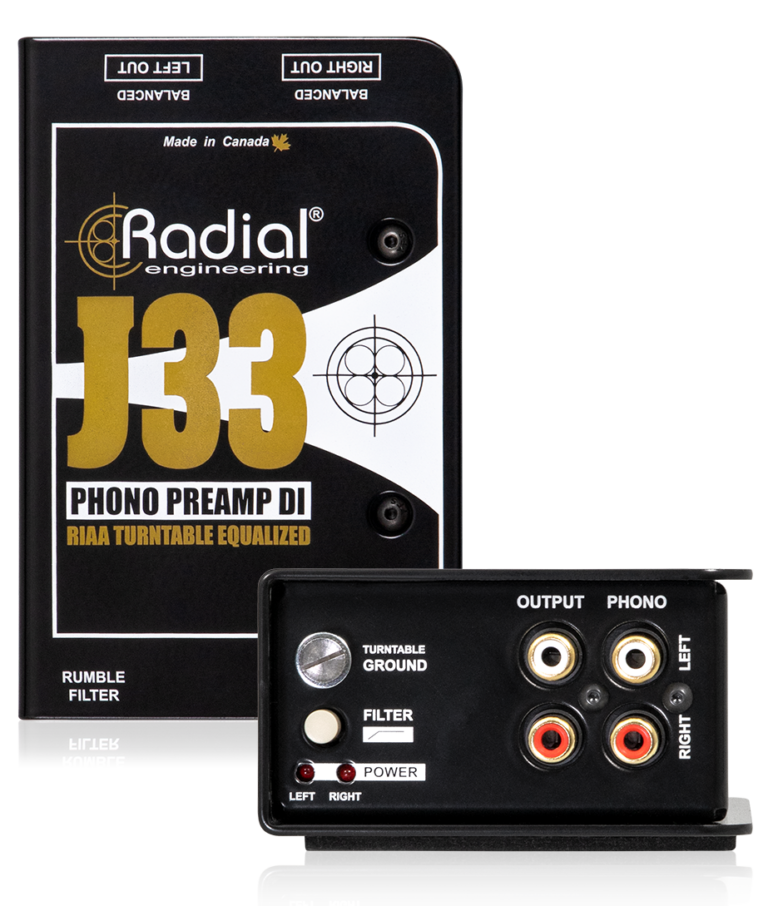 Photos
Combination RIAA phono preamp and DI Box
Stereo RCA and XLR outputs
Built-in low frequency rumble filter
Choice of 48V phantom power or DC power supply
A DI box for your turntables
The J33 provides the ability to connect turntables to pro audio equipment such as a recording interfaces and mixers, allowing you to easily integrate your vinyl collection with studio gear for playback or recording. Balanced XLR mic-level outputs are available for connection to a mic preamplifier for archiving or sampling in the studio, and -10dB consumer line-level outputs are also provided to connect to home stereo equipment. The J33 can also be used in a live performance environment, offering an improved interface for DJs to connect to the PA system.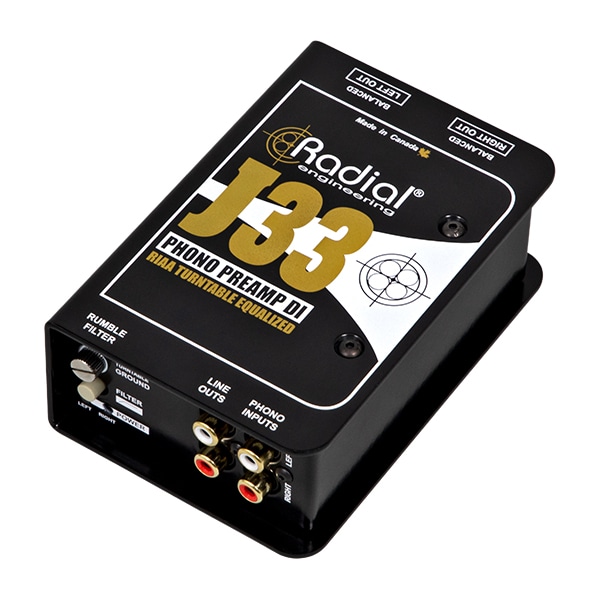 J33

Applications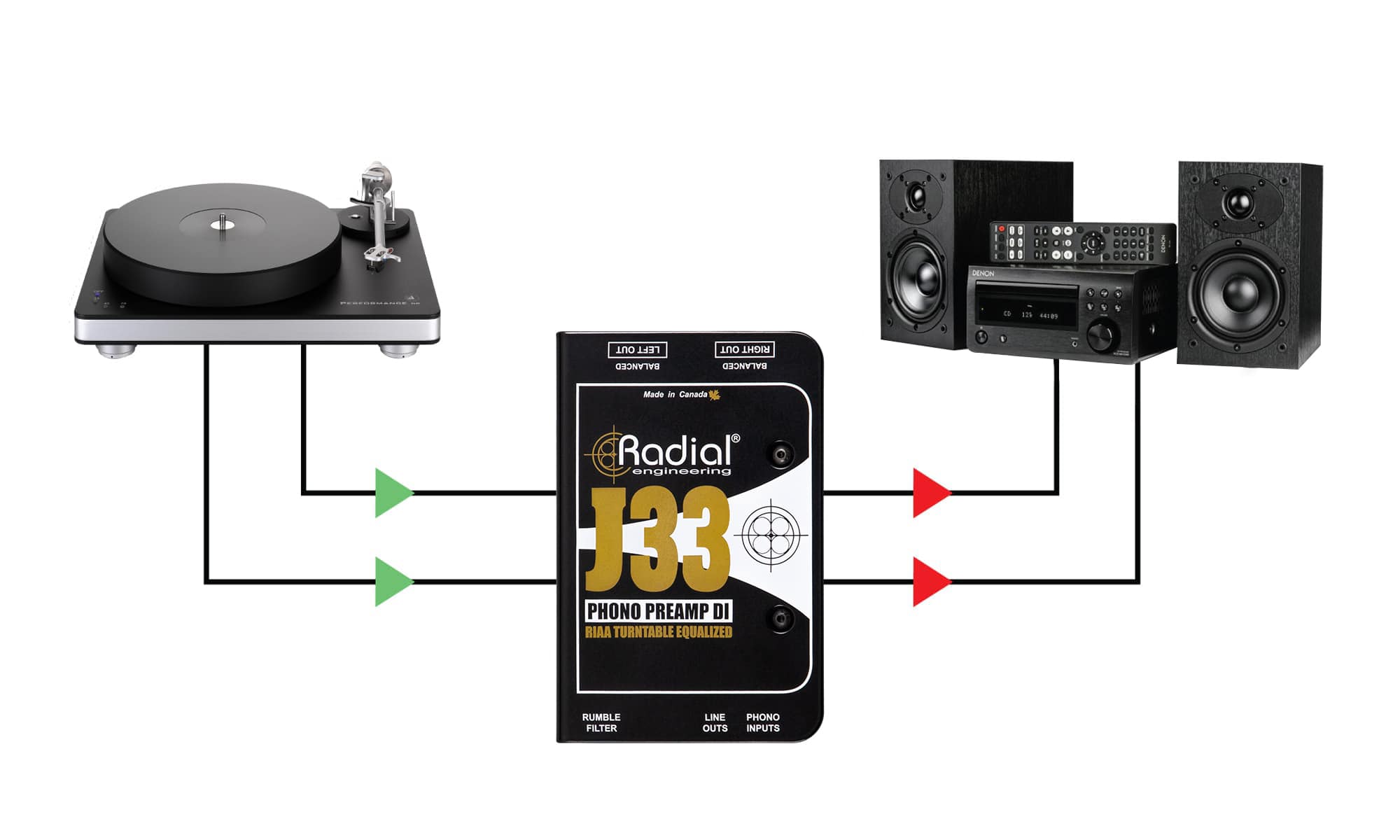 Turntable to J33 to hifi system
Most new stereo systems are not equipped with a phono preamp input. The Radial J33 is a high performance phono preamp that delivers audiophile quality to your HiFi system by simply connecting the turntable to the RCA inputs and the receiver to the RCA outputs.
Turntable to J33 to mixing console and PA system
DJs rejoice! You can now connect your turntable directly to a mixing console using the J33. Take the balanced lo-Z outputs form the J33 and connect just like a microphone… only stereo. The DI box output from the J33 is perfectly suited for all PA systems.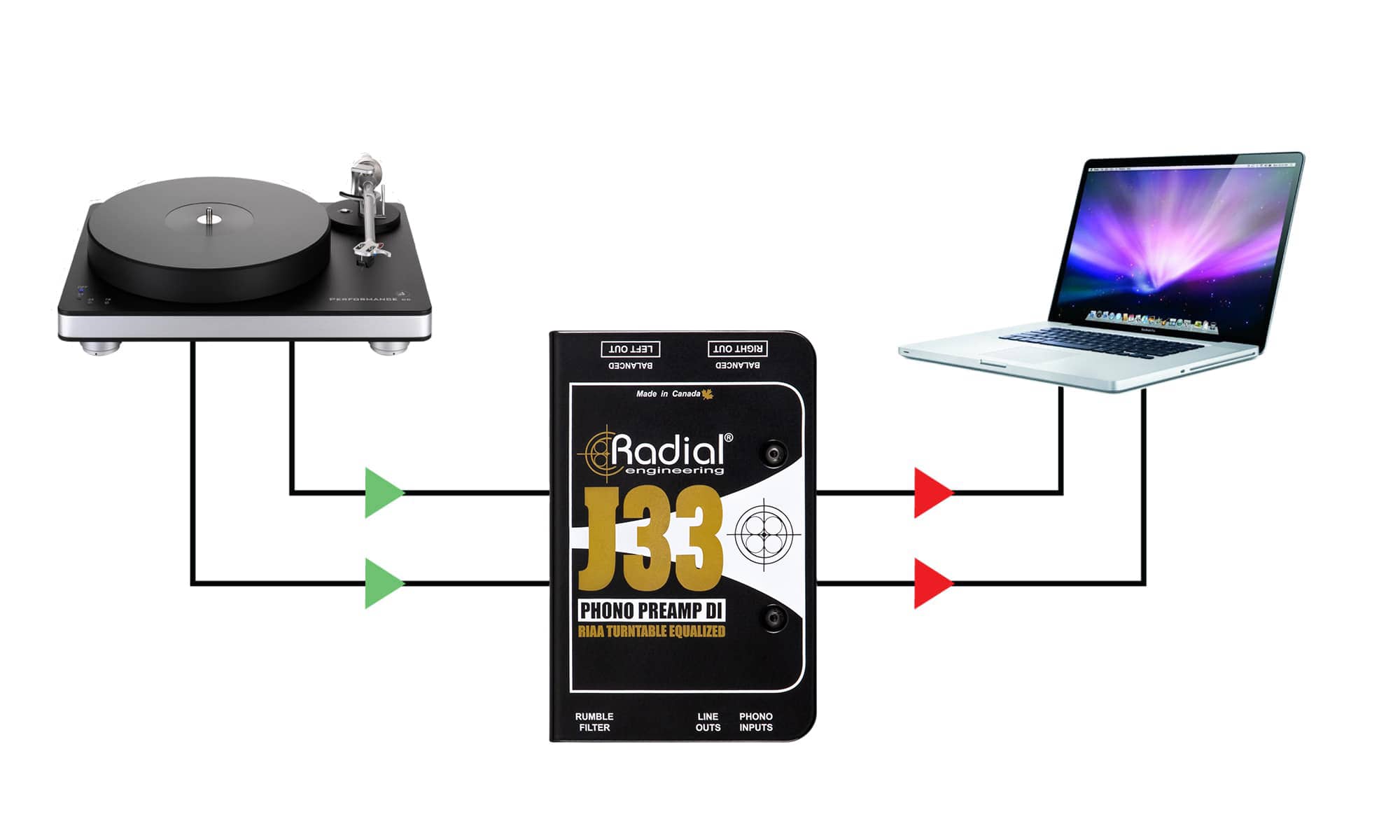 Turntable to J33 to computer
Plug your turntable into the J33 and then the outputs to an audio interface for digital recording. Add compression, gates and EQ to 'remaster' as needed.
Artis

ts
Johnny A
Favoured Nations recording artist
"The Radial J33 was the perfect solution to my problem...getting my vintage analog turntable to work in my modern equipped world...clean, punchy, transparent. Perfect!"
J33

Resources
Part no:
R800 1300 00
{{ postData.post_title }}
{{ postData.productSubTitle }}
Part no: {{ postData.partNo }}
Part no: View Product
{{ postData.post_excerpt }}
View Product