The Radial JD7 is a combination distribution amplifier, direct box and Reamp. As such there are a myriad of specifications that one may look at when determining suitability. The Radial JD7 incorporates 100% discrete parts, class-A circuitry and Jensen audio transformers in the guitar signal path to deliver near perfect unity gain with plenty of headroom and low noise. The fidelity of the audio and 'feel' can only truly be judged by plugging it in and closing your eyes!
Specifications
Audio circuit type:
100% discrete class-A with transformer isolation
Number of channels:
2 Input 7 Outputs
Frequency response:
20Hz ~ 20kHz (± 1dB)
Dynamic range:
125dB (unbalanced input to unbalanced output)
Total harmonic distortion:
0.05% @ 1k (unbalanced) 0.1% @ 1k (balanced)
Intermodulation Distortion:
0.2% @ -20dBu
Input Impedance:
Variable from 10k Ohms ~ 1megaOhm
Output Impedance:
¼" unbalanced: 10k Ohms; XLR balanced: 150 Ohms
Noise Floor:
-115dBu
Maximum Input:
+13dBu (unbalanced) +23dBu (balanced)
Features
Input pad, 180° polarity reverse, Ground lift, Drag Control, Effects Loop
Input Connectors:
1/4", XLR
Output Connectors:
1/4", XLR
General
Construction:
14 gauge steel chassis & outer shell
Size (L x W x D):
17.5" x 6" x 1.75" (44.5cm x 15.25cm x 4.45cm)
Weight:
7.5lb (3.4 kg)
Shipping size (L x W x D):
22" x 10.375" x 4.5" (55.9cm x 26.4cm x 11.4cm)
Shipping weight:
8lb (3.63kg)
Power:
+15VDC/400mA adapter included
Conditions:
For use in dry locations only between 5°C and 40°C
Warranty:
Radial 3-year, transferable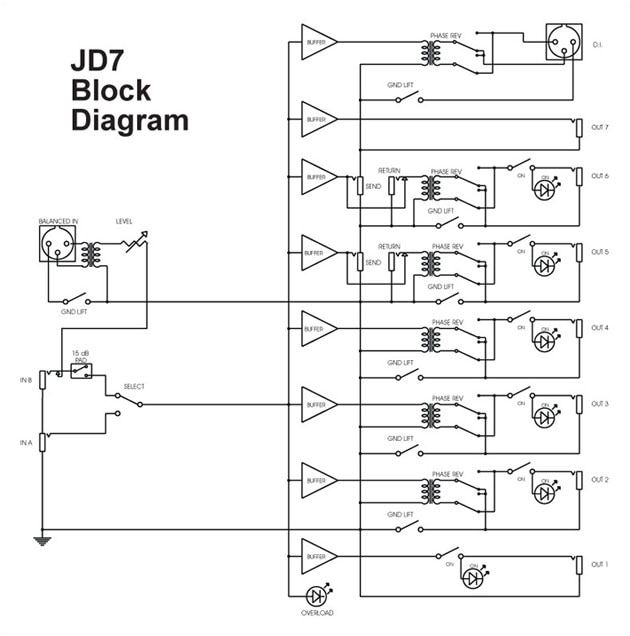 Frequency Response
What do these graphs mean? Learn what to look for and why it matters.
Learn More