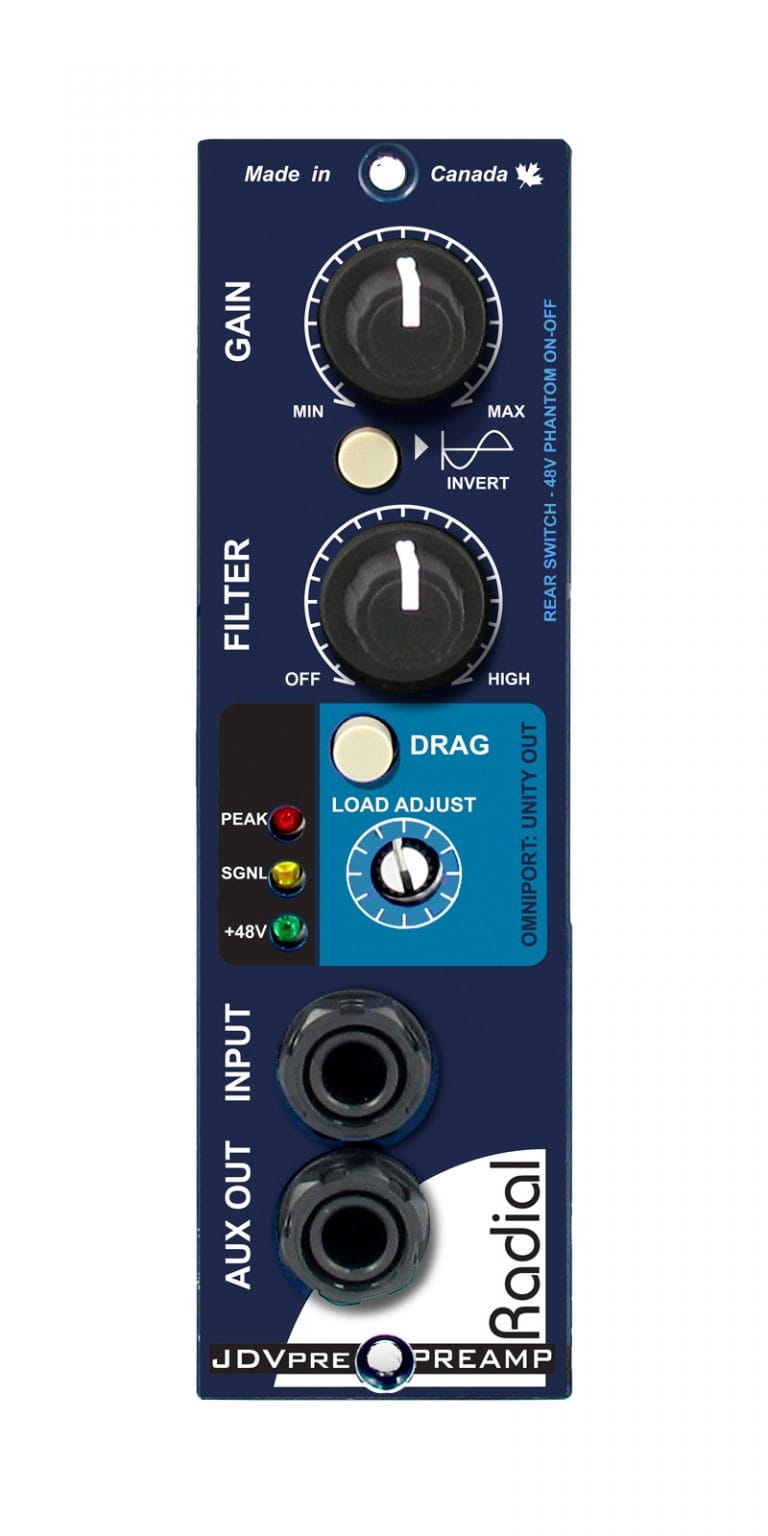 1
2
3
4
5
6
7
8
9
10
Gain
Sets the Accustate level control lets you simultaneously adjust the gain and input to ensure lowest noise at all settings.
1
Invert
Reverses the polarity on the JDV output. Ideally suited for eliminating feedback on stage or can be used to better phase align two signals for improved stereo imaging.
2
Filter
High-Pass Filter (HPF) reduces low frequency resonance and helps clean up the sound of acoustic instruments while eliminating run- away feedback. Great for layering tracks when recording.
3
XLR Input
As found on 500 series racks or the Radial Workhorse, this enables the JDV-Pre to be used with an instrument microphone. Transformer coupled for optimal signal flow.
4
Drag On
Engages the Drag control. This shifts the JDV input impedance from 3.9 meg-ohms for piezo pickups to a variable load that can be set from 22k-ohms to 500k-ohms for magnetic pickups.
5
LEDs
Three separate LEDs with On for power, Signal present and Peak overload to provide visual feedback of the JDV-Pre signal and operating status.
6
Drag Control
Lets you replicate the load of a magnetic pickup as if connected to a tube amplifier. The result is a much smoother more natural tone. Great for bass and guitar!
7
Input
Used to connect instrument to the JDV-Pre. Switching jack with front panel priority over the XLR mic input on rear panel of 500 series rack.
8
Aux Out
Buffered outputs is used to feed a guitar or bass amplifier when recording. Transformer isolated to eliminate buzz and hum caused by ground loops
9
Omniport
Designated as a balanced low impedance direct box output designed to feed a snake system and mixing console in a live touring environment (Only with Workhorse).
10