The Radial JS2 mic splitter is a passive device that employs a Jensen transformer to perform the mic bridging and as such, all technical specifications show the isolated output. It is important to note that the JS2 has been optimized for use at mic levels and each device is supplemented with MuMETAL® shielding and a solid steel enclosure to ensure minimal pollution from outside magnetic interference.
Specifications
Audio circuit type:
Passive mic/line splitter, transformer based
Transformer:
JT-MB-CPC, 1:1 ratio
Number of channels:
Three-way splitter (one in/three out)
Frequency response:
20Hz ~ 20KHz (+0dB/ -2dB)
Dynamic range:
140dB
Total harmonic distortion:
0.0005% @ 1kHz
Phase Deviation:
0.7° @ 100Hz; 2.8° @ 20Hz
Input Impedance:
Source dependent, 10kΩ with Pad on, unbalanced
Output Impedance:
Source dependent, 10kΩ with Pad on, balanced
Maximum Input:
+25dBu @ 1kHz
Features
Input pad, Ground lift
Input Connectors:
XLR-F in
Output Connectors:
Isolated output
General
Construction:
14-gauge steel chassis & outer shell
Size (L x W x D):
3.3" x 5.0" x 2" (84 x 127 x 48mm)
Weight:
1.55lb (0.7kg)
Shipping size (L x W x D):
4" x 3" x 6.5" (102 x 76 x 165mm)
Shipping weight:
1.92lb (0.87kg)
Power:
Passive, no power required
Conditions:
For use in dry locations only between 5°C and 40°C
Warranty:
Radial 3-year, transferable
Frequency Response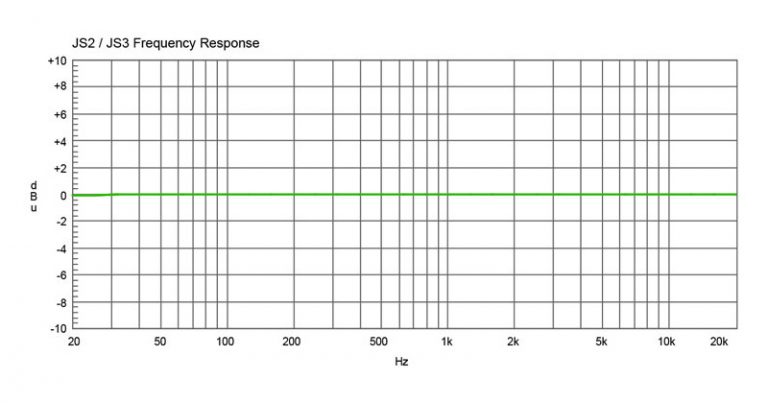 What do these graphs mean? Learn what to look for and why it matters.
Learn More