The Radial LX8 is an 8 channel line level splitter that enables the system designer to split and isolate high output audio signals and distribute them without fear of distortion or artefact. The passive 19″ rack mount design employs ultra-high performance Jensen® transformers to handle signals in excess of +25dB. This makes the LX8 particularly useful when managing high system levels where eliminating noise due to ground loop contamination is required. The compact single RU design features a choice of XLR, D-Sub and Euro-block connectors make the LX8 easy to integrate in all types of systems.
Specifications
Audio circuit type:
Passive transformer based line level splitter
Transformer:
Jensen JT-123-SLPC
Number of channels:
8 channel 3-way splitter
Frequency response:
20Hz ~ 20KHz (+0dB/-0.1dB)
Dynamic range:
140dB
Total harmonic distortion:
0.003% @ 1kHz
Phase Deviation:
0.2° @ 100Hz; 0.4° @ 20Hz
Input Impedance:
600 Ohms, balanced
Output Impedance:
600 Ohms, balanced
Common Mode Rejection Ratio:
-85dB @ 60Hz
Maximum Input:
+26dBu @ 1kHz, +24dBu @ 20Hz
Features
Ground lift
Input Connectors:
XLR, DB-25, Euroblock
Output Connectors:
XLR, DB-25, Euroblock
General
Construction:
14-gauge steel
Size (L x W x D):
19" x 6" x 1.75" (48.25 x 15.25 x 4.45cm)
Weight:
7.5lb (3.4kg)
Shipping size (L x W x D):
22" x 10.375" x 4.5" (55.9cm x 26.4cm x 11.4cm)
Shipping weight:
8lb (3.63kg)
Power:
Passive, no power required
Conditions:
For use in dry locations only between 5°C and 40°C
Warranty:
Radial 3-year, transferable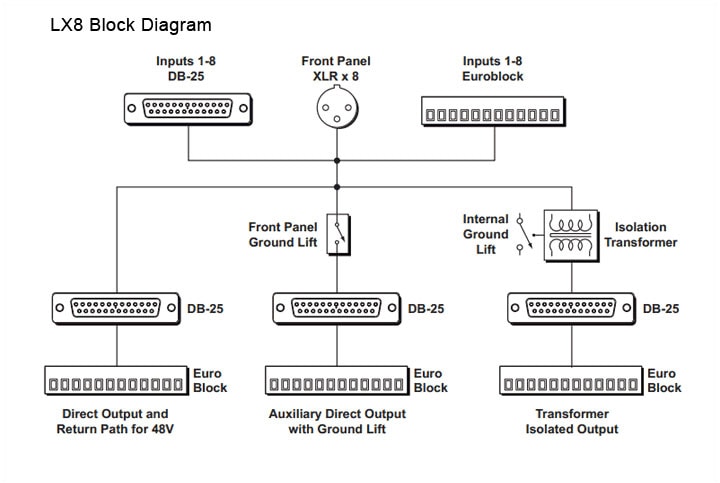 Frequency Response

What do these graphs mean? Learn what to look for and why it matters.
Learn More