The MIX 2:1 uses a completely passive circuit that requires no power to operate and allows you to sum two signals together with minimal coloration or distortion. Either signal can be attenuated to create the desired blend between the two, or the level controls can be bypassed altogether, summing each input equally. The MIX 2:1 automatically compensates for the 6dB in voltage gain when summing two in-phase signals together, so you don't overload the next device in your signal chain. Ground lift switches are provided to remove buzz and hum from ground loops, and the MIX 2:1 is housed in a rugged steel chassis to handle use in the studio and on the road.
Specifications
Audio circuit type:
Passive mixer
Frequency response:
20Hz to 20kHz
Dynamic range:
>133dB
Total harmonic distortion:
>0.005% @ 0dBu
Intermodulation Distortion:
>0.002% @ 0dBu
Phase Deviation:
0° @ 20Hz, 0° @ 1kHz, +2° @10kHz
Input Impedance:
8 kΩ
Output Impedance:
1 kΩ
Common Mode Rejection Ratio:
>80dB
Noise Floor:
-113dBu
Maximum Input:
>+ 20dBu
Features
180° polarity reverse, Ground lift, Level Control
Input Connectors:
1/4", XLR
Output Connectors:
XLR
General
Construction:
14-gauge steel chassis and outer shell
Size (L x W x D):
5" x 3.25" x 1.85" (12.7 x 8.3 x 4.7cm)
Weight:
1.48lb (0.67kg)
Shipping size (L x W x D):
6.25" x 4.12" x 3" (15.9 x 10.5 x 7.6cm)
Shipping weight:
1.77lb (0.8kg)
Power:
Passive, no power required
Conditions:
For use in dry locations only between 5°C and 40°C
Warranty:
Radial 3-year, transferable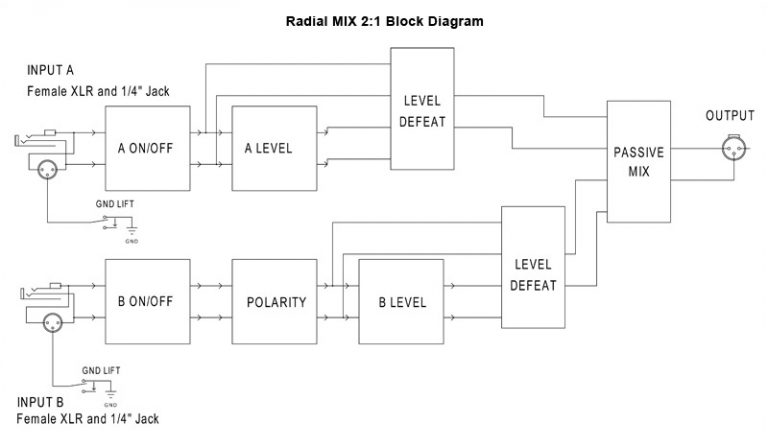 Frequency Response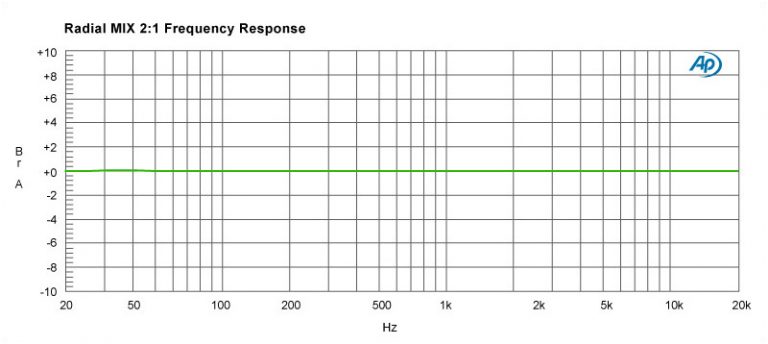 What do these graphs mean? Learn what to look for and why it matters.
Learn More