The Radial OX8 is an 8-channel passive microphone splitter. The passive design enables a microphone to feed two or even three consoles at the same time. The transformer coupled output provides isolation to eliminate DC from travelling between mixers, thus reducing noise caused by ground loops. The result is exceptionally low noise in even the most difficult environments. A choice of Jensen or Radial transformer is offered, thus enabling the specifying engineer to select the transformer that best suits performance and budget criteria. The rest of the features are identical.
Specifications
Audio circuit type:
Passive transformer based mic level splitter
Transformer:
choice of Jensen JT-MB-CPC or Radial Eclipse MS10
Number of channels:
8
Frequency response:
Jensen 20Hz ~ 20KHz (+0dB/-0.2dB) | Radial 20Hz ~ 18KHz (+0dB/-3dB)
Dynamic range:
Jensen 140dB | Radial 140dB
Total harmonic distortion:
Jensen 0.003% @ 1kHz | Radial 0.005% @ 1kHz
Phase Deviation:
Jensen 0.7° @ 100Hz; 2.8° @ 20Hz | Radial 1° @ 100Hz; 5° @ 20Hz
Input Impedance:
Source dependent, 10kΩ with Pad on, balanced
Output Impedance:
Source dependent, 10kΩ with Pad on, balanced
Common Mode Rejection Ratio:
Jensen -115dB @ 60Hz | Radial 114dB @ 60Hz
Maximum Input:
Jensen +2dBu @ 20Hz | Radial +2dBu @ 20Hz
Features
Input pad, Ground lift
Input Connectors:
XLR, Euroblock, DB-25
Output Connectors:
Euroblock, DB-25
General
Construction:
14-gauge steel
Size (L x W x D):
19" x 6" x 1.75" (48.25cm x 15.25cm x 4.45cm)
Weight:
7.5lb (3.4 kg)
Shipping size (L x W x D):
22" x 10.375" x 4.5" (55.9cm x 26.4cm x 11.4cm)
Shipping weight:
8lb (3.63kg)
Power:
Passive, no power required
Conditions:
For use in dry locations only between 5°C and 40°C
Warranty:
Radial 3-year, transferable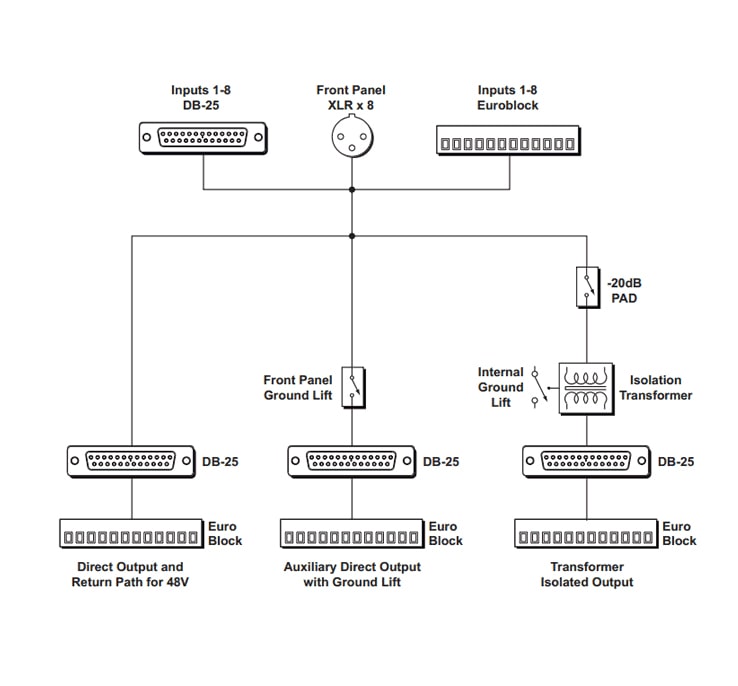 Frequency Response
What do these graphs mean? Learn what to look for and why it matters.
Learn More