The Radial PreComp is a straight-ahead channel strip that combines an ultra clean preamp with a high performance VCA compressor. With a wonderfully linear response from 20Hz to 20kHz and a noise floor below 120dB, the PreComp is able to accurately reproduce signals upwards to +24dB without concern. On the compression side, the response curves demonstrate consistency at all signal levels along with a smooth transition as compression ratios are increased. This confirms that the PreComp is perfectly capable of delivering dependable, distortion-free performance that is sure to please the most demanding professional.
Specifications
Audio circuit type:
Accustate input with true variable gain front end.
Frequency response:
20Hz ~ 20kHz (-1.5dB @ 20Hz)
Dynamic range:
112dB
Gain:
55dB
Total harmonic distortion:
<0.003%
Intermodulation Distortion:
0.03%
Input Impedance:
3.3kOhms
Output Impedance:
300 Ohms
Equivalent Input Noise:
-120dBu
Noise Floor:
-85dB @ +40dB of gain
Maximum Input:
+24dBu
Features
180° polarity reverse, HPF, Phantom Power, OmniPort
Extras:
Up to +25dB make up gain
General
Size (L x W x D):
9" x 6.25" x 2" (228 x 159 x 51mm)
Weight:
1.5lbs (0.7Kg)
Power:
56mA
Conditions:
For use in dry locations only between 5°C and 40°C
Warranty:
Radial 3-year, transferable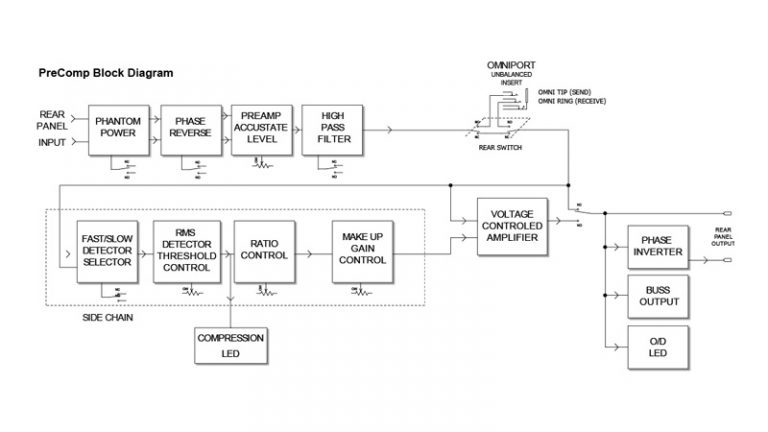 Frequency Response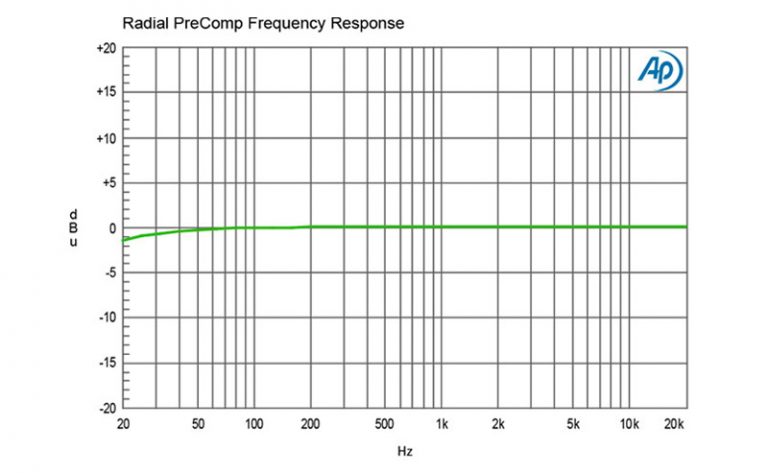 What do these graphs mean? Learn what to look for and why it matters.
Learn More