The Radial ProRMP Reamp is a transformer coupled passive device designed to take a balanced line level signal and convert it so that it can drive the high input impedance of a guitar amplifier. As a passive device, it does not amplify the signal in any way. Critical to the performance is the frequency response and low distortion. The ProRMP is perfectly suited for Reamping and warming the balanced output of a wireless system.
Specifications
Audio circuit type:
Passive, transformer isolated
Frequency response:
20Hz ~ 20KHz (+0/-1dB)
Dynamic range:
>137dB
Gain:
>-10dB
Total harmonic distortion:
0.003%
Phase Deviation:
0.3° @ 100Hz; 5° @ 20Hz
Input Impedance:
1600 Ohms
Output Impedance:
1850 Ohms
Common Mode Rejection Ratio:
100dB @ 60Hz (unbalanced source)
Equivalent Input Noise:
>-98dBu Noise plus gain
Noise:
-111dBu
Maximum Input:
>+26dBu
Features
Input pad, 180° polarity reverse, Ground lift
Input Connectors:
XLR
Output Connectors:
1/4"
General
Construction:
14 gauge steel chassis and outer shell
Size (L x W x D):
3.3" x 5.0" x 2" (84 x 127 x 48mm)
Weight:
1.55 lbs (720 g)
Power:
Passive, no power required
Conditions:
For use in dry locations only between 5°C and 40°C
Warranty:
Radial 3-year, transferable
Frequency Response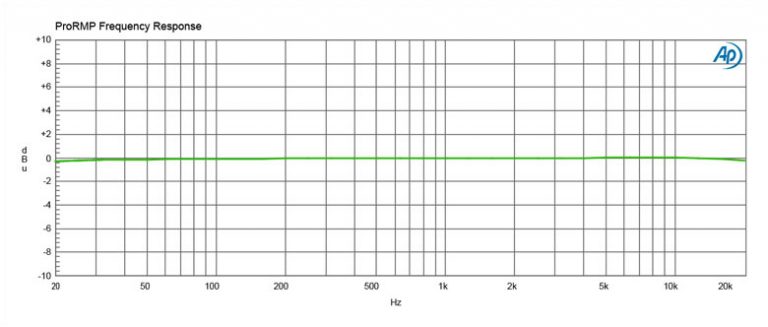 What do these graphs mean? Learn what to look for and why it matters.
Learn More