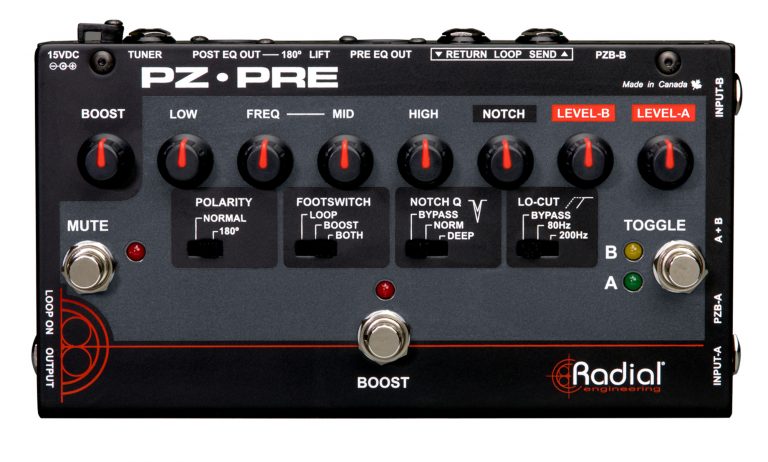 1
2
3
4
5
6
7
8
9
10
11
Boost
Gives you up to 8dB of added gain for solos. Works with boost footswitch.
1
3 Band EQ
With bass, semi-parametric mid range and high frequency controls.
2
Notch
Sets the center frequency for the notch filter. Used to eliminate feedback.
3
Level 1 & 2
Sets the input volume level on each channel.
4
Phase
Reverse used to correct the phase relationship of the instrument output to reduce on stage feedback.
5
Footswitch Assign
Used to set the Boost footswitch for boost, effects loop or both.
6
Notch-Q
Selects normal or extra deep notch. Works with notch frequency control.
7
Lo-Cut
3 position filter reduces low frequency rumble and resonance that can cause feedback or muddy the sound.
8
Mute
Footswitch turns off all outputs except the tuner out. Used for quiet on-stage tuning.
9
Boost
Footswitch activates booster or effects-loop. Works with Boost Assign footswitch.
10
Toggle
Footswitch lets you select between ch-1 and ch-2. LEDs indicate active input.
11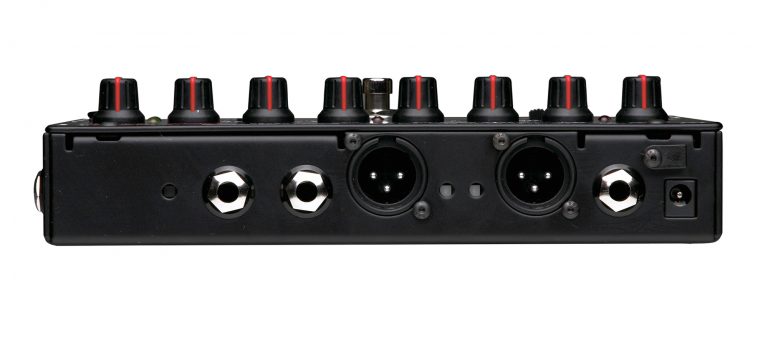 1
2
3
4
5
6
7
8
PZB-2
Recessed switch turns on class-A booster and increases impedance to 10meg Ohms for piezo equipped instruments.
1
Loop Send / Return
Inserts effects into the signal path. Activated with boost footswitch.
2
Pre-EQ Output
Balanced direct box XLR output used to send dry signal (without EQ) to PA system.
3
Lift
Disconnects pin-1 ground at the XLR output to help eliminate hum & buzz caused by ground loops.
4
180°
Recessed switch reverses pins 2 and 3 at the XLR output. Used to help eliminate feedback.
5
Post-EQ Output
Balanced direct box XLR output used to send wet signal (with EQ) to the PA system or monitors.
6
Tuner
Always on buffered output is used with the mute footswitch for quiet on-stage tuning.
7
15VDC Power Supply
Delivers more head-room than a typical 9V supply for added clarity and dynamics.
8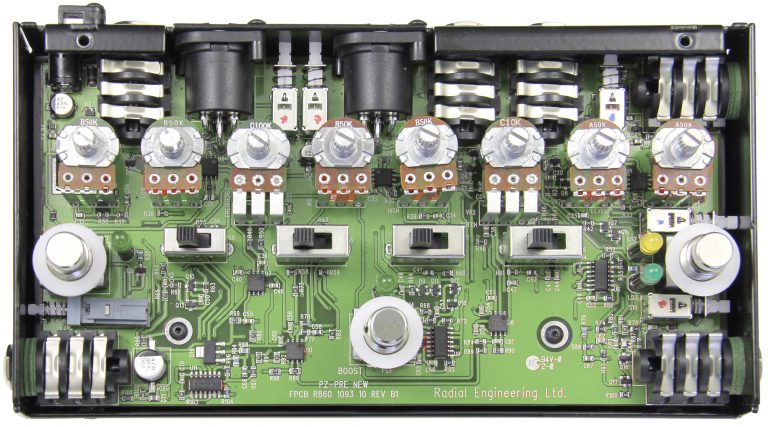 1
2
3
4
Class-A Circuitry
Ensures optimal signal flow and the most natural tone.
1
Potentiometers
Double up solder points for greater durability. Steel casing with steel shaft and retention nut will not bend when under stress.
2
Switches
Extra Durable switches with metal outer casing are rated at over 20,000 cycles.
3
Connectors
Glass filled nylon housing is tougher than steel and provides isolation for reduced noise. Nickel-silver contacts will not tarnish.
4