When used in combination with the JX44 the optional SGI-44 can either be used as a bi-directional long haul effects loop or as a single ended driver from a guitar to the JX44 and your amps. Balanced audio connections between the JX44 and SGI-44 allow distances up to 100 meters (300 feet) using standard XLR mic cable. This is accomplished using a proprietary hybrid active drive circuit with Jensen transformer isolation to transfer the signal between units without introducing noise or signal loss.
Specifications
Audio circuit type:
Active 100% discrete class-A with transformer isolation
Frequency response:
20Hz ~ 20kHz (-2dB)
Dynamic range:
105dB
Total harmonic distortion:
0.005% @ 1k
Intermodulation Distortion:
0.02% @ 1k
Input Impedance:
Variable from 10k Ohms ~ 1 megaOhm
Output Impedance:
218 Ohms (¼" unbal. output); 280 Ohms (TX bal. output)
Noise Floor:
-100dBu
Maximum Input:
+2dBu
Features
Ground lift, Drag Control
Input Connectors:
1/4", XLR
Output Connectors:
1/4", XLR
General
Construction:
14-gauge steel chassis & outer shell
Size (L x W x D):
4.25" x 2" x 5" (102 x 76 x 165mm)
Weight:
3lbs. (1.36kg)
Shipping size (L x W x D):
5.25" x 2.5" x 11" ( 127 x 64 x 279mm)
Shipping weight:
3.1lbs (1.41kg)
Power:
+15VDC/400mA adapter included
Conditions:
For use in dry locations only between 5°C and 40°C
Warranty:
Radial 3-year, transferable
Frequency Response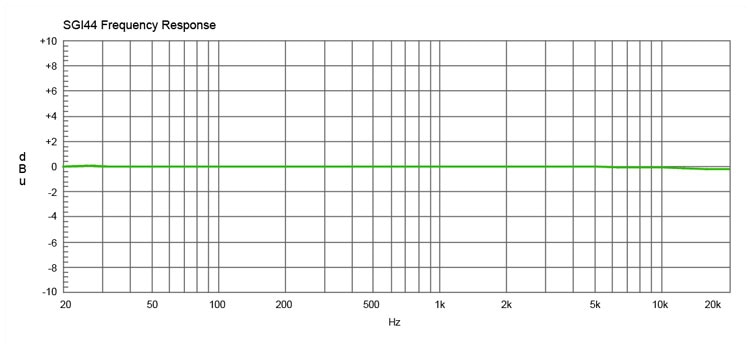 What do these graphs mean? Learn what to look for and why it matters.
Learn More