The Space Heater 500 is a device that is designed to add color and distortion to the signal path. Specifications such as distortion, noise or phase shift simply do not apply. One must read the specifications with an eye towards 'the type of distortion' that is being generated and there is no better indicator than the even-order harmonic distortion that is evident when looking at the FFT (Fast Fourier Transform) where a near-perfect cascade flows. Even-order harmonic distortion is both pleasing to the ear and when applied in moderation, can truly enhance tracks without interfering.
Specifications
Audio circuit type:
Thermionic Gain stage with solid state input and output buffers
Frequency response:
20Hz - 20KHz ± 1dB
Dynamic range:
92dB
Gain:
32dB@140V, 27dB @70V, 13dB @35V
Clip Level:
+22dBu
Total harmonic distortion:
Varies with Drive and Level settings
Intermodulation Distortion:
Varies with drive and level settings
Input Impedance:
1M
Output Impedance:
100Ω
Common Mode Rejection Ratio:
-60dB
Equivalent Input Noise:
-102dBu
Noise Floor:
-70dBu
Maximum Input:
+20dBu
Features
HPF, LPF, OmniPort, EQ Control
Input Connectors:
XLR
Output Connectors:
XLR
Extras:
OmniPort unbalanced instrument input
General
Construction:
500 Series module
Size (L x W x D):
5.3" x 1.6" x 6.7" (134mm x 40mm x 170mm)
Weight:
1.55lb
Shipping size (L x W x D):
6.7" x 1.9" x 9.1" ( 170mm x 48mm x 231mm)
Shipping weight:
2lb
Conditions:
For use in dry locations only between 5°C and 40°C
Warranty:
Radial 3-year, transferable
Frequency Response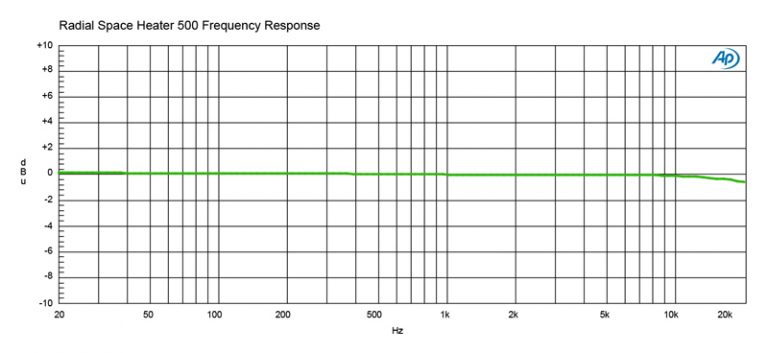 What do these graphs mean? Learn what to look for and why it matters.
Learn More