The Radial StageBug SB-15 is a combination hi-Z signal buffer and DC power adaptor for pedalboards. It features a 100% discrete class-A signal path for optimal signal transfer and is augmented with Drag Control load correction to match the source pickup with the pedal chain. Once connected, the SB-15 lowers the impedance and susceptibility to noise, enabling longer cable runs without noise. For Tonebone users that require a 15DVC supply, the SB-15 incorporates a DC to DC converter that converts two 9V supply lines from a typical power brick to 15 volts.
Specifications
Audio circuit type:
Class A FET buffer
Frequency response:
20Hz to 30Khz
Dynamic range:
104dB with dual 9V supply; 98dB with single 9V supply
Gain:
0dB (unity gain)
Clip Level:
+16dBu
Total harmonic distortion:
0.01% @ 1kHz
Intermodulation Distortion:
0.004%
Phase Deviation:
<5° at 20Hz
Input Impedance:
22K to 500K
Output Impedance:
4.7K
Noise Floor:
-88dBu
Maximum Input:
+16dBu
Features
Drag Control
Input Connectors:
Standard 2.1mm barrel with center negative (-)
Output Connectors:
Standard 2.1mm barrel with center positive (+)
Extras:
Dual 9VDC 400mA for optimal performance – May be used with single 9VDC 100mA supply to power buffer only
General
Construction:
14-gauge steel
Size (L x W x D):
4.5" x 1.85" x 1.35" (114mm x 47mm x 34mm)
Weight:
0.55lb (0.25kg)
Shipping size (L x W x D):
8" x 5" x 3" (203mm x 127mm x 76mm)
Shipping weight:
0.65 lbs (0.3kg)
Power:
+15V DC 400mA
Conditions:
For use in dry locations only between 5°C and 40°C
Warranty:
Radial 3-year, transferable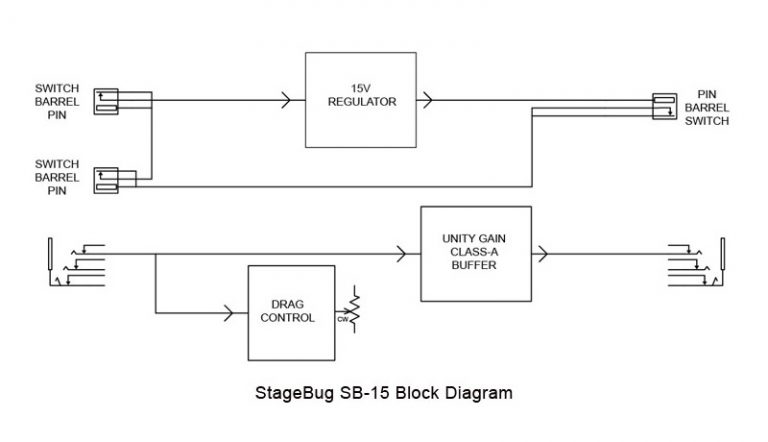 Frequency Response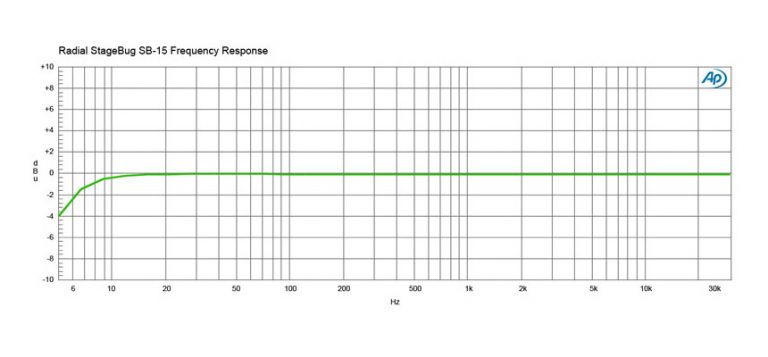 What do these graphs mean? Learn what to look for and why it matters.
Learn More