The Radial StageBug SB-4 is an active direct box that has been optimized for use with piezo electric transducers such as used on classical guitar, violin, mandolin and upright bass. It features a high 5-meg-ohm input impedance that at once broadens the frequency response while reducing the peaks and squaw that are commonly encountered with piezo devices. This is augmented with a high pass filter that gently rolls off excessive bass. The unique AUX output is buffered to enable high impedance sources to feed pedals and amplifiers without interacting with the input impedance. Extra attention has been paid to the circuit design to ensure exceptional performance resulting in less than 0.01% distortion throughout the critical listening range and a noise floor that approaches -100dB. These features combine to make the Radial StageBug SB-4 a excellent solution for orchestral and acoustic instruments of all types.
Specifications
Audio circuit type:
Piezo optimized active buffer
Frequency response:
20Hz to 20kHz
Dynamic range:
100dB
Gain:
+2dB
Total harmonic distortion:
<0.006%
Intermodulation Distortion:
<0.01%
Phase Deviation:
10° @ 50Hz
Input Impedance:
5Meg Ohms
Output Impedance:
330 Ohms
Equivalent Input Noise:
-101dBu
Noise Floor:
-97dBu
Maximum Input:
+4dBu
Features
180° polarity reverse, Ground lift, HPF
Input Connectors:
1/4"
Output Connectors:
XLR
General
Construction:
16 gauge steel chassis & outer shell
Size (L x W x D):
4.5" x 1,85" x 1.35" (114mm x 47mm x 34mm)
Weight:
0.55 lbs (250 grams)
Shipping size (L x W x D):
8" x 5" x 3" (203mm x 127mm x 76mm)
Shipping weight:
0.8 lbs (365 grams)
Power:
48V phantom power, 5mA
Conditions:
For use in dry locations only between 5°C and 40°C
Warranty:
Radial 3-year, transferable

Frequency Response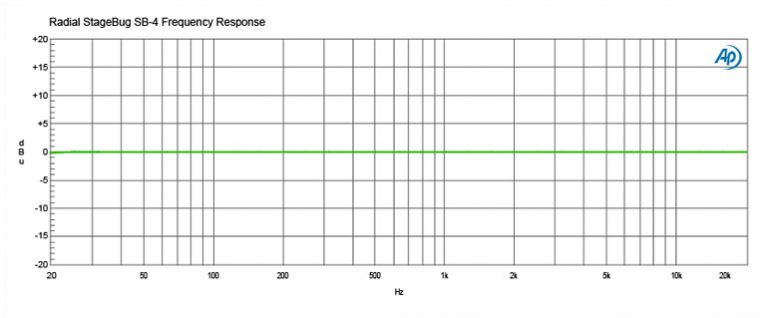 What do these graphs mean? Learn what to look for and why it matters.
Learn More