The Radial SW8 is an 8-channel auto-switcher designed to switch balanced and unbalance audio sources and deliver them via a straight wire or transformer coupled interface. As solid wire specifications cannot be measured, the graphs below depict the performance of the SW8 using the transformer isolated XLR outputs. it is also important to note that the direct box outputs are designed to reduce a +4dB balanced source to a lower mic level source, thus resulting in a -20dB drop in level. This enables the SW8 to be used in a typical snake system without fear or overload and crosstalk.
Specifications
Audio circuit type:
Passive signal path with active relay switching
Transformer:
Eclipse ET-DB2
Number of channels:
8
Frequency response:
20Hz ~ 20KHz
Dynamic range:
>120dB
Gain:
-20dB
Total harmonic distortion:
0.002%
Intermodulation Distortion:
>0.002%
Phase Deviation:
-2° @ 20Hz
Input Impedance:
140k Ohms, balanced
Output Impedance:
150 Ohms, balanced
Common Mode Rejection Ratio:
-112dB at 50/60Hz
Equivalent Input Noise:
-95dBu
Noise Floor:
-115dBu
Maximum Input:
26dBu
Features
Input pad, Ground lift, Remote Footswitch
Input Connectors:
1/4" TRS, D-sub
Output Connectors:
XLR, D-sub
Extras:
Contact Alarm Input, JR-2 XLR
General
Construction:
14 gauge steel chassis & outer shell
Size (L x W x D):
17.5" x 6" x 1.75" (44.5cm x 15.25cm x 4.5cm)
Weight:
9.2 lb (4.2kg)
Shipping size (L x W x D):
22" x 10.375" x 4.5" (55.9cm x 26.4cm x 11.4cm)
Shipping weight:
9.7 lb (4.4 kg)
Power:
Two +15VDC/400mA power supplies included
Conditions:
For use in dry locations only between 5°C and 40°C
Warranty:
Radial 3-year, transferable
Frequency Response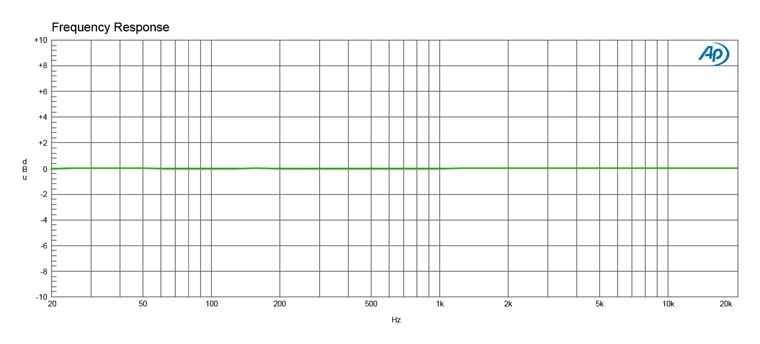 What do these graphs mean? Learn what to look for and why it matters.
Learn More