Balanced Reverb Tank Interface
The Tank Driver is a unique 500 series modules that allows you to drive balanced line level signals through guitar amp reverb tanks, optimized to work with both modern and vintage spring reverb models.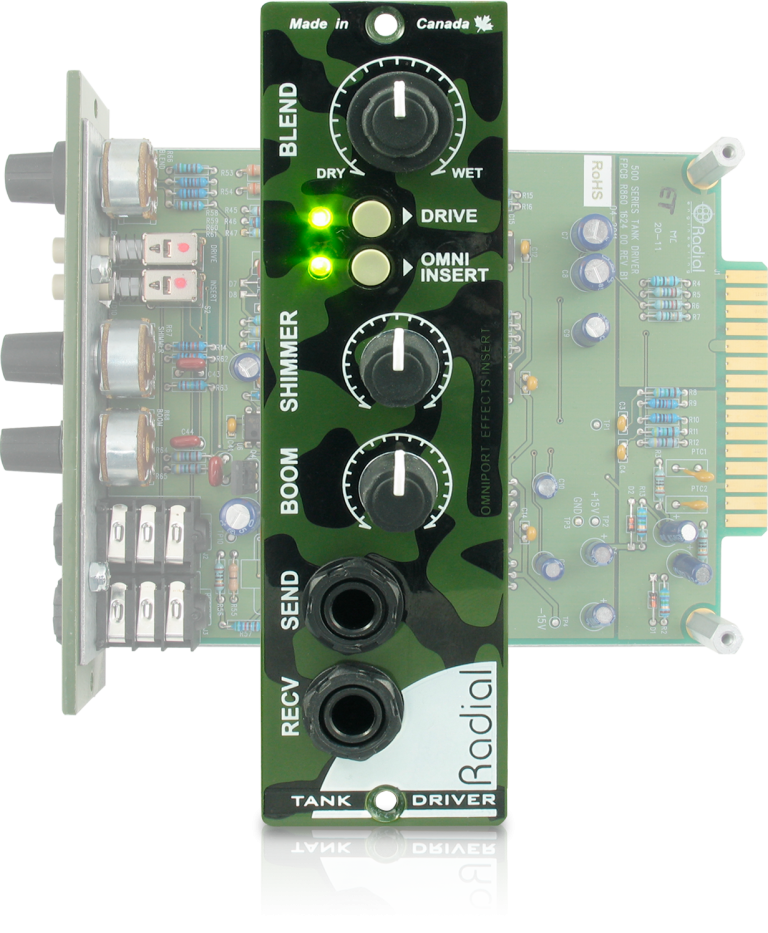 Photos
Balanced interface for guitar spring reverbs
Use the spring reverb in your guitar amp for mixing
Add unique reverb effects to your recordings
Optimized drive circuit for low noise operation
Create unique tones with your existing spring reverb
With the Tank Driver, you can take any balanced line level signal or prerecorded track and play it through your favorite spring reverb. Think of it like a Reamp device for the reverb tank in your amplifier, allowing you to send vocals, drums, or any audio material through any spring reverb for a whole new palette of sonic options. The design begins with a transformer coupled output driver with normal and high settings for new and old spring reverbs alike. Separate drive and return controls allow signal optimization to maximize signal to noise. To further tailor the tone, the Tank Driver is equipped with two tone controls that let you adjust the high end (shimmer) as well as low frequency content (boom).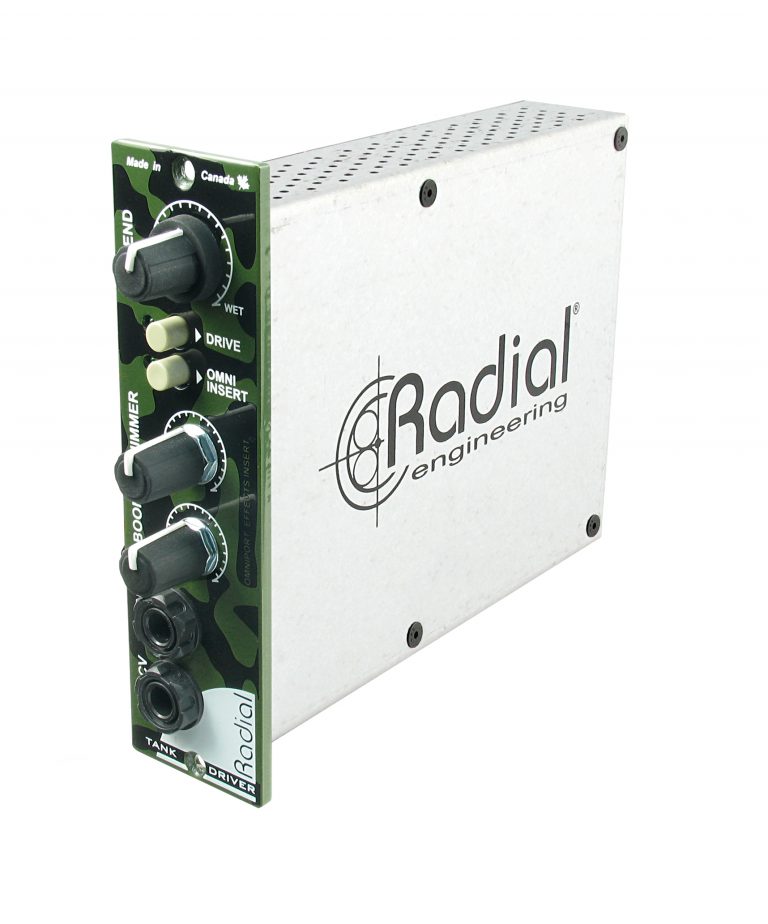 Tank Driver

Applications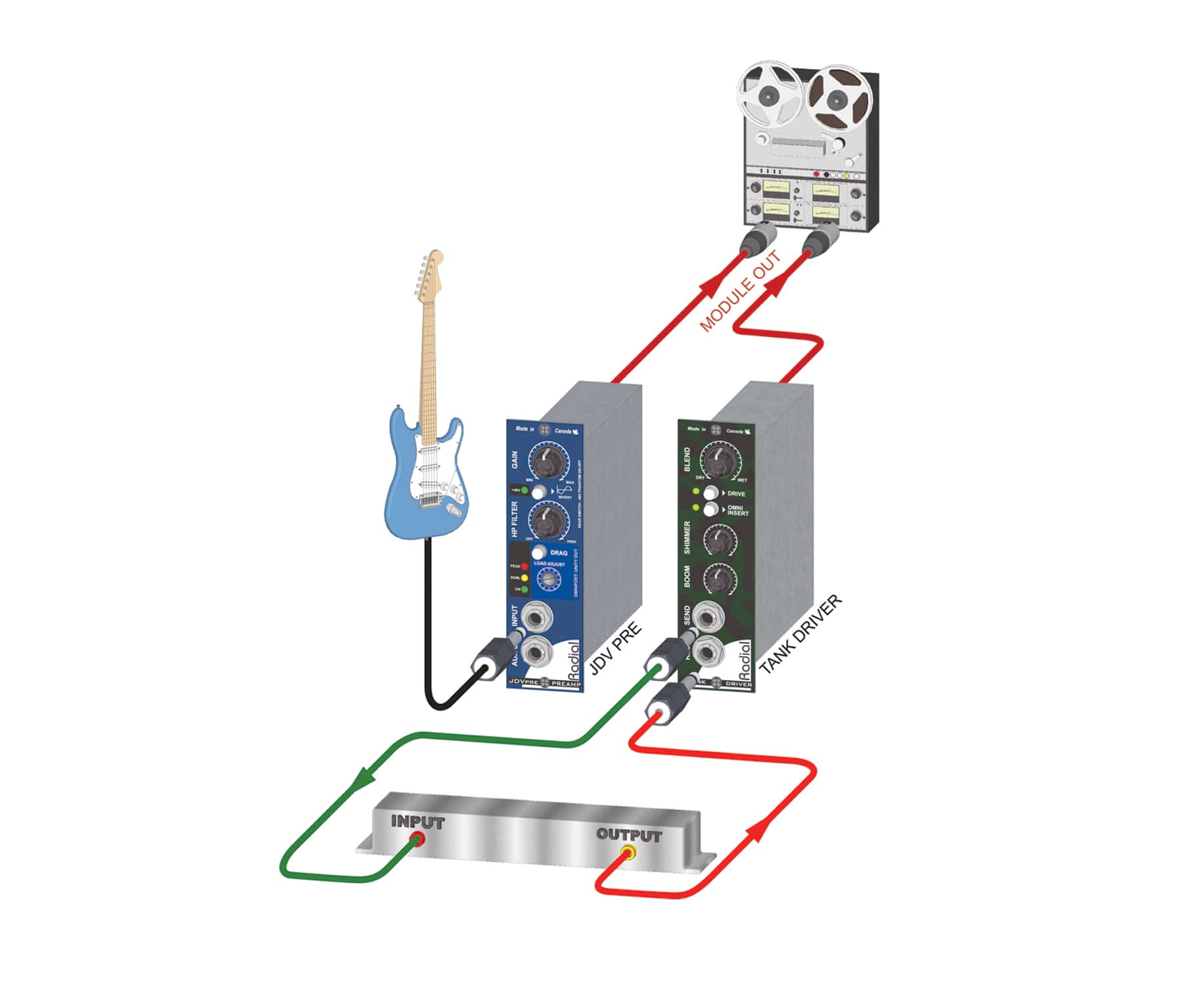 Tank Driver with Spring Reverb
If you have an old amplifier that is not working, you can pull the spring reverb out of the box and set it on a table. Connecting to and from the spring reverb and the Tank Driver is easy and most spring reverbs are clearly marked with input and output.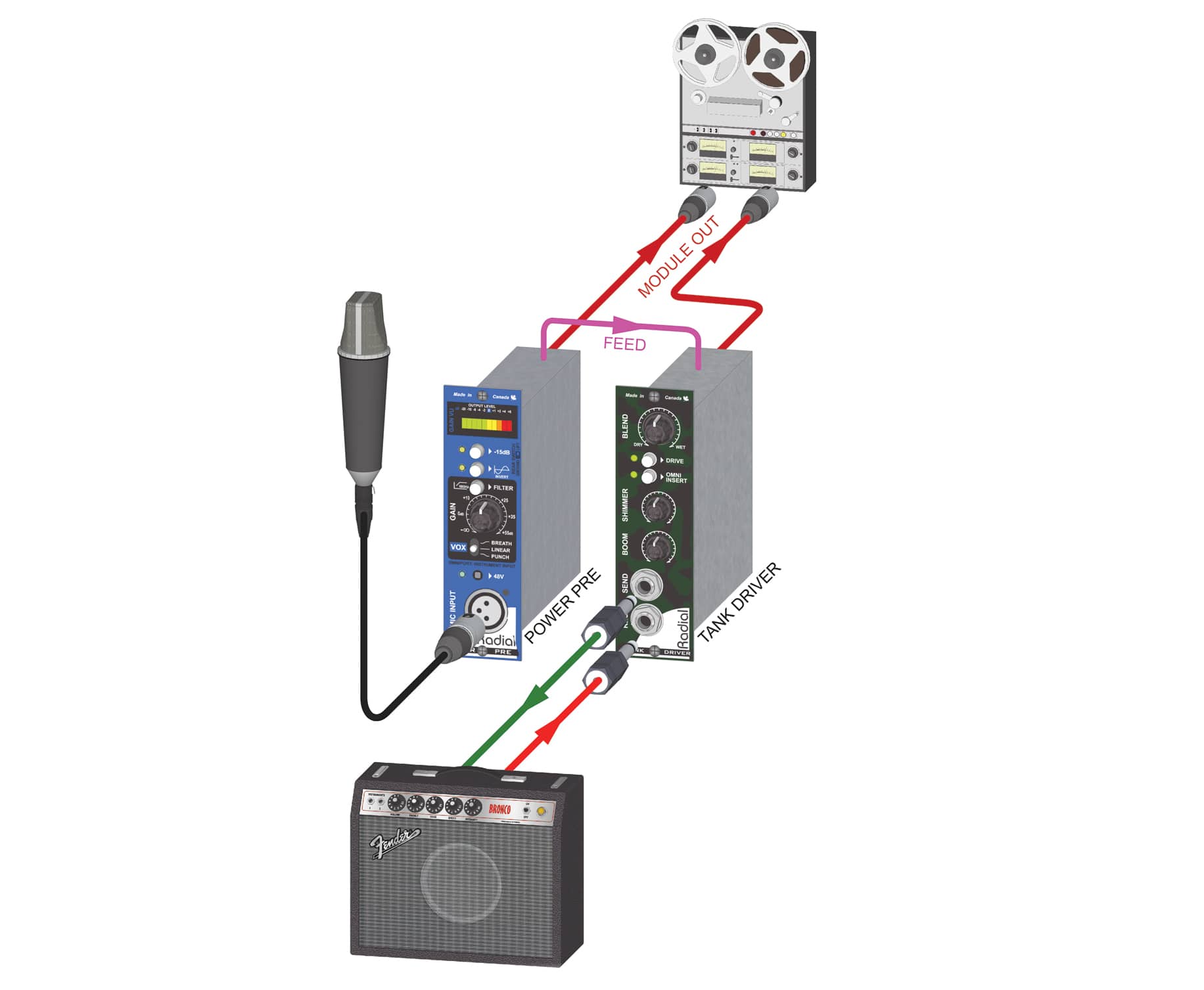 Tank Driver with Fender Twin
Simply disconnect the two RCA connectors going to the spring reverb and connect the Tank Driver as described above. Different amps will often have different reverb tanks. Smaller tanks will have a shorter decay. Have fun… experiment!
Stereo set-up
For even more fun… take a pre-recorded stereo track and send it through two Tank Drivers. This retains the full stereo effect and lets you alter the reverb tank to create unique spatial effects. Try it on a drum track and then mix it in… it's wild!
Reviews
"The 500-series Tank Driver is one of those "I never knew I wanted this" devices that this company excels in. The Tank Driver, as its name so wittily implies, is made so you can interface it with the spring reverb of your favorite amplifier, or you can simply purchase a dedicated third-party reverb tank and use that."

"Many DAWs have spring reverb plug-ins, but it's not Dick Dale spring reverb unless you toss the digital simulation and go with the real thing. The Tank Driver actually improves on the rich ambience by offering Blend (wet/dry), Boom and Shimmer controls."
Artis

ts
Andrew Scheps
Metallica, Red Hot Chili Peppers, Audioslave, Linkin Park, Green Day, U2
"The Radial Tank Driver? I love being able to use the springs in my Hammond B3 and guitar amps just as if they were mounted in the rack. You KNOW those reverbs will sound good on everything!"
{{ postData.post_title }}
{{ postData.productSubTitle }}
Part no: {{ postData.partNo }}
Part no: View Product
{{ postData.post_excerpt }}
View Product