The Tossover is a 500 series two-way crossover module that may be used to split off desired frequencies for processing or as a high-pass or low-pass filter. Each band features a choice of 12, 18 or 24 dB/octave filter slopes, variable cut-off frequency and level controls. The two filters may be used separately or combined to create a band-pass filter. Designed to interface with line level devices, the Tossover exhibits less than 0.001% distortion at all frequencies while producing less than 120dB of self-noise to deliver exceptionally linear, color-free signal transfer.
Specifications
Frequency response:
<20Hz to >20KHz
Intermodulation Distortion:
0.002%
Input Impedance:
20K Ohms
Equivalent Input Noise:
-95dBu
Maximum Input:
+12dBu
Maximum Output:
+20dBu
Features
OmniPort
Output Connectors:
4 balanced TRS outputs
Extras:
Filter slope: 12, 18, or 24dB per octave; 85Hz to 4000 Hz filter frequency range (low pass); 130Hz to 5000Hz filter frequency range (high pass)
General
Construction:
14-gauge steel
Size (L x W x D):
9" x 6.25" x 2" (228 x 159 x 51mm)
Weight:
1.5lb (0.7Kg)
Power:
85mA maximum
Conditions:
For use in dry locations only between 5°C and 40°C
Warranty:
Radial 3-year, transferable
Frequency Response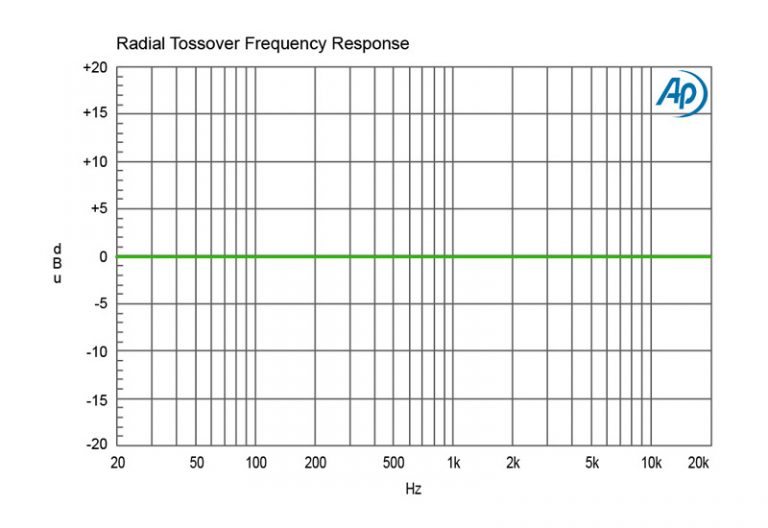 What do these graphs mean? Learn what to look for and why it matters.
Learn More