Two-channel Versatile Distortion Pedal
The Trimode is a true-bypass, dual-channel tube distortion pedal that utilizes the warmth and harmonics from a 12AX7 tube to deliver a wide array of American-style distortion tones.
Photos
Clean, rhythm and lead channel switching in one pedal
Powerful post-distortion EQ controls
Channel 2 features insert loop for effects pedals
True-bypass switching to retain your tone
Two channels of versatile distortion
The Trimode is a high-performance dual-channel tube distortion pedal that produces a wide array of American-style distortion tones. It combines dual-gain stages with a 12AX7 tube to deliver the warmth, feel and dynamics of a tube amplifier. Designed to make life easier, the Trimode's two channels make it a one-stop-shop for clean, rhythm and lead switching. Channel 1 is optimized for rhythm tones, whereas channel 2 is optimized for lead tones and features an effects loop to eliminate tap dancing. Dig into the Trimode and feel every little nuance!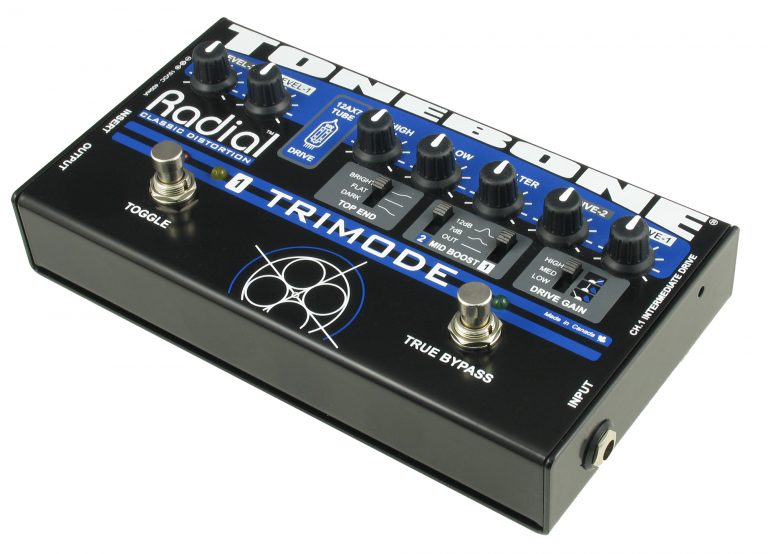 Reviews

"Adding the various EQ options opens up a huge range of tones – more than you'd imagine would be possible... Even at the middle setting on the drive gain switch, there's plenty of gain available for most rock and blues purposes; pushing the switch up to the highest position makes for a lovely, thick, saturated distortion."
Artis

ts
Duke Robillard
Roomful of Blues, Fabulous Thunderbirds, Jimmy Witherspoon, Bob Dylan
"The Trimode is great! I especially love how it turns a solid state amp into a great sounding tube amp. With quite a few of my amp set-ups it really works out perfectly."
Dominic Miller
Sting, the Pretenders
"Fantastic! As soon as I plugged the Trimode in, I knew it would work for me."
Carl Harvey
Messenja, Toots and the Maytals, The Aggravators
"Think of the Trimode as another two killer channels added to your amp. It's the most musical, best sounding OD pedal I have owned in more than 25 years, bar none. If you are concerned with tone, you have to check it out. "
{{ postData.post_title }}
{{ postData.productSubTitle }}
Part no: {{ postData.partNo }}
Part no: View Product
{{ postData.post_excerpt }}
View Product