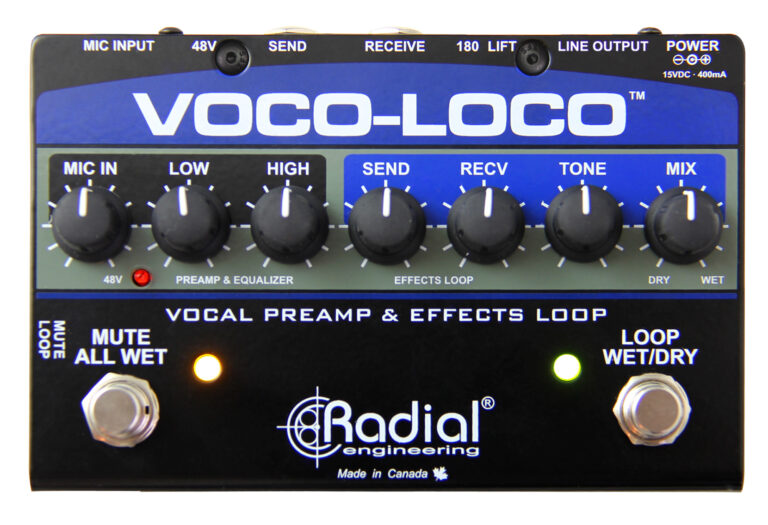 1
2
3
4
5
6
7
8
Mute Loop
Used to set the function of the left footswitch to either Mute or All Wet.
1
Mic In
Sets the input level of the Voco-Loco's mic preamp.
2
Mute / All Wet
Footswitch activates the MUTE or ALL WET function.
3
Low / High
Dual band shelving EQ is used to add bass to warm up the voice or add sparkle for extra cut.
4
Send / Receive
Individual send and receive controls let you adjust the level going to the pedals to optimize signal-to-noise and reduce distortion.
5
Tone
Lets you tame the sound of the effects return path to soften the harsh tone certain pedals produce.
6
Loop Wet / Dry
Primary footswitch turns on or off the effects loop with wet/dry mix engaged.
7
Mix
Sets the wet/dry mix between the original unprocessed vocal sound and the effects loop.
8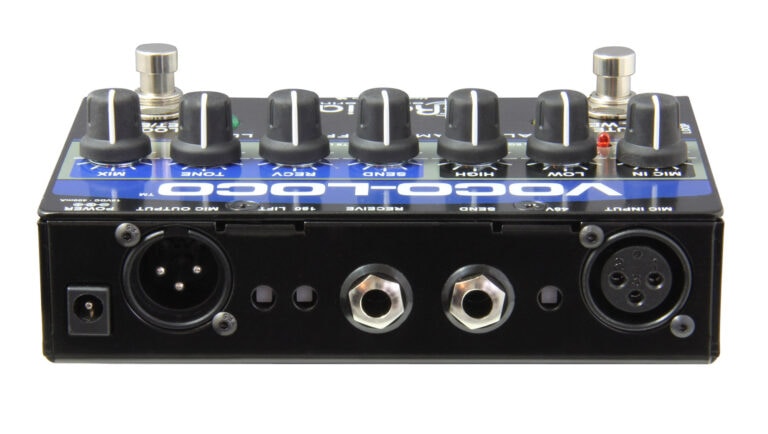 1
2
3
4
5
6
7
8
Power
Voco-Loco comes with an external 400mA 15VDC supply for powering.
1
Line Output
Standard XLR male output, used to connect the Voco-Loco to the line input of a mixing console.
2
Lift
Used to help eliminate ground loops by lifting pin-1 on the XLR.
3
180°
Used to reverse the polarity of the effects loop to ensure guitar pedals are in phase with the vocal mic.
4
Send / Receive
Unbalanced ¼" jacks used to send the mic signal to the guitar pedals and back into the Voco-Loco.
5
48V
Recessed switch turns on the phantom power when using the Voco-Loco with a condenser microphone.
6
Mic Input
Standard XLR female input, used to connect your microphone to the Voco-Loco.
7
14-Gauge Steel
Heavy duty construction eliminates stress on the PCB and provides excellent shielding against magnetic fields and RF which otherwise could introduce noise.
8