The Radial Voco-Loco is in fact a studio quality preamp that has been carefully disguised as a foot pedal! One look at the linear frequency response, exceptional signal handling and low noise and you will recognize the studio quality that is built-in. This ensures that the dry microphone signal will be delivered to the PA system without distortion or artefact and faithfully reproduce the instrument or vocal without compromise. A carefully crafted 2-band EQ makes adjusting the tone effortless. Turning on the effects loop adds transformer isolation to reduce hum and buzz caused by ground loops, a common problem that plagues many pedal setups. Once the loop is brought back, a tone control lets you tame the effects signal and a dry-wet mix control lets you balance the signal to suit.
*48 Volt Phantom Power
Although 48 volts is often specified, truth is, it is not always present or needed. In fact most condenser microphones are designed to work from 12 volts to 52 volts, many of which will also work on a simple 1.5 volt battery. The reason high voltage is used to charge condenser mics in PA systems is that in enables the condenser microphone to be positioned 200 meters (600 feet) away from the mixing console. Considering the Voco-Loco will likely be used near the musician with a 3 or 6 meter (10′ or 20′) mic cable, the high voltage is simply not needed. The Voco-Loco actually generates 40 volts phantom, not 48 volts. We chose to do this in order to reduce a power stage which could add noise. We have tested a wide range of popular stage and studio microphones and in all cases, the results were excellent.
Specifications
Audio circuit type:
Integrated Op-Amp with Class A FET input circuit
Frequency response:
20Hz ~ 20kHz
Dynamic range:
100dB
Gain:
52dB
Clip Level:
+15dBu
Total harmonic distortion:
<0.005%
Intermodulation Distortion:
<0.005%
Phase Deviation:
8° @50Hz
Input Impedance:
10K-Ohms, 100K (FX Loop)
Output Impedance:
300 Ohms, 3000 Ohms (FX Loop)
Common Mode Rejection Ratio:
-73dB @55Hz
Equivalent Input Noise:
-120dBu
Noise Floor:
-85dBu
Maximum Input:
+10dB
Features
Input pad, 180° polarity reverse, Ground lift, Effects Loop
Input Connectors:
XLR-F
Output Connectors:
XLR-M
General
Construction:
14 gauge steel chassis and outer shell
Power:
400mA, center positive
Conditions:
For use in dry locations only between 5°C and 40°C
Warranty:
Radial 3-year, transferable
Frequency Response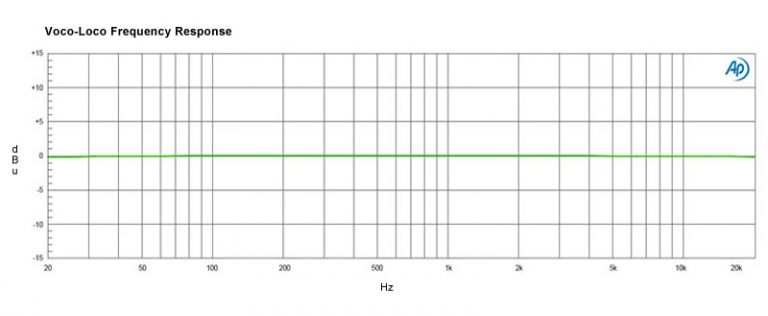 What do these graphs mean? Learn what to look for and why it matters.
Learn More