Workhorse 500 Series Rack
The Radial Workhorse is a modular 500-series rack that combines an extensive patching system with an analog summing mixer to create an incredibly flexible studio environment.
Photos
500 series 8 slot rack with 8×2 summing mixer
Plenty of current for power hungry modules
Dual output headphone buss for monitoring
DB25, TRS & XLR I/O for flexible patching
Create Unique Channel Strips
Compatible with all API 500 series modules, the Workhorse provides more power and easier connectivity than a typical rack. Not only is it equipped with a variety of I/O options, but signal to be routed from one module to the next without cables to easily create channel strips. Compatible EQ and compressor modules can also be stereo linked with the flick of a switch. A special Omniport jack delivers module-specific functionality that can range from an extra output, key input, or effects insert depending on the module. Finally, an external 1600 mA power supply provides enough current to ensure each module is powered correctly.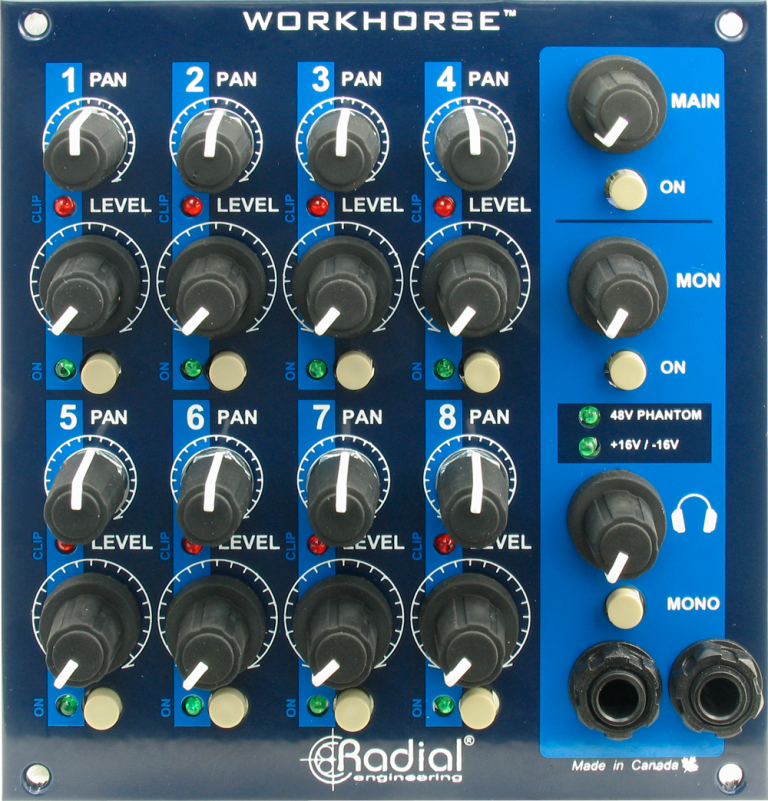 Mix Outside The Box
Unique to the Workhorse is a built-in summing mixer that allows module outputs to be turned on and off, level matched, and panned to a Jensen transformer coupled stereo output. Multiple Workhorses can be linked in larger mixer setups, and a high-quality headphone output allows for monitoring without latency when tracking.
Workhorse

Applications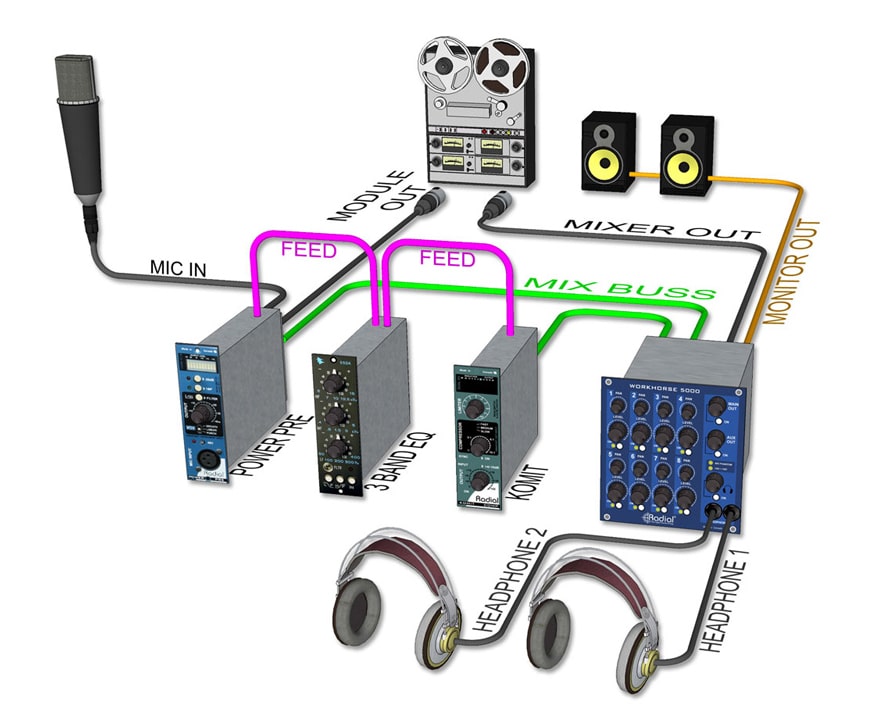 Flexible Channel Strip
The Workhorse is ideally suited to create the optimal channel strip. Combine your favorite preamp with an EQ and compressor and send the signal to your recorder and the headphones at the same time.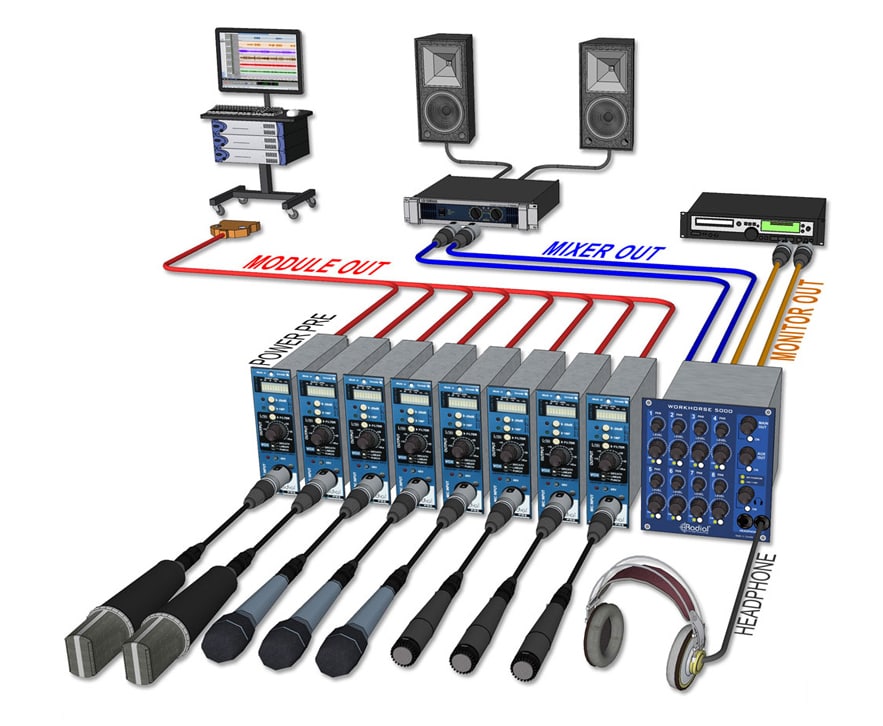 Live Recording
The Workhorse is easily arranged to create an 8 channel recording system. Add 8 PowerPre mic preamps and you are set to go! Use the expansion slot for 16, 24 or even 32 channels.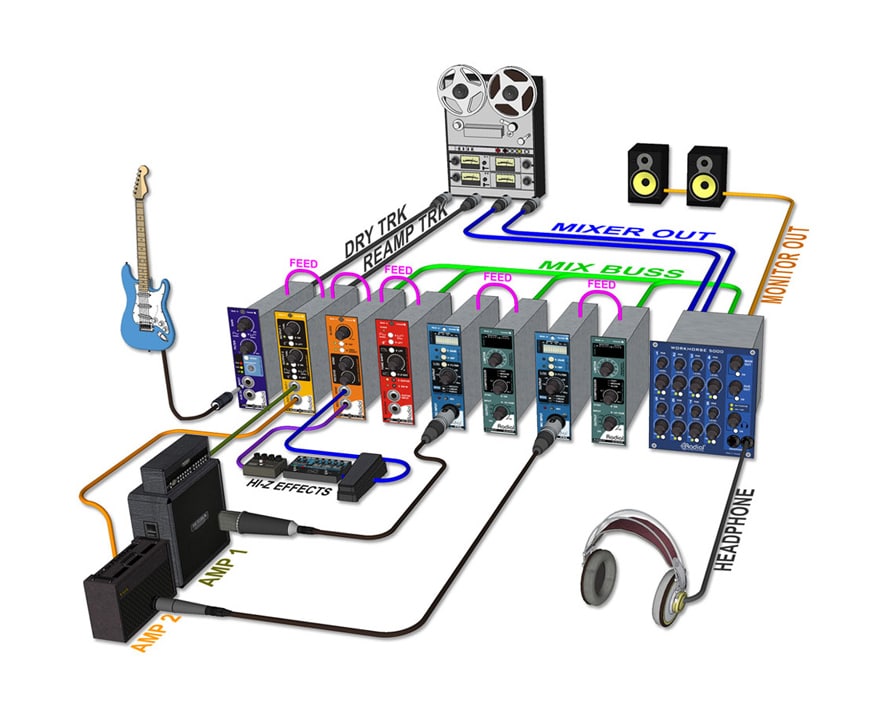 Recording and Reamping
The Workhorse is an awesome tool that lets you record the instrument with a preamp and then use the Radial X-Amp and EXTC for Reamping signals back out to effects and guitar amplifiers.
Videos
Radial Workhorse demo with Joe Chiccarelli

Dale Pro Audio - Radial Workhorse Rack

Radial 500 Series Power Racks Review Pure Wave Audio
Artis

ts
Kevin Churko
Slash, Ozzy Osborne, Shania Twain, Bob Dylan, Celine Dion, Bryan Adams
"Radial is one of the few companies that have my complete trust. Trust in quality, ingenuity, reliability and price. Every product they make is the best money can buy. If they make what I need, Radial is my first choice."
Randy Kohrs
Producer, country artist
"The Radial Workhorse has become one of my essentials at Slack Key Studio. The range of functions far outweigh the competition and it is never in the way due to its compact size. The mixer section is among its greatest assets. Once again, Radial knocked the ball out of the park for me as they always have in the past!"
Ilan Rubin
Drummer/ Producer/ Multi Instrumentalist - Nine Inch Nails, The New Regime, Paramore
"Radial's build quality is top notch and can take a beating on the road as well as sound great in the studio. They make the right tool for every job which makes everything easier."
{{ postData.post_title }}
{{ postData.productSubTitle }}
Part no: {{ postData.partNo }}
Part no: View Product
{{ postData.post_excerpt }}
View Product