1
2
3
4
XLR In
Balanced +4dB line level input is used to receive the audio signal from the recorder. Follows AES standard with pin-1 ground, pin-2 hot (+), pin-3 cold (-).
1
Ground
Lifts pin-1 ground on the XLR input, diverting the ground connection to the ¼" OUT-1.
2
Power
15VDC 400mA power supply connection for the supplied external supply.
3
No Slip Pad
Neoprene isolation pad provides electrical isolation from the chassis and mechanical insulation from rough handling.
4
1
2
3
4
5
6
Power LED
Automatically illuminates when the power supply is connected. Lets you know the X-Amp is on and ready to use.
1
Level
Lets you adjust the X-Amp output level going to the amplifiers.
2
Clip LED
Provides visual cue of input signal. When this light goes on, turn down the source! You are overloading the X-Amp input circuit.
3
Out-1
Direct buffered output is used to feed your first amp. This should be a properly grounded amp that has passed local safety approvals.
4
180º Polarity
Reverses the absolute phase on output 2 so that both amplifiers play in phase. It can also be used to create different effects.
5
Out-2
Transformer isolated output is used to feed your second amp while eliminating ground loops.
6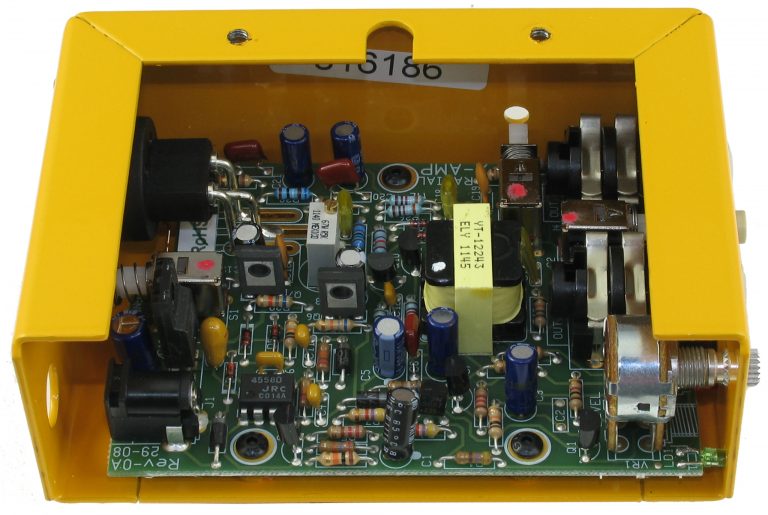 1
2
3
4
5
6
Connector
Nylon XLR connector with extra large nickel-silver pin contacts. Tougher than steel.
1
100% Discrete
Full sized parts are hand inserted to deliver the very best audio quality. Class-A circuit design for pure tone.
2
Transformer
Provides 100% isolation to eliminate hum and noise caused by ground loops.
3
Ground Lift
Applies to guitar amp output 2 - provides alternate ground path if needed or can help eliminate ground loops.
4
Circuit Board
Double-sided military spec for greater durability and full ground plane to reduce radio frequency interference.
5
14-Gauge Steel
I-Beam construction prevents circuit board from torque which could lead to part failure.
6