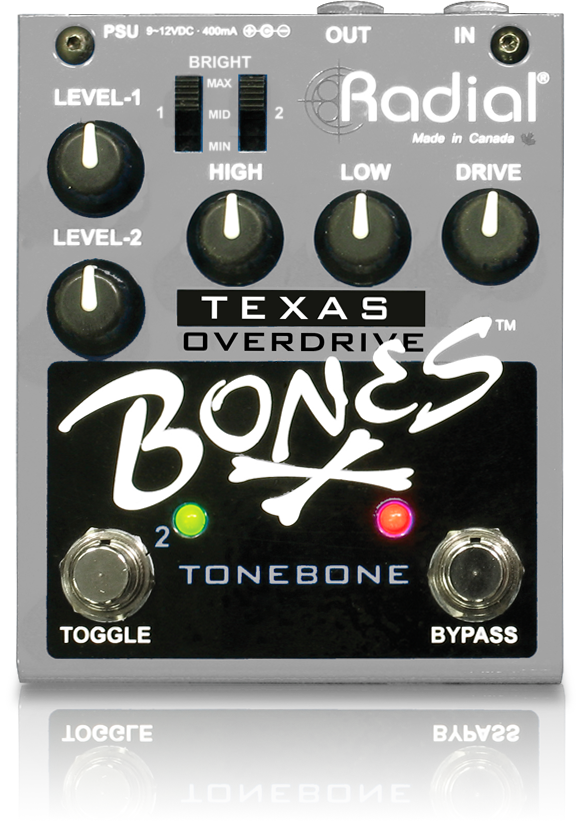 Photos
About

the Bones Texas
Vintage TS9, OCD and high gain settings in one!
Two channels let you toggle from rhythm to lead
Ultra compact form factor fits any pedalboard
Super hot output for plenty of drive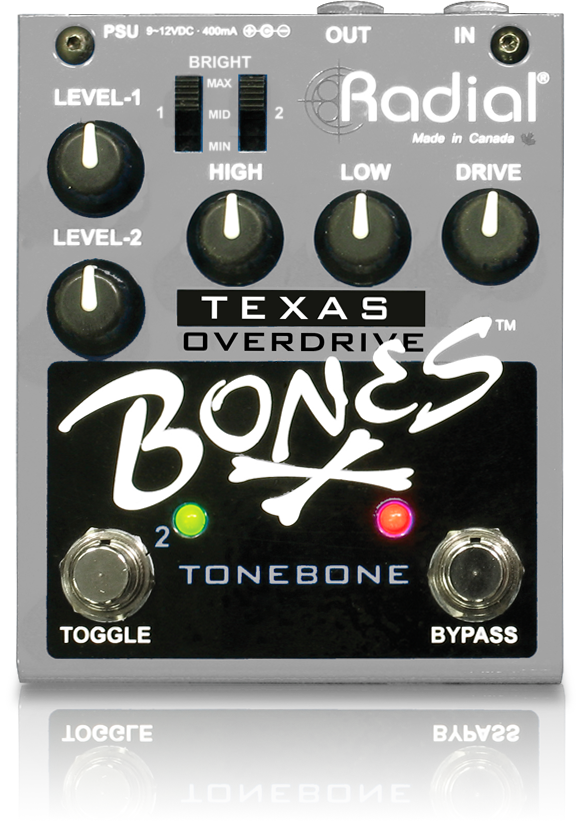 Photos
The Texas is a power-packed overdrive pedal that has been meticulously designed to deliver three generations of overdrive to suit any style of play. This is enhanced with two channels that let you seamlessly switch between fat crunchy rhythm and powerful sustaining lead tones.
The design begins with a unique class-A buffering circuit that retains the natural feel and responsiveness of the guitar. This delivers the performance of 'true bypass' connectivity while lowering the impedance and susceptibility to noise. This enables the Texas to efficiently drive multiple pedals and longer cables when used on concert stages. A three position bite switch on each channel lets you set the character: In the bottom off position, the Texas delivers the tone of a vintage Ibanez TS9 conjuring up the bluesy signature sounds of players like Stevie Ray Vaughan. In the middle, the Texas adds excitement with the tone and dynamics of the popular Fulltone OCD for more of the Eddie Van Halen modern rock feel. Set to maximum, the Texas elevates your sound to a super high-gain modified TS9 for those who crave the ultimate metal tones of bands like Metallica.
For maximum on-stage efficiency, the Texas is configured for 'clean, rhythm & lead' playability whereby in bypass mode, you get the natural clean sound of your guitar. Turn it on and freely toggle between rhythm and lead. Each channel is equipped with its own tone and level control that lets you adjust the sound to your specific needs. For instance, you can set the rhythm tone with extra high end to cut through at lower volumes while the lead channel can be set with more bottom end to fatten up the tone for solos. To increase sustain, channel-2 is augmented with extra mid-range. The Texas employs Radial's most advanced EIS – Electronic Impulse Switching – for unmatched durability without the challenges posed by mechanical switches. This ensures quiet switching at all levels and delivers years of trouble-free performance.
The Texas overdrive… 3 generations of tone with the power of 2-channel stage control.
TS9 and OCD are registered trademarks of Ibanez and Fulltone. Radial is not associated with these companies and only uses their names to reference the type of sound created.