Next Generation American-style Distortion Pedal
The Classic-V9 is the next generation, solid-state version of the venerable Tonebone Classic tube distortion.
Photos
Versatile distortion circuit accommodates all play styles
Ultra-sensitive post-distortion EQ controls
Standard 9V power supply operation
Class-A buffer to reject noise & drive multiple pedals
Ultra-responsive distortion
Beginning with Radial's class-A buffering circuit, The Classic-V9 gives you the feel of a true-bypass pedal with the added benefits of greater noise rejection and lower impedance. Designed to be flexible, its two gain stages and powerful post-distortion EQ controls provide a wide array of tonal options that span all eras. Blues, country or rock, the Classic-V9 cleans up like a tube amp and captures the feel and dynamics of your playing to take your tone to the next level.
Videos
The Tonebone Classic V9 Demo

Tonebone Classic and Regency Guitar Pedal | Review
Reviews

"This is a plug in and play pedal where you don't have to read pages of programming instructions just to switch the thing on, which we like. Even better, this pedal really gives a fantastic impression of a broken-up valve amp. The low and mid settings really worked well, offering great dynamics and guitar amp type feel."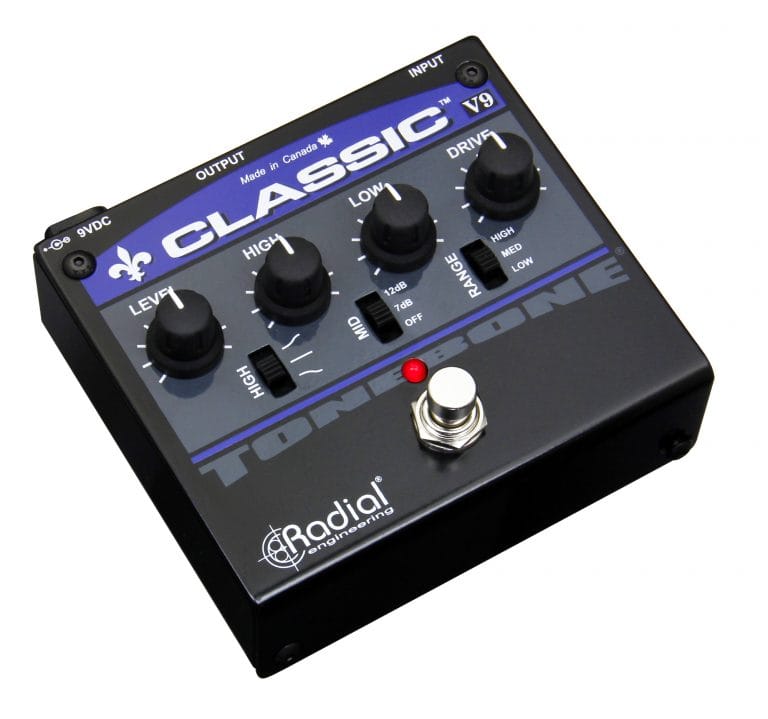 Warning: Invalid argument supplied for foreach() in /home/thomas78/public_html/radial/wp-content/themes/radial/template-parts/product-photos.php on line 99

{{ postData.post_title }}
{{ postData.productSubTitle }}
Part no: {{ postData.partNo }}
Part no: View Product
{{ postData.post_excerpt }}
View Product