Passive Full-Featured Stereo Direct Box
The JDI Duplex is a high performance 2-channel passive direct box designed for enhanced connectivity for any application, with numerous input connector types and premium Jensen transformers for exceptional audio performance.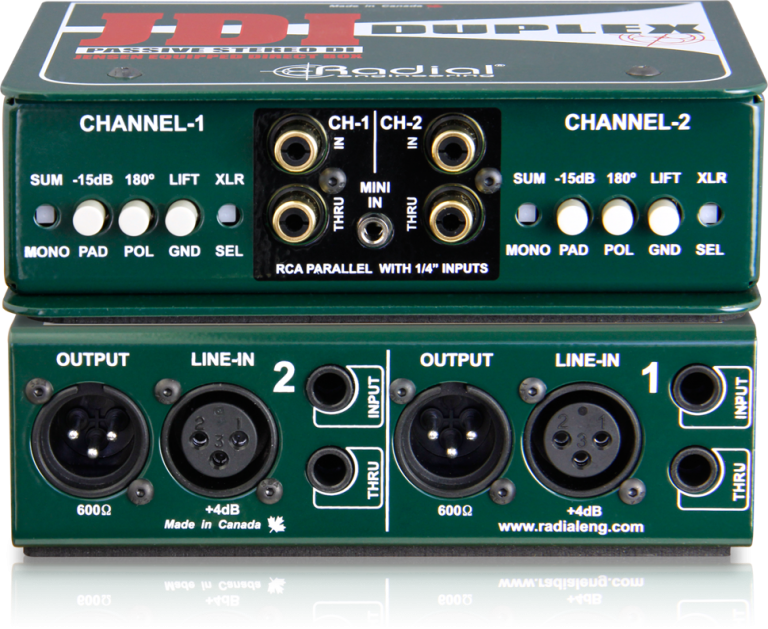 Photos
Jensen transformer equipped passive DI
Eliminates hum and buzz from ground loops
1/4″, 3.5mm, RCA, and XLR inputs to connect to any source
Exceptional signal handling and noise rejection
Unparalleled tone, multiple connector options
The JDI Duplex takes the exceptional transparency and wide bandwidth of the JDI Stereo passive direct box, and adds numerous connector types and line-level inputs to provide the audio technician with the ability to interface with any stereo sound source. Designed to handle extreme signal levels without distortion, it utilizes two world-class Jensen JT-DB-EPC audio transformers to deliver a smooth, warm sounding Bessel curve - reminiscent of the finest vintage gear. Ruler flat from 10Hz to 40kHz and with virtually zero phase deviation, the JDI Duplex delivers the natural, pure sound of the instrument without artifact. The inputs can be accessed via 1/4", RCA, 3.5mm TRS, or XLR line-level connectors, making it easy to plug in any sound source, from stereo instruments to consumer playback equipment, or professional +4dB line-level audio equipment.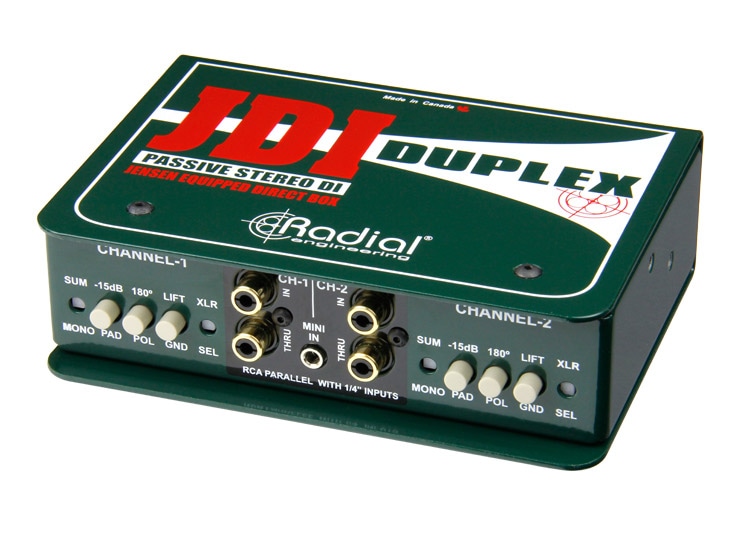 JDI Duplex

Applications
Duplex in Multimedia System
Whether you have a CD player, iPod, computer or professional +4dB balanced source, the Duplex can handle any situation.
Duplex with Stereo Keyboard
The Duplex is able to withstand huge transients without distortion. This gives digital keyboards a warm, smooth vintage tone.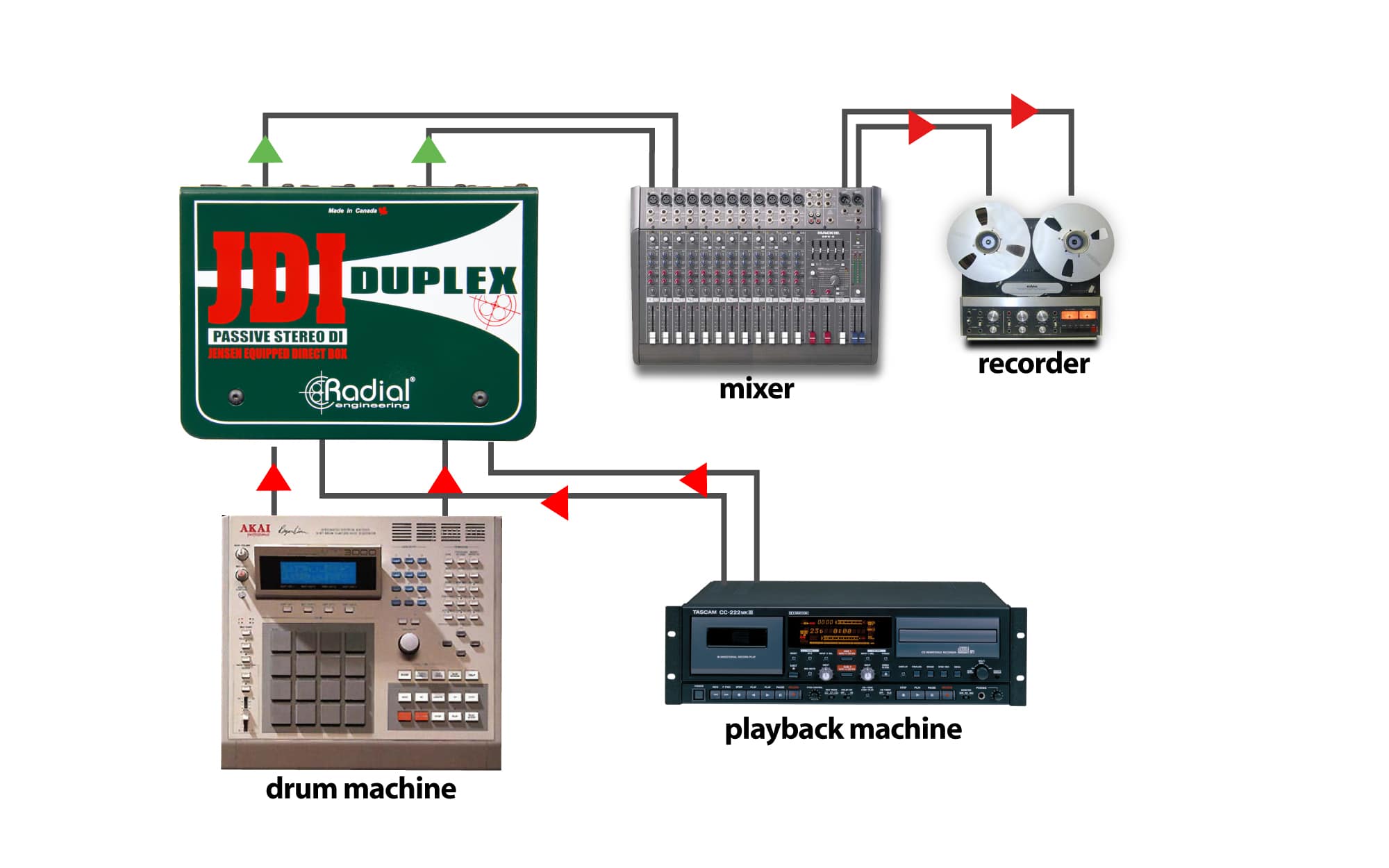 Duplex with Two Stereo Sources
With the dual stereo architecture, the Duplex can easily be set up to handle two different stereo sources at the same time.
Videos
Tech Corner - A Good Day to D.I.

How to Choose a DI: Active vs. Passive
Artis

ts
Jan Ozveren
Charlie Puth, Alejandro Sanz, Shakira, Jennifer Hudson, Frank Ocean, Corinne Bailey Rae
"I prefer Radial DIs over any other DI box for their warmth and transparency, as well as size and functionality. I use the Radial JDI Stereo and JDI Duplex, both are unrivaled in their range of interfacing products for guitar and beyond!"
Ric'Key Pageot
Madonna, Justin Timberlake, Timbaland, Musical Director - Cirque du Soleil
"I'm really happy with my Radial Duplex DI. In the past I always found it hard to get a good warm piano sound in without being abrasive but since I've been using the Duplex, I'm not afraid to push anymore when playing a piano patch. I also love the fact that I can use the RCA as a thru to go to my personal keyboard monitor. Smart!"
{{ postData.post_title }}
{{ postData.productSubTitle }}
Part no: {{ postData.partNo }}
Part no: View Product
{{ postData.post_excerpt }}
View Product