Amplifier Interface and Cabinet Simulator
The JDX-500 is a 500 series guitar amplifier interface that allows you to capture the tone of a guitar amp and cabinet without the need for a microphone.
Photos
Guitar amp interface and cabinet simulator
Direct amp recording without a microphone
Works equally well on electric guitar and bass
Delivers consistent tone every time
Record the tone of your amp without a microphone
The JDX-500 makes it easy to get a consistent and natural sounding amp recording by taking a feed directly from your amplifier and employing Radial's popular JDX speaker emulation, producing an effect similar to placing a dynamic microphone in front of a 4x12 half stack cabinet. This gives you the same tone for every recording session, without forcing you to rely on the same microphones to be available, or spending valuable studio time fiddling with mic placement to match previous recordings. The JDX-500 delivers the sound of your amp without any fuss, simplifying your recording setup without sacrificing on tone.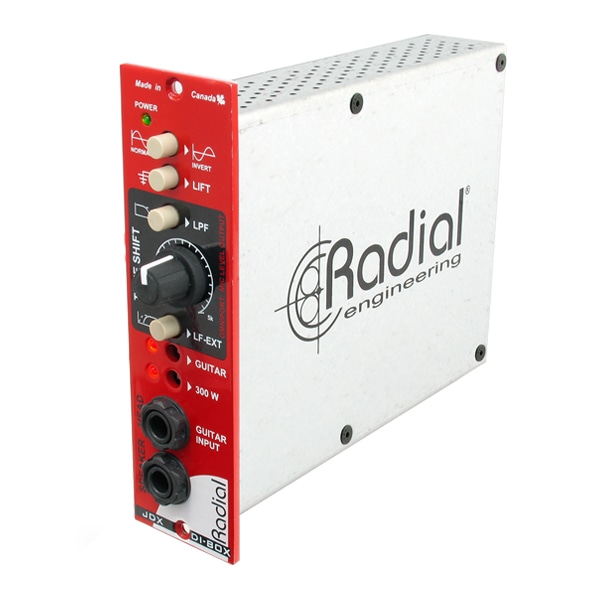 JDX 500

Applications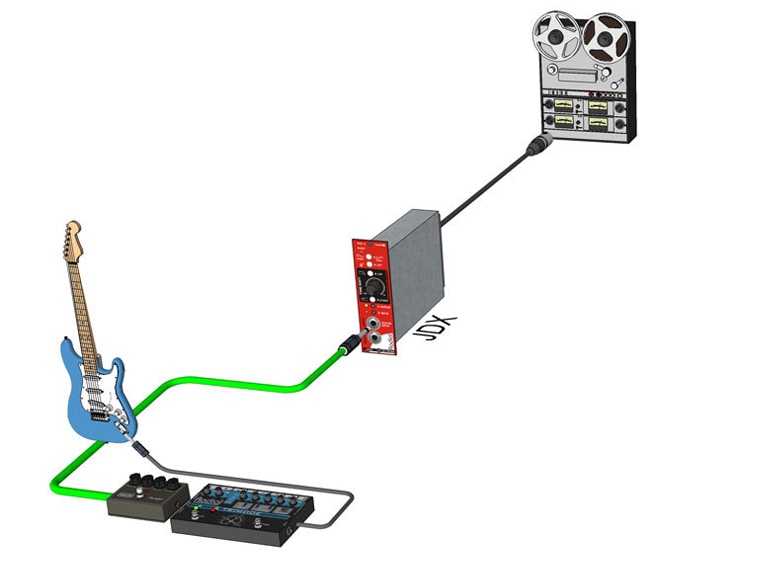 Direct Recording with the JDX
Plug your guitar into some pedals, send the signal to the JDX to take advantage of the advanced multistage filter. No amps or mics to set up. Instant gratification!
Using the JDX with your Amp
This is where real tone fanatics live! The JDX Reactor captures the sound of the head and the back impulse from the speaker cabinet. You enjoy natural consistent tone.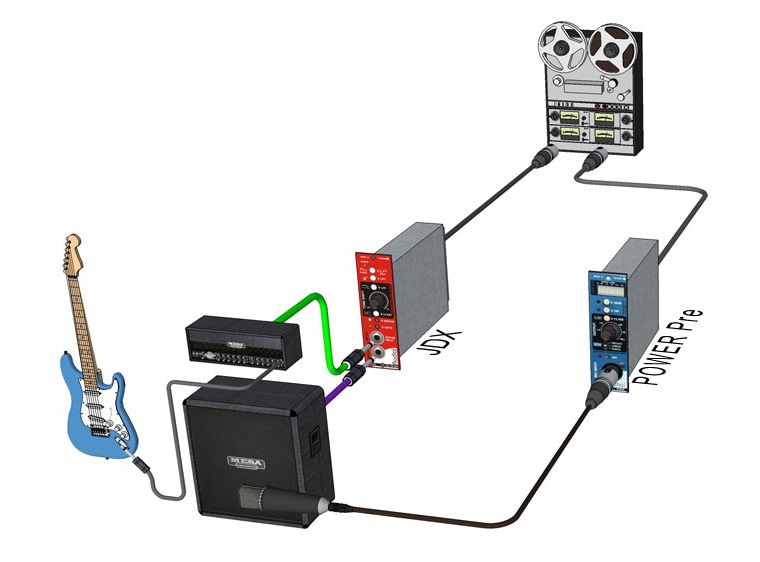 Combine the JDX with a Mic
Capture the direct sound and mix it with a mic in the room for huge guitar tones. Move the mic around or combine the direct feed with a Phazer. Addictive!
Reviews
"Where I find the JDX rules is when it is blended with a mic signal, especially with the low-frequency extension kicked in, as it fills out and fattens the tone of the miked amp in a very solid and thick way. It really is positively huge!"

"Radial shows that the 500 series concept doesn't have to be limited to processors like EQ or compressors. These specialty devices are designed for a wide range of tasks."

"The JDX Works great at calming down distortion pedal fuzz to a more palatable sound. It adds a useful speaker output recording capability."
Artis

ts
Steven Page
Formerly of Barenaked Ladies & Solo Artist
"Radial products are a staple of my daily life; When I arrive at a gig and see Radial DIs on the stage, it tells me right away that the venue and sound company care about quality and detail. For the days when they don't, I have a Radial JDI or a JDV on every one of my pedalboards. In the studio, Radial's tools like EXTC and JDX 500 make it easy to act on every moment of inspiration right away. Every piece they make is solid, uncompromising and brings out the best in everything I plug in."
{{ postData.post_title }}
{{ postData.productSubTitle }}
Part no: {{ postData.partNo }}
Part no: View Product
{{ postData.post_excerpt }}
View Product