Even though the Key-Largo is built into a compact space-saving chassis, it is still a powerful line mixer with tons of headroom. A switch-mode power supply internally elevates the rail voltage to 24 volts which allows it to handle the hottest keyboard and synth outputs without choking. Custom isolation transformers on the XLR outputs prevent buzz and hum when connecting to a pair of powered speakers or the PA system, with additional ground lifts for further noise abatement. A USB connection includes 24bit / 192kHz converters for high quality playback or recording with a laptop; perfect for use with soft-synths on stage or recording an idea when inspiration strikes.
Specifications
Audio circuit type:
Active circuit with audio-grade operational amplifiers
Number of channels:
3x stereo analog inputs, 1x stereo USB input, 2x stereo analog outputs
Frequency response:
20Hz - 20kHz ±0.5dB
Gain:
+12dBu
Clip Level:
+12dBu
Total harmonic distortion:
<0.005% @ 1kHz
Input Impedance:
Analog 20k Ohms
Output Impedance:
XLR: 300 Ohms 1/4": 450 Ohms
Noise Floor:
-91dBu
Sample Rate
24bit / 192kHz
Features
180° polarity reverse, Ground lift, Level Control, Effects Loop
Input Connectors:
3x Stereo Analog Inputs, 1 x Stereo USB Input
Output Connectors:
Stereo XLR Balanced Outputs, Stereo 1/4" Monitor Outputs
Extras:
Performance or Recording Mode
General
Construction:
14-gauge steel
Size (L x W x D):
8.4" x 5" x 1.9" (21.3cm x 12.7cm x 4.8cm)
Weight:
3.25lb (1.47kg)
Shipping size (L x W x D):
13.3" x 5.1" x 3" (33.7cm x 13cm x 7.6cm)
Shipping weight:
4.3lb (1.95kg)
Conditions:
For use in dry locations only between 5°C and 40°C
Warranty:
Radial 3-year, transferable
Frequency Response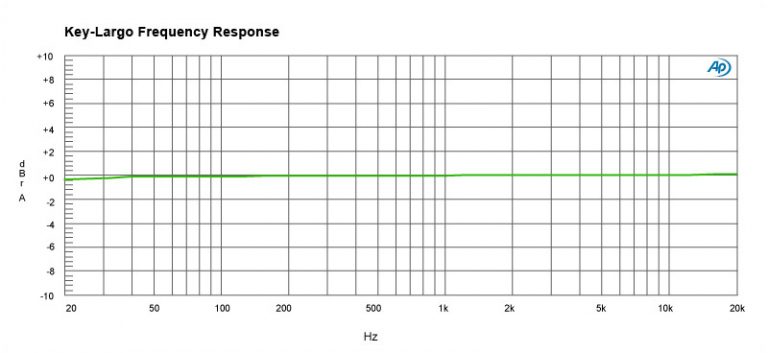 What do these graphs mean? Learn what to look for and why it matters.
Learn More