1
2
3
4
5
6
7
Dim
Used to reduce the playback level in the studio without affecting the monitor playback settings.
1
Mono
Sums the left and right outputs to mono to test for AM compatibility and phase problems.
2
Sub
Separate on-off switch lets you activate the subwoofer separately.
3
Master
Used to set the overall output level going to the monitors.
4
Monitor Select
Used to select the active monitors.
5
3.5mm
Mini 1/8" TRS connector is designed to let you monitor your mix using earbuds.
6
Headphones
Dual output headphone jacks lets you share the mix with the producer.
7

1
2
3
4
5
Cable Clamp
Used to clamp down the power supply cable for mobile installations.
1
Power
15VDC power connection for the external power supply.
2
Outputs
Separate AUX and mono subwoofer outputs are available.
3
Monitor A&B
1/4" TRS outputs used to feed the A and B monitor sets.
4
Source Input
1/4" TRS inputs receive the left-right signal from your recording system.
5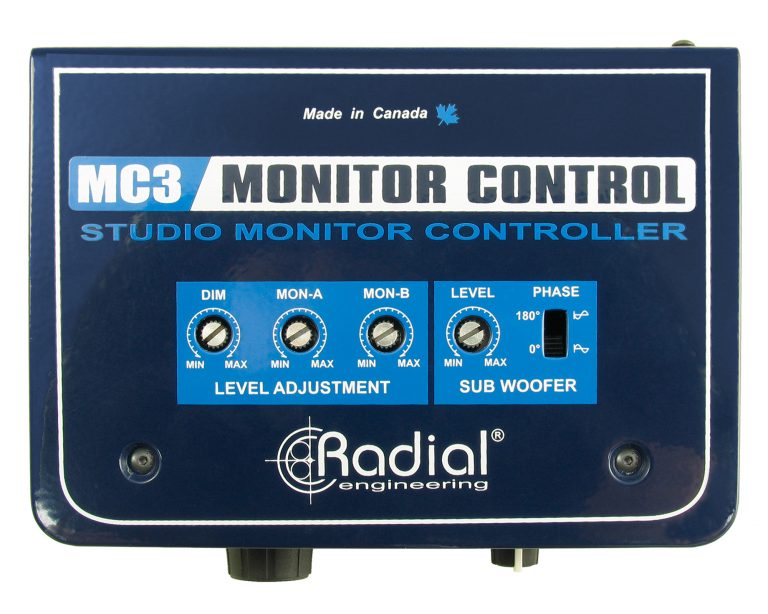 1
2
3
4
Bookend Design
Creates protective zone around the switches and potentiometers to keep them out of harms way.
1
Trim Controls
Separate set & forget trim controls on the top panel make it easy to adjust monitor settings for optimal balance.
2
180° Reverse
Used to reverse the polarity of the subwoofer to counter the effects of room modes.
3
Powder Coat Finish
Keeps your MC3 looking good for years.
4