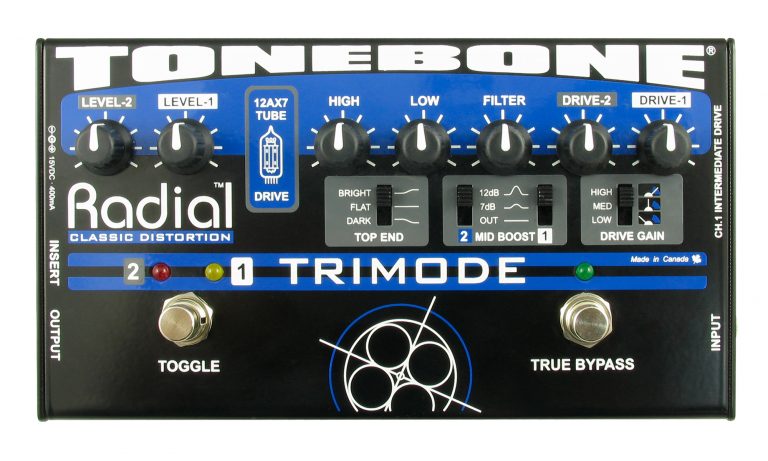 1
2
3
4
5
6
7
8
9
10
11
Insert
Standard 1/4" TRS insert jack lets you add effects like a delay to channel-2. Lets you toggle to the solo channel and have your delay automatically go on.
1
Level 1 & 2
Used to adjust the overall output of each channel. Acts like a master volume on guitar amp.
2
Toggle
Lets you switch between channel-1 and channel-2 with single foot stomp.
3
Top End
This 3 position switch shapes the overall EQ with dark, flat or bright settings. Used to compensate for humbuckers or single coil pickups.
4
High & Low EQ
Powerful two band passive-interactive equalizer provides exceptional tone shaping while retaining natural sound.
5
Mid Boost
3-position mid boost switch lets you increase the mid range on either channel for added cut when soloing.
6
Filter
Anti-presence filter is used to tame overly bright guitar amplifiers.
7
True Bypass
On-Off switch is true bypass to ensure the natural tone of the guitar passes through the pedal without coloration.
8
Drive 1 & 2
Used to adjust the input drive for each channel. Can be set so that each channel is similar or radically different.
9
Drive Gain
This 3-way selector switch sets the overall distortion range for both Trimode Channels.
10
Interstage Drive
Fine tune adjustment to further define the gain differential between the two channels..
11